Do you spend hours manually logging work hours or creating invoices in an Excel sheet? The problem isn't that you aren't being tech-savvy. But why work hard when you can work smart and save time?
If you are a contractor, you realize how time tracking can help avoid errors. Payments at the end of the month become less of a headache. However, maintaining timesheets is a hassle.
Fortunately for you, contractor time tracking app is everywhere.
Contractors and Their Worst Nightmare
Contractors are people we hire to perform specific construction tasks. They can be roofing contractors or electrical contractors. Contractors include:
General Contractors Supervises a commercial or residential construction project
Subcontractors Specializes in a construction niche
Independent Contractors Freelance contractors not working through a third-party
For contractors, their biggest nightmare is missing a payment, misfiling an invoice, or manually assorting the Excel from scratch.
You work, you get paid. But no one likes to be underpaid or overpay a bill because of a mishap.
The solution to your constant anxiety over payment schedules or timesheets is automation. Switch from the ancient practice of manual timesheets to time-tracking software or a contractor time tracking app.
What Is Time Tracking Software?
Time-tracking apps or software help record time spent on tasks or projects. They work as integrations to tools like Google Calendar and automate the time-tracking process.
Simply, time tracking software make timesheet for contractors more comprehensive.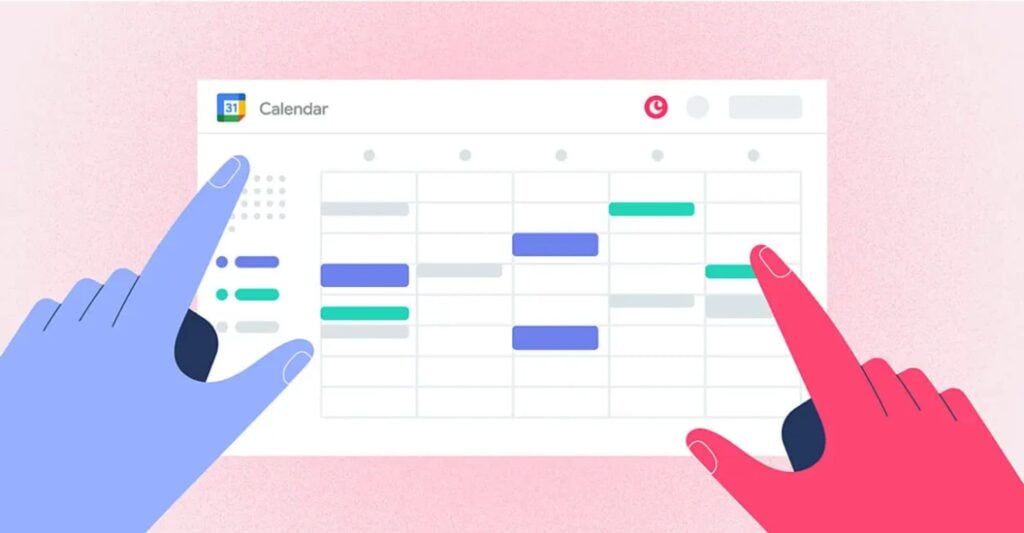 It's not a novelty, as many industries use time-tracking software to streamline their time allocation process. For instance, there are apps for contractors, lawyers, accountants, etc. Even freelancers use these apps to keep track of project progress.
It's a digital tool that usually contains the following features:
Time Entry Management
Project Tracking
Billing Hours Tracking and Invoicing
Timesheets or Time Cards
Analytics and Insights
Time tracking app for contractors can function as standalone or as integrations to other applications.
How to Spot the Best Time Tracking Software?
"More is lost by indecision than wrong decision"

– Marcus Tullius Cisero
If you type "best time tracking software for contractors" in Google, there will be tons of results. More choices may lead to confusion. So, always look for a set of features before making a choice.
You can use the following as a check-list:
Time Tracking
The software should be able to capture time inputs in real-time. It will help you visualize the tasks in a timeline. Hence, the estimation of deadlines becomes much easier.
Online Timesheet
Some time tracking apps may not contain a timesheet feature. Timesheets act as online attendance reports that track absences, holidays, and sick leaves. You can export it as PDF or CSV files when invoicing. Maintaining timesheet for contractors can be hectic. The time tracking app for contractors you are using should make the process trouble-free.
Reports and Analytics
The best time-tracking software will allow you to generate insights and summarize your data. You can compare daily stats or changes in productivity. Managers can run analytics on budget and focus on cutting costs.
Notifications
It ensures that everyone clocks in and out on time. Keeping track of subcontractor overtime is easier.
Team Integration
You can easily onboard your team and then categorize them according to departments. Hence, task delegation becomes smooth.
Easy to Use
It's a no-brainer that the software should help you allocate time easily and not complicate matters. Then you can focus less on admin work.
The Best Time Tracking Software for Contractors
Since we have babbled a lot on why time-tracking software is a life-saver, let's move on to some of the best ones. Just to point out, the following are also the best time tracking software for independent contractor.
Clockify
Clockify is one of the best time tracking apps for contractors. It works well for independent contractors and freelancers.
This app suits people who work hourly. You can track attendance and billable hours with a simple timesheet.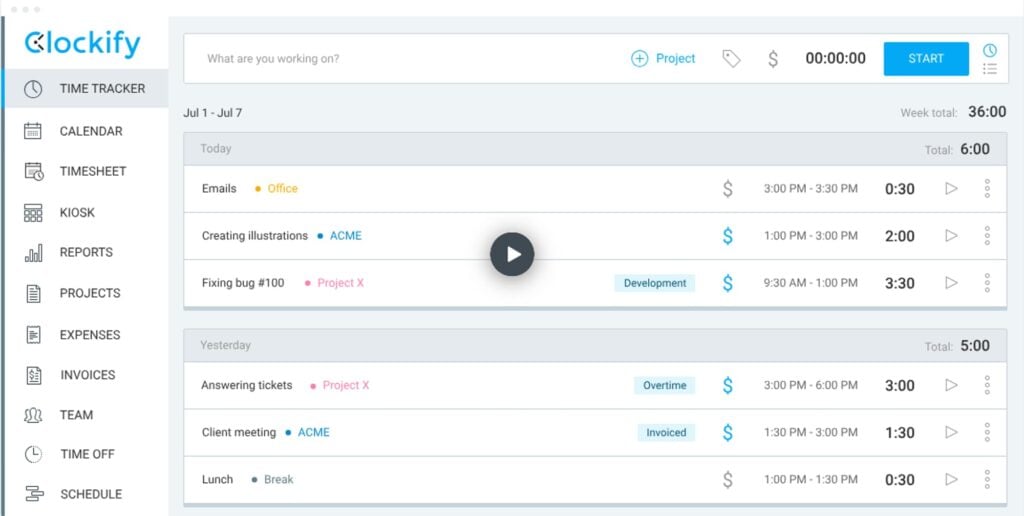 Data sync online so it does not matter if you are using a Windows, Mac, or Linux. This time tracking app can provide you with information about the financial status of employees and clients.
Also, it can help organize payrolls and project profitability of projects.
Key Features:
Wide range of integrations including, Google Calendar, Clickup, etc.
ROI Tracking
Real-time data about project progression
Assessment of productivity level
Track time from any device
Ratings:
Purchase Plan:
Basic: $3.99 per user/month billed annually
Standard: $5.99 per user/month billed annually
Pro: $7.99 per user/month billed annually
Enterprise: $11.99 per user/month billed annually
Free 7-day trial available
Harvest
Harvest is a time tracking app for contractors that provides instant reports and seamless integrations with tools you love. You can integrate Slack, Stripe, Google Calendar, and so on.
This timekeeping app allows you to track expenses and hours spent on certain projects or tasks. Since 2006, Harvest has been the trust of 70,000+ companies.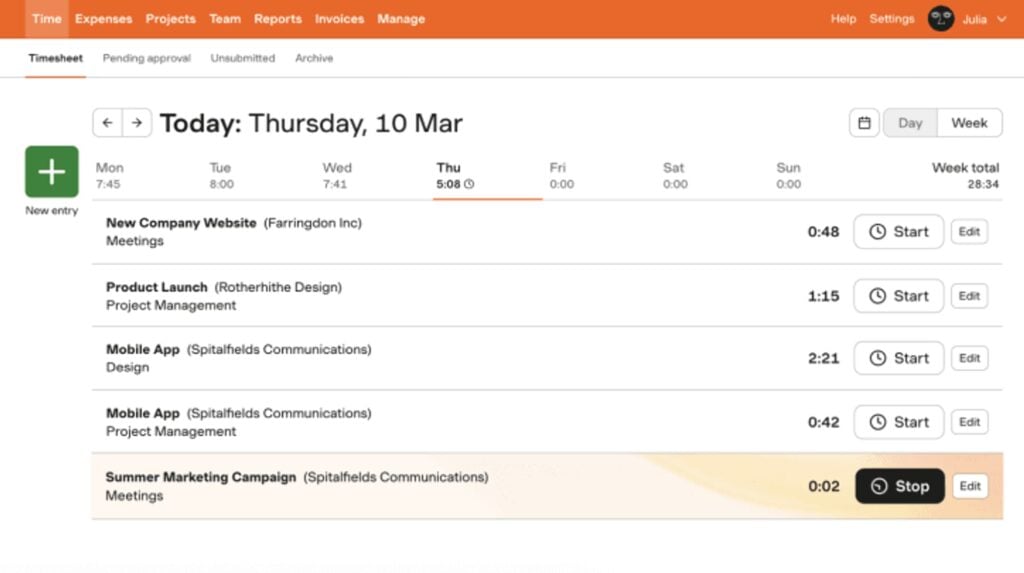 This app for contractors, especially independent ones, can help maintain work-life balance.
It's more than a construction timesheet app. You can project costs, visualize team capacity, and stay on budget.
Key Features:
Works with the tools your team loves
Custom reminders and notifications
Analyzes time spent
Streamlines invoicing
Top-notch data security
Ratings:
Purchase Plan:
Free plan: $0 forever (1 seat, 2 projects)
Pro plan: $10.80 per month annually (unlimited seats and projects)
Free 30-day trial available
Toggl Track
Toggl Track is a contractor time tracking or project time tracking software. It has over 100 integrations including, Asana, Jira, Salesforce, and so on.
Also, you can use Toggl across the web, desktop, mobile, or browser extension. With just one click, all your entries will sync automatically across multiple platforms.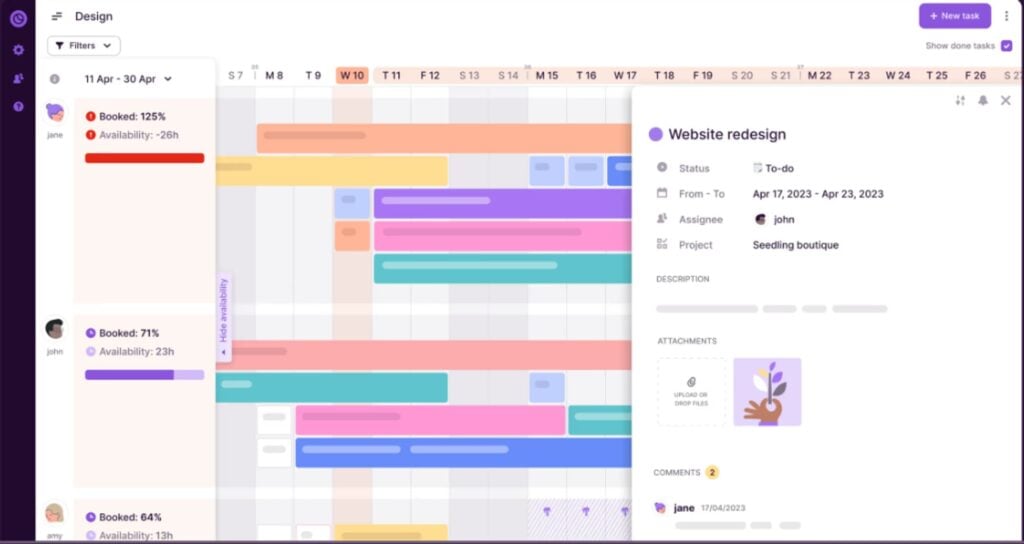 Over 5 million users across 120 countries trust this app. It is one of the best apps for time tracking contractor. This app for contractors will allow you to bill accurately, measure profitability, and manage workloads.
People prefer this contractor-tracking app as it boosts accountability across teams.
Key Features:
Idle detection within the app that can adjust your timeline
Manual customization, tracker, and reminders
Available across multiple platforms
Offers 3 products: Toggl Track, Toggl Plan, and Toggl Hire
Basic project management features
Ratings:
Purchase Plan:
Starter Plan: $9 per user per month
Premium Plan: $18 per user per month
Enterprise Plan: Custom pricing for unlimited users
Free 30-day trial available
Final Thoughts
The list of best time tracking software for contractors is pretty long. There are other tools such as Timely, TimeTackle, Quickbooks, and many more. But the above are our best picks for now.
Choosing from a wide range of software can be daunting. It's a hassle to go through every software and figure out, which one's the best.
The above 3 are the certified best time tracking app for independent contractor or contractors in general.
Also, if you are looking for some of the best free time tracking app for contractors, you can checkout Tackle.
Tackle is on its way to launching a free plan. So, if you want to speculate before making a long-term commitment, Tackle is one of the best free time tracking for contractors out there.
Hopefully, this read has reduced your hassle a bit. Do remember that the tech scene is very dynamic. So, the best time tracking software for contractors is subject to change.
Hopefully, this read has reduced your hassle a bit. Do remember that the tech scene is very dynamic. So, the best time tracking software for contractors is subject to change.
But for now, the above 3 are the most reliable ones.
Summary
| | | | |
| --- | --- | --- | --- |
| Categories | Clockify | Harvest | Toggl Track |
| Top Feature | ROI Tracking | High-level data security | 100+ integrations |
| Pricing Range | Wide | Low | Moderate |
| Ratings | High | High | Moderate |
| Personalized Demo | Unavailable | Unavailable | Available |
| Sign up Links | Clockify | Harvest | Toggl Track |