Interact with your calendar data in new innovative ways to smarten up your workflow. Seamlessly track work, measure team productivity and adjust schedules to improve efficiency.
* No Credit Card Required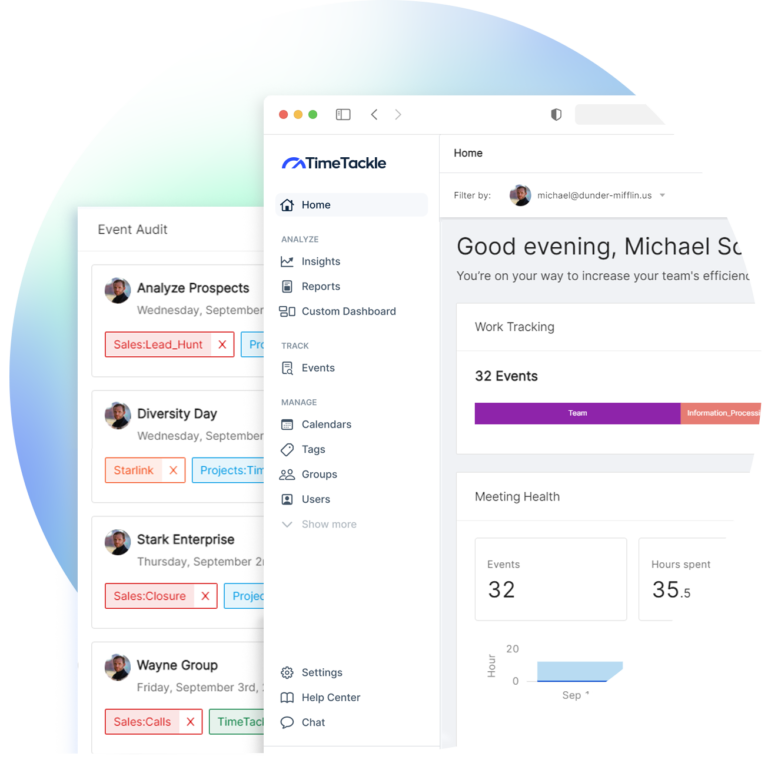 Save time for what matters
Business calendaring beyond scheduling
Get a real sense of where you time is going and align your schedule with your priorities with calendar audits. Be strategic about every minute you spend and take back control.
Customer success and Sales teams
AI-powered tools designed for CS and Sales teams help them better engage with customers, understand interaction trends, and achieve more with predictable results, quarter over quarter.
Eliminate all project management headaches and bring more revenue by streamlining your team's schedule. Create automatic timesheets and budget time for specific projects and companies.
Analytics with meetings and scheduling policy automation, built to reduce dysfunctional meetings and give teams the deep work time they need.
Align your time with your KPIs, optimize your team's schedule
Calendar Analytics provides you with a visual analysis of your time. See exactly where you or your team are spending their time. Align your calendar with your KPIs and eliminate your team's time sinks to boost productivity.
Tag your calendar events, track where the time is spent
Categorize all your calendar events with our Chrome Extension or Automatic Rules. Track what project your team is working on, what type of appointments you are getting, or what meetings you are attending without wasting time searching for it.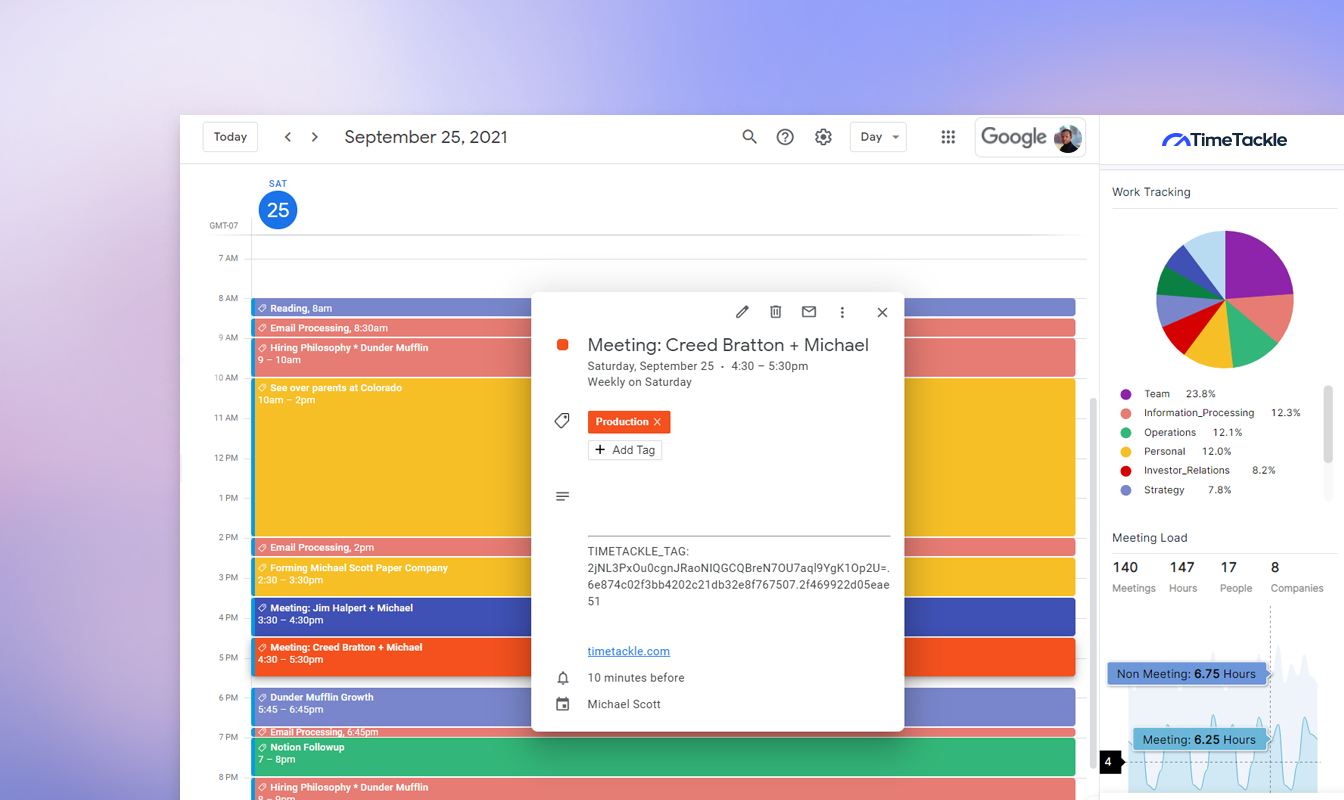 Track productivity, attendance, and billable hours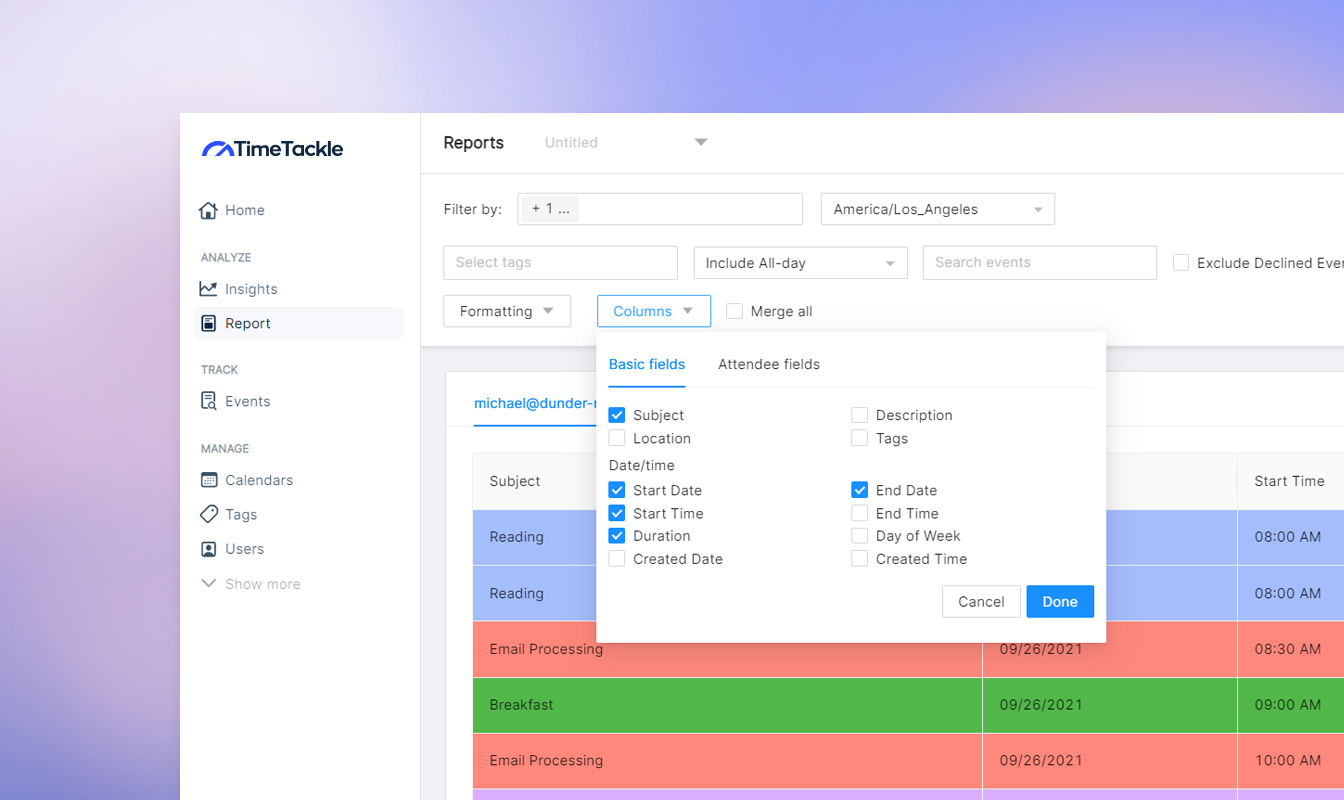 Streamline your workflows
Streamline your workflow by automating your calendar data into Google Sheets. Even if you're away, your reports will be delivered at your Google drive. Combine this with our Smart Tagging Feature, your time tracking will be unstoppable.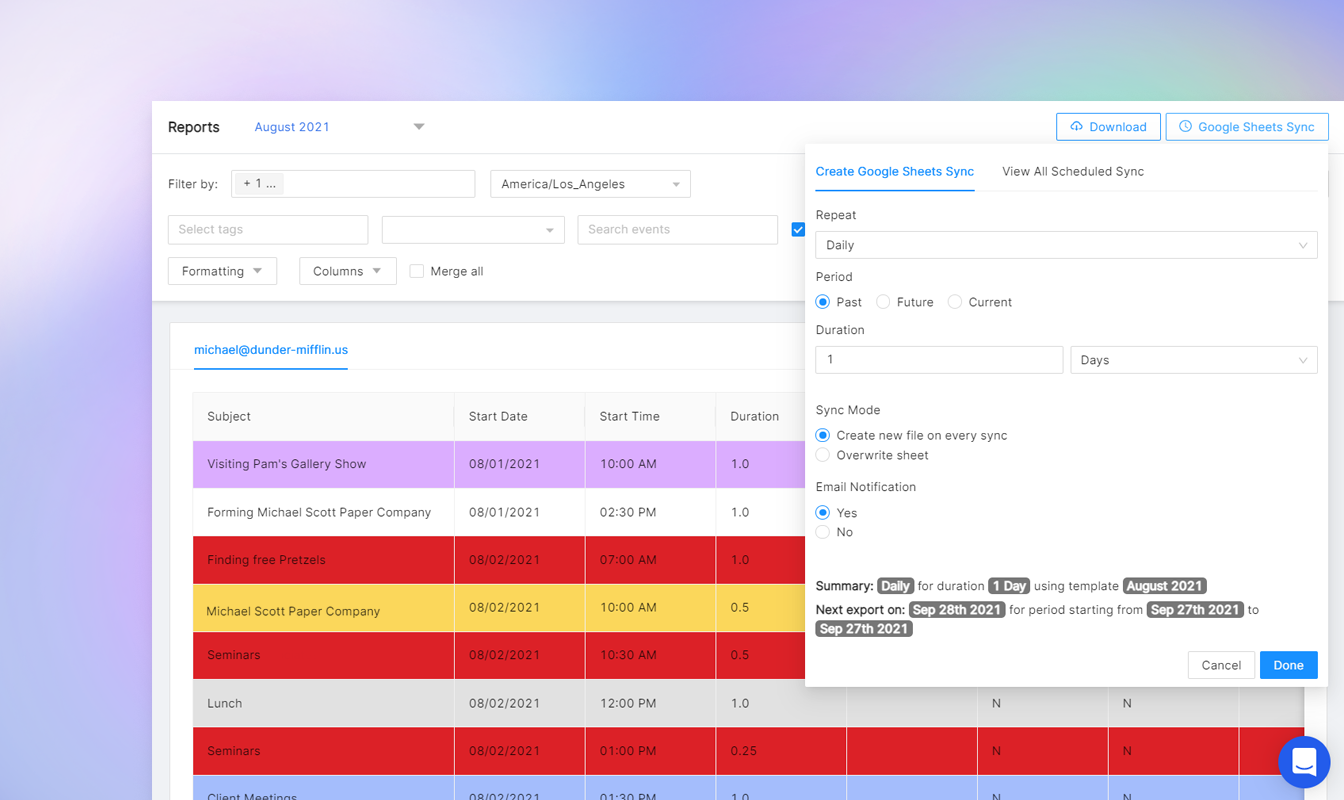 Trusted and used by 600+ teams
Top executives and best teams around the world use TimeTackle.
TimeTackle is a great tool to measure times. It has helped our organization increase our accuracy in developing projects, comparing the planned- VS the real-time we take on this, making better planning and efficient our work.
TimeTackle allowed our CEO (Matt) to track and prioritize his time in a more optimized way. Because of this, he was able to streamline his schedule by reducing the number of recruitment meetings he was attending.
My team and I happily use TimeTackle to crunch down on time and manual work to create timesheets for our employees. TimeTackle is easy to use, syncs smoothly with Google Suite, and offers really useful features to make the workflow even better!
TimeTackle helped us to identify where we can optimize the calendars. The team was very supportive and open for adjustments of the tool which we needed, e.g show by events instead of hours, and is a great pleasure to work with TimeTackle and their highly competent team!
TimeTackle is a great tool for our growing business! The ability to track, and sort tags has been such a huge help for paying contractors. We love TimeTackle!
In my role, I'm always looking for time savers by way of tools that maximize efficiency. Timetackle's event tagging, insights, and reporting features have already delivered great value to our entire team.