Sync Google Sheets With Google Calendar
Smart professionals are always looking for ways to maximize their impact by streamlining their workflows. Getting your calendar data automatically into Google Sheets can exactly do that while opening up so many new opportunities.
* No Credit Card Required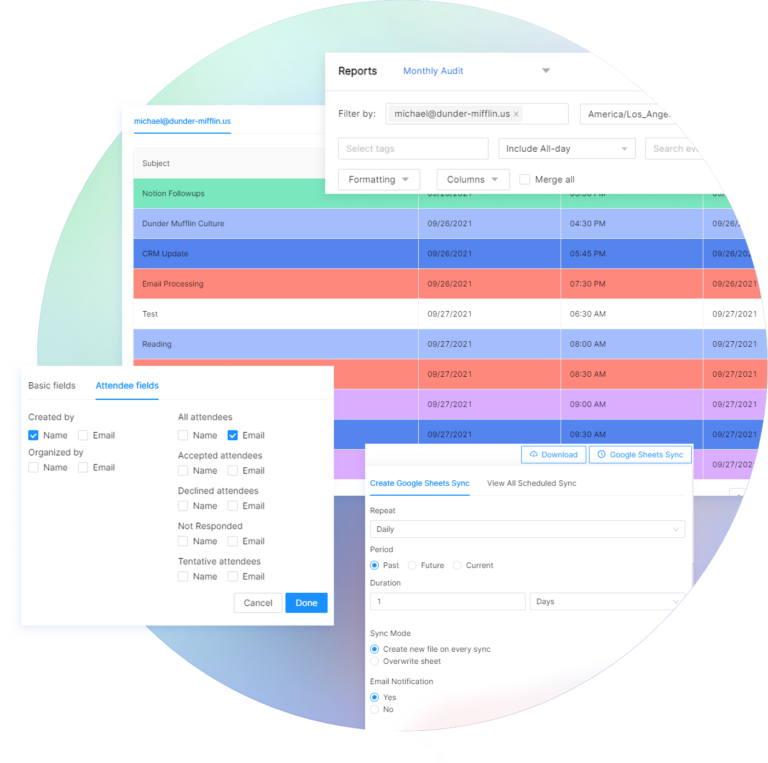 Streamline your workflows
Keep your exports safe, secure and in sync
Feel homely with your sync into google cloud. It makes encryption easy securing your 100% private data.
Automate your daily work report sharing with your team members and always stay in sync.
Automate and backup and restore data anytime
In case, your calendar events are accidentally deleted or lost, we're here to back you up with all the data that you need to restore your Google calendar events.
Auto Sync with Google Sheets
Connect your calendar to Google Sheets through Tackle to create greater collaboration, streamline workflows, access calendar data anywhere anytime, prevent time sinks, and play with the data to generate reports and charts. Create a template you're comfortable with on Tackle, set up Google sheets sync timeline and your calendar will be automatically synced to Google Drive.
Effective Time Management
Hit your deadlines and stay organized
Create a template that suits your workstyle and highlights your KPIs according to your calendar events/ objectives and the audience you want to present it to.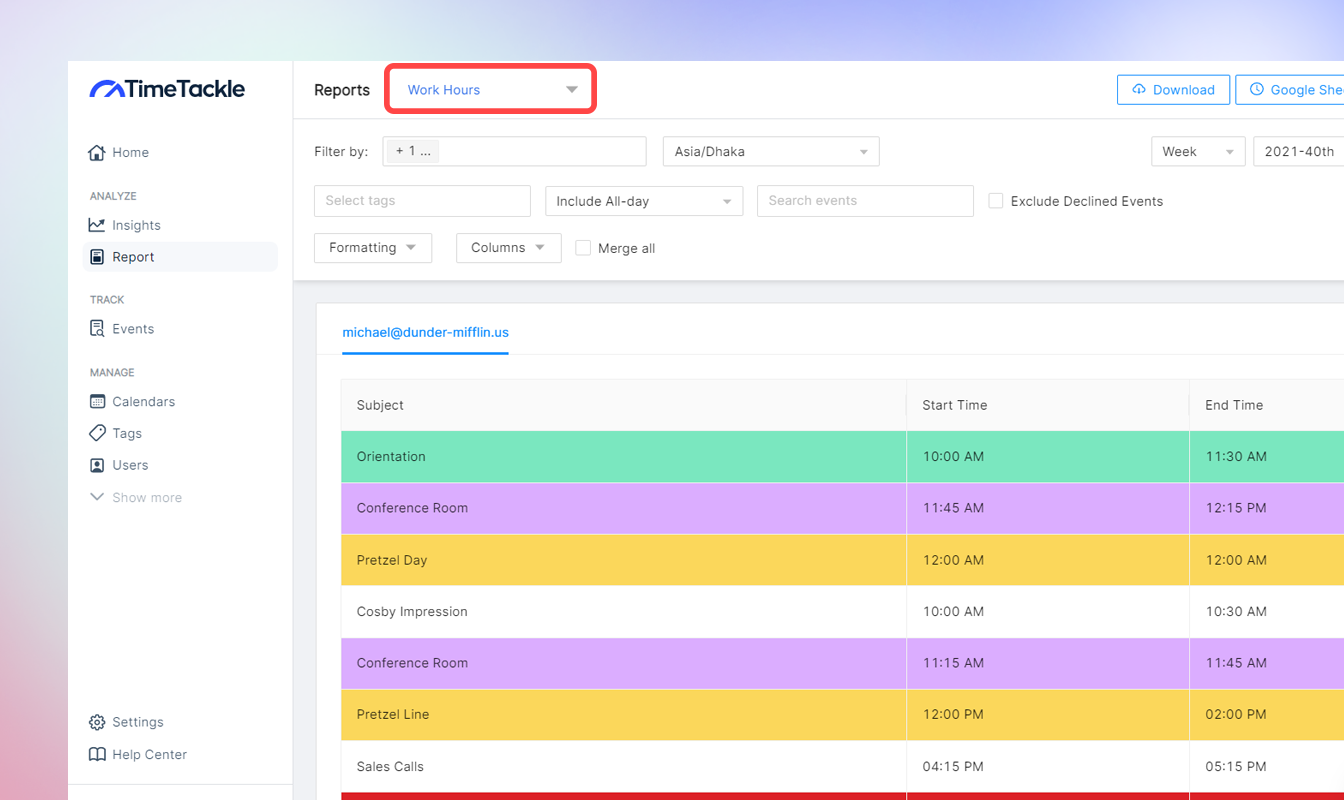 Auto Sync with Google Drive
Create a template that suits your workstyle best, set up Google sheets sync timeline and your calendar will be automatically synced with Google Drive. You set the auto syncing rules and forget the rest!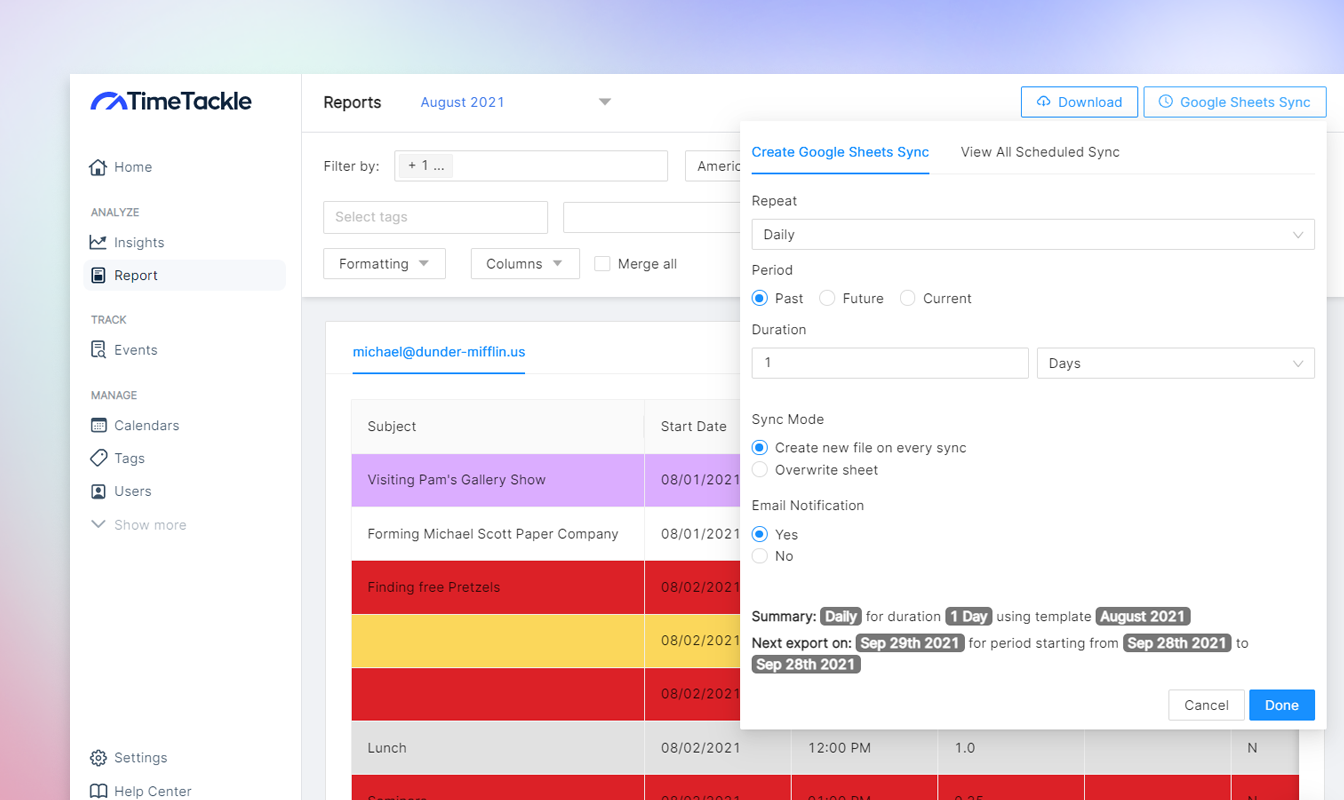 To keep everyone on track, you get notified after everytime you sync with Google Sheets. Now it's even harder to miss an event!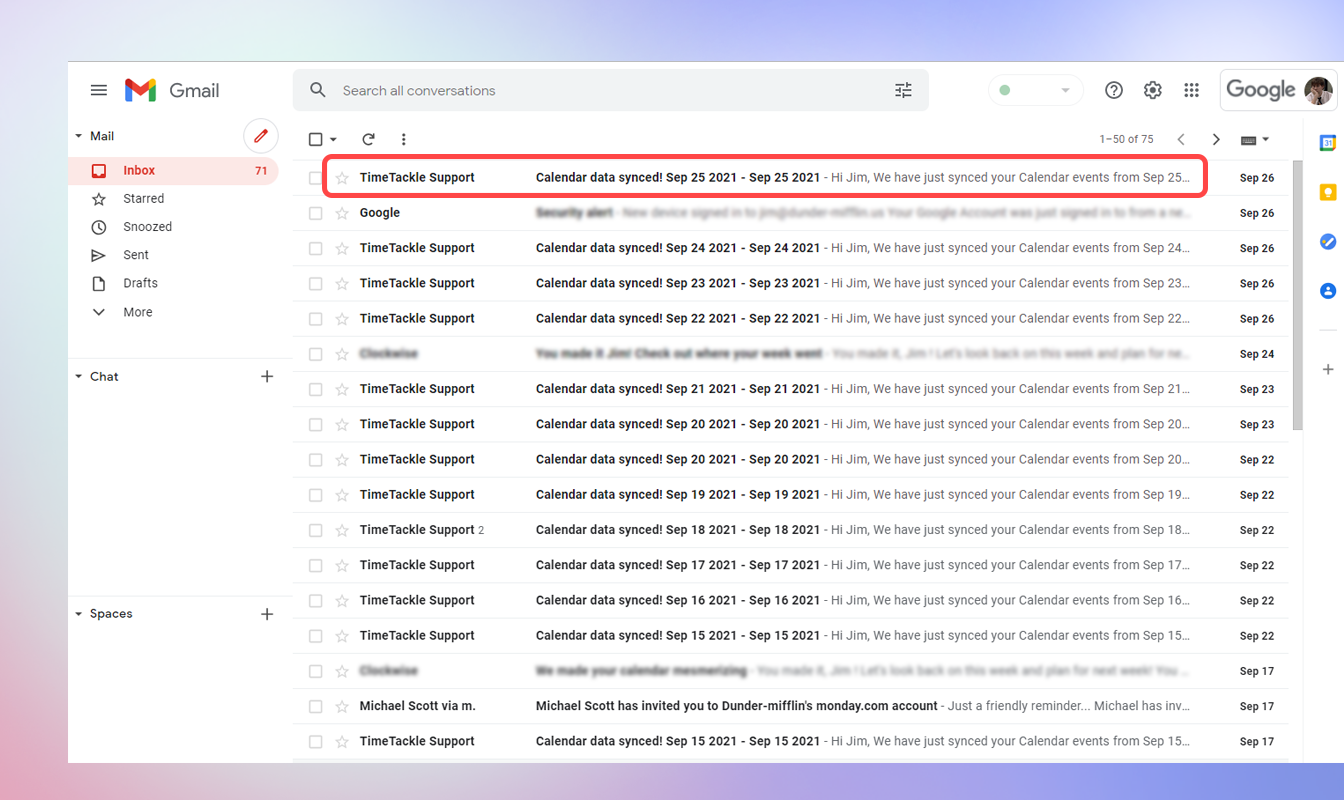 To provide flexible solutions with google sheet sync, users can choose between two different sync modes: Create new file on every sync, Overwrite sheet. Select the best option that works for you!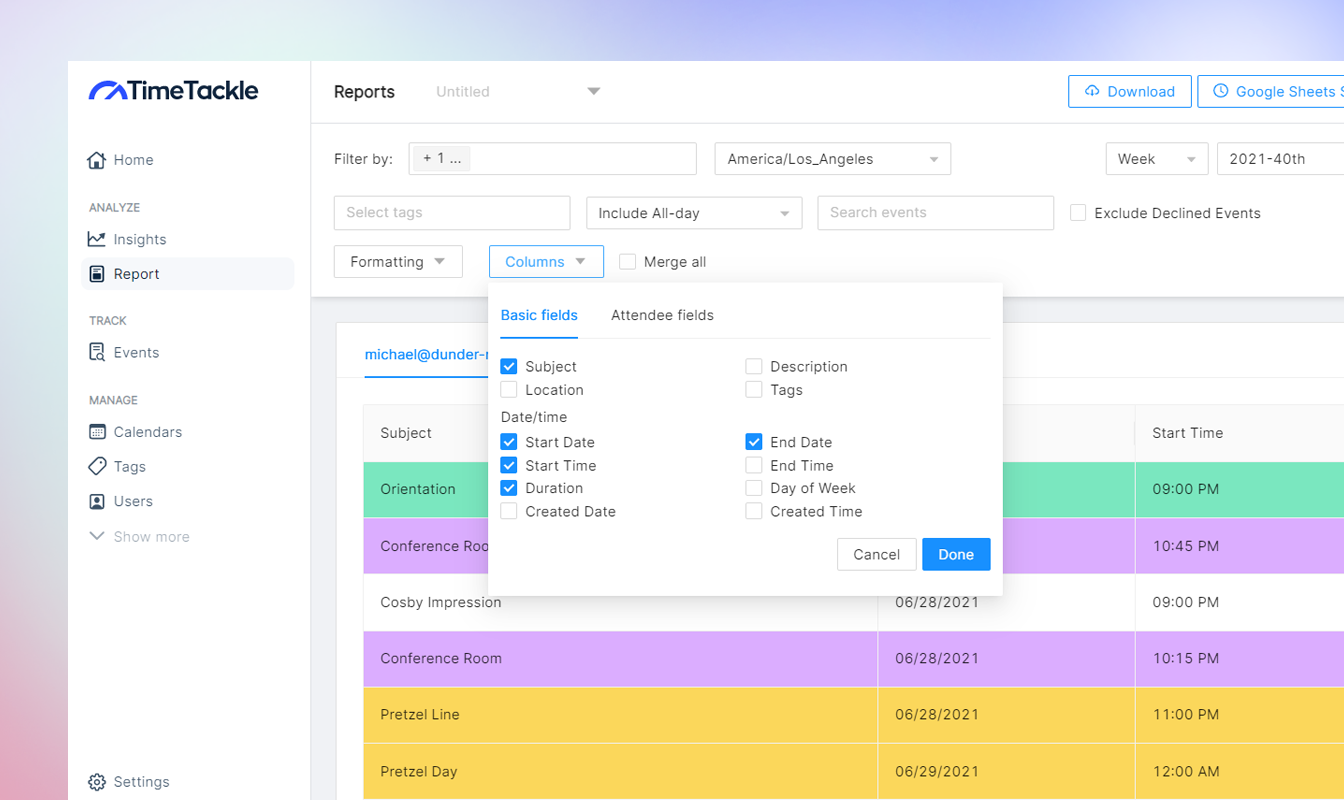 How To Sync Google Sheets With Google Calendar
You already have the data in your calendar. You just need to link them to Google Sheets in the format that works for you. Here are 4 simple steps that you can follow to securely and reliably link Google calendar data to Google Sheets.
Your calendar entries with the start and end times of all activities can be effortlessly converted to timesheets with Tackle. Just make sure to select the fields that you want your report to have so that your timesheets will show exactly what you've been spending time on and the duration. To summarize, Select a calendar. Go to the report section and select a calendar. Select data to export from the customized fields. From the columns fields, select the fields of data to export.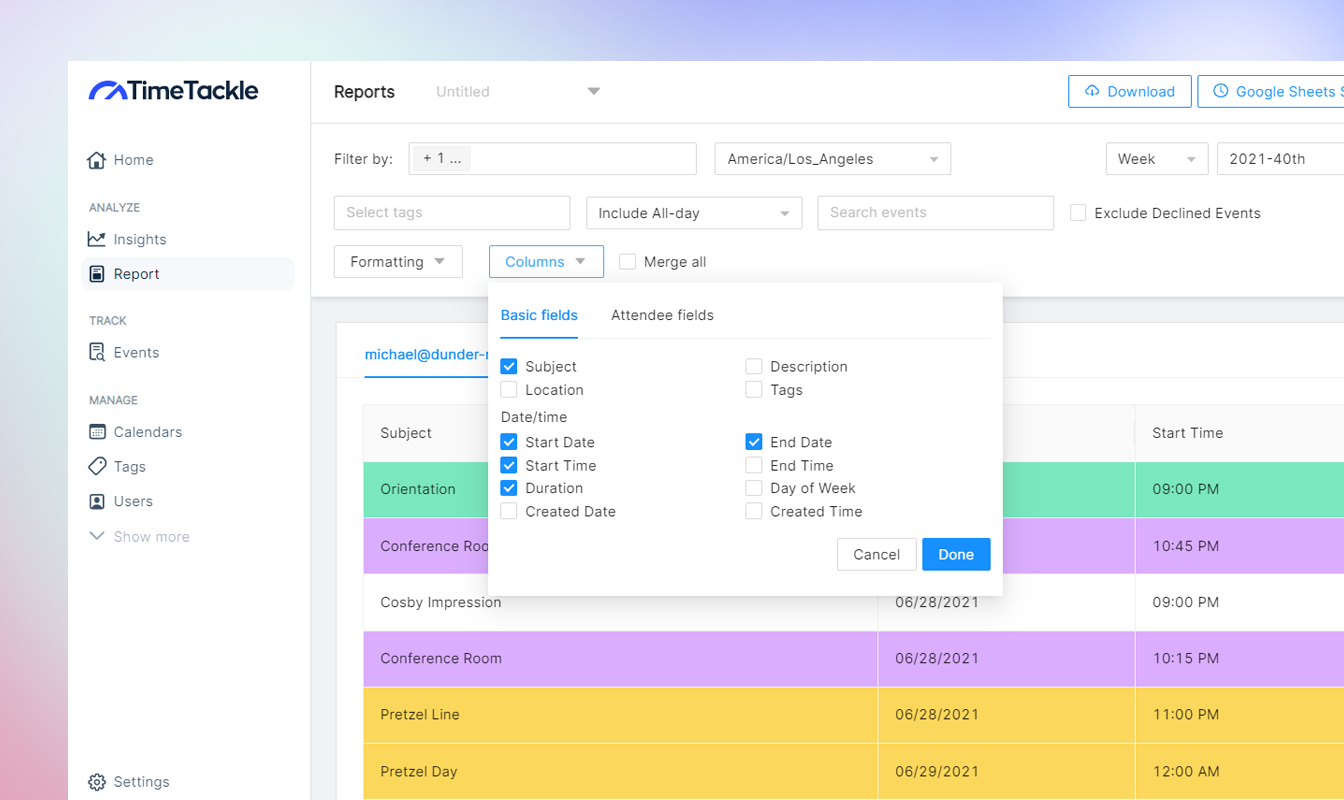 Once you know what you want and what form works for you, create a template that's ideal for you. With templates you can streamline your workflows and prevent time sinks with ease. Write down the name of the template or select from an existing template. Now your report is ready to auto sync.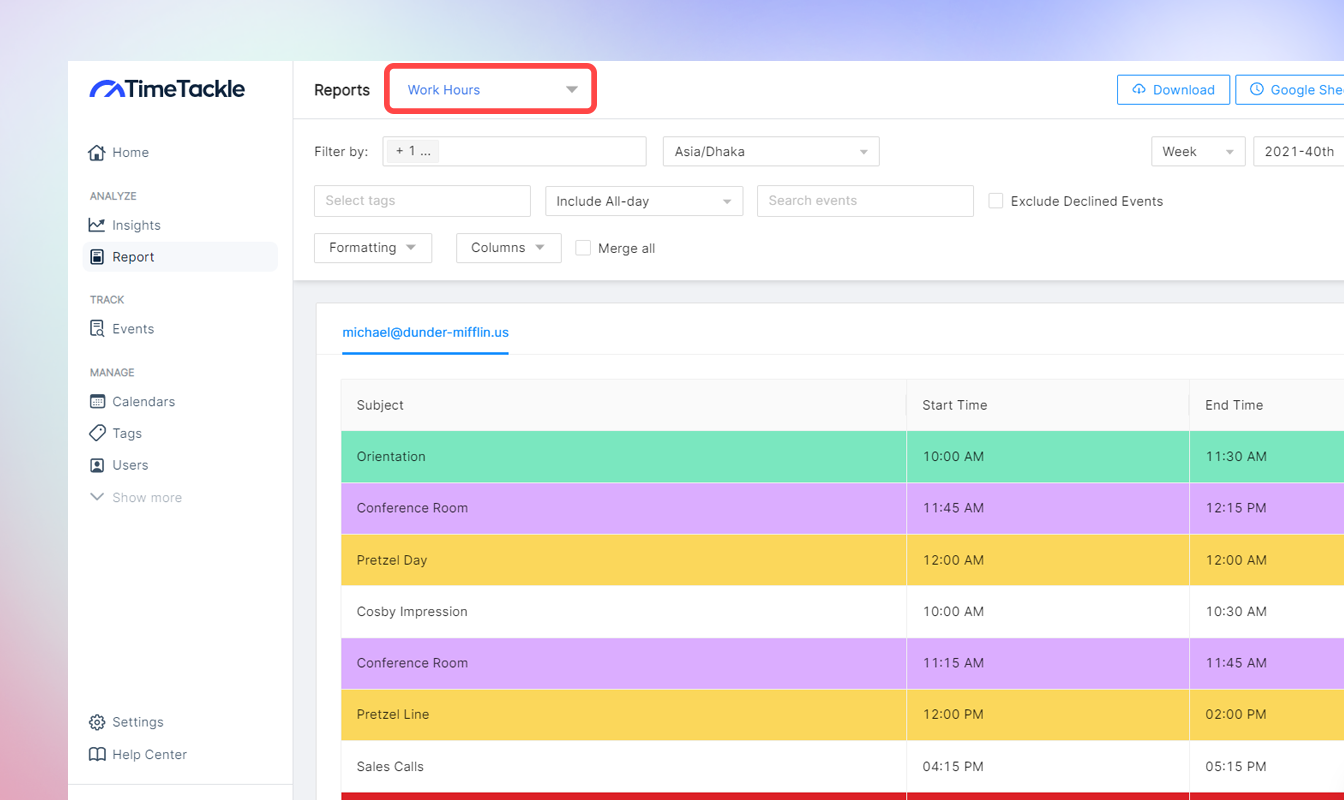 Sync with google calendar
If all the inputs are done correctly your calendar sync will happen automatically. You will find 'View all scheduled sync sections providing a more detailed preview of the sync that you are creating.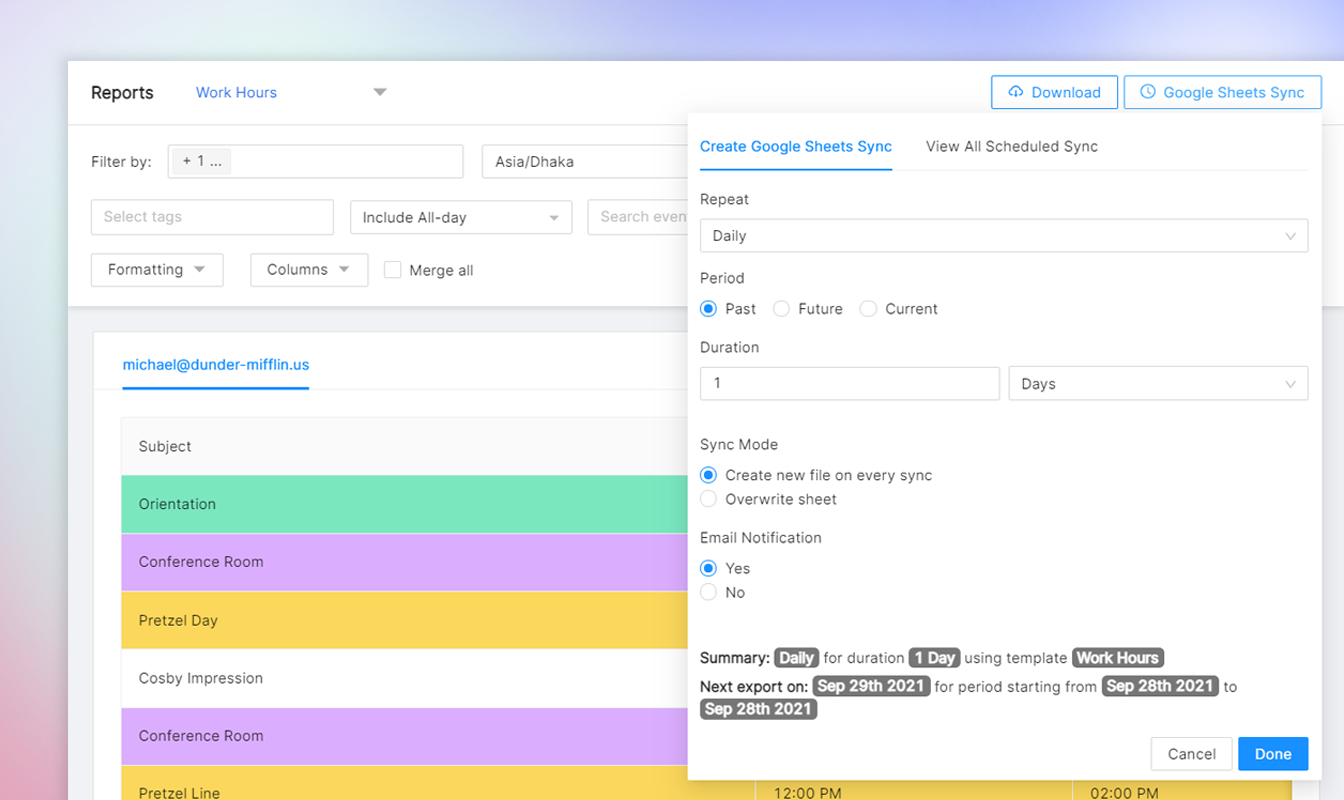 Your calendars contain information about how your team or your company spend their invaluable time. Tackle provides smarter ways to interact with this priceless information. Once you sync the data to Google spreadsheets you can virtually do anything you want with the data.
Our users use the Google Sheets Sync feature to manage their workforce and projects, maintain relationships with their customers and build other tools to automate their workflows. Combined with our Smart Tagging feature Tackle gives you a very powerful tool to bolster your and your team's productivity.
A few of the amazing brands who trust us with their time


Trusted and used by 600+ teams
Top executives and best teams around the world use Tackle.
Tackle is a great tool to measure times. It has helped our organization increase our accuracy in developing projects, comparing the planned- VS the real-time we take on this, making better planning and efficient our work.
Tackle allowed our CEO (Matt) to track and prioritize his time in a more optimized way. Because of this, he was able to streamline his schedule by reducing the number of recruitment meetings he was attending.
My team and I happily use Tackle to crunch down on time and manual work to create timesheets for our employees. Tackle is easy to use, syncs smoothly with Google Suite, and offers really useful features to make the workflow even better!
Tackle helped us to identify where we can optimize the calendars. The team was very supportive and open for adjustments of the tool which we needed, e.g show by events instead of hours, and is a great pleasure to work with Tackle and their highly competent team!
Tackle is a great tool for our growing business! The ability to track and sort tags has been such a huge help for tracking time. We love Tackle!
I'm always looking for time savers by way of tools that maximize efficiency. Tackle's event tagging, insights, and reporting features have already delivered great value to our entire team.