Time is the most powerful force in the universe. Tackle helps you harness it.
* No Credit Card Required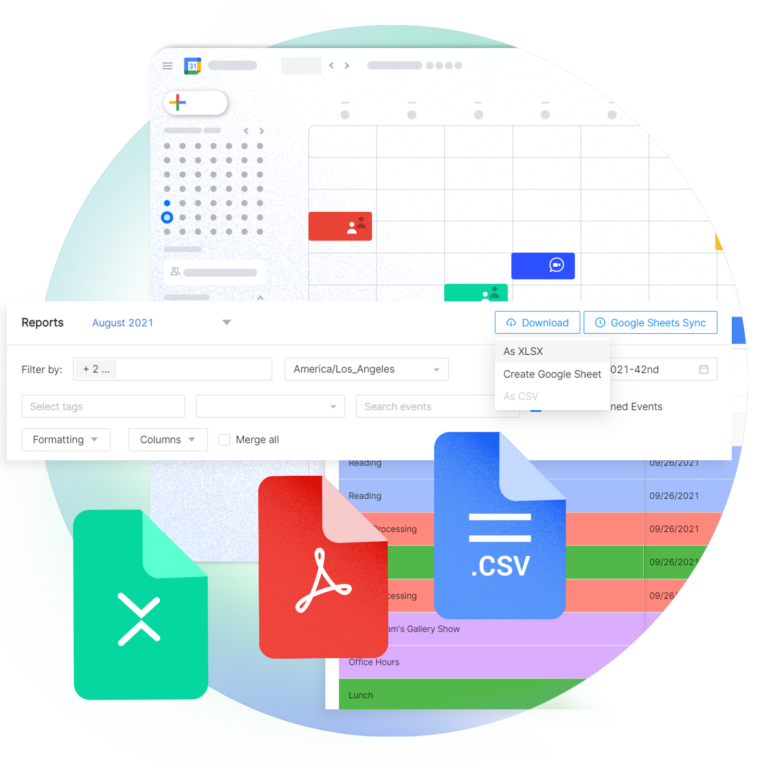 Streamline your workflows
Save oodles of time by exporting your Google Calendar to excel in an automated way.
Convert any ics file to csv file for CRM purpose and streamline your workflows.
Automate your daily work report sharing by exporting your Google calendar to pdf.
What is a Google Calendar?
Here's the deal- want to keep track of your life; you want to manage your events, special dates and plan your day to day activities but don't want to burden yourself with the of use physical calendars and notes.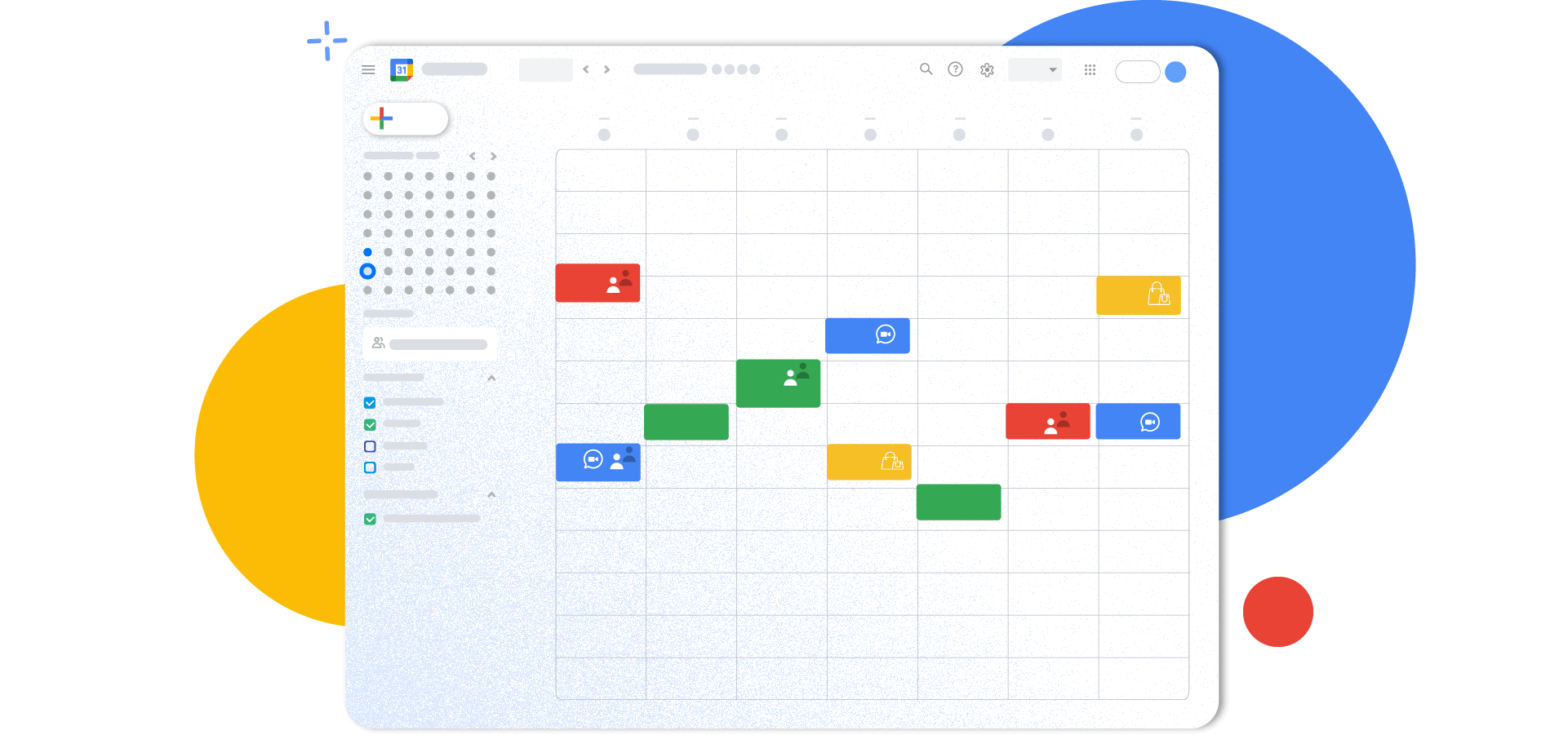 Google Calendar is a time-management web application and mobile app created by Google. It allows you to create planners called Google Calendars easily and intuitively. In a Google calendar you can input different events and have the option to get a notification about them. Anyone who would like to plan their life should look at Google Calendar.
If you have a google account you can easily use Google Calendar to manage your life. Simply access the application via the web at this site or download it at Google Play or the App Store.
Why would you want to Export Google calendar using Tackle?
Freelancers use Google Calendar to create timesheets from google calendar, some people use it to manage different contractors; Executive Assistants use it to keep track of their boss's time. A Google calendar could be exported to keep as a copy for yourself or to easily share it with the people you collaborate with.
You can easily view your Google Calendars online on their site or mobile via their app but what if you want to easily share you Google Calendars at other people? You can export your Google calendar to keep a copy for yourself or to give out to people.
If you want to take a long hard look at your calendar events for further processing and even for reporting purposes, exporting your Google calendar is the right way to go about it. You can identify the kind of events that have been taking up your time. You can spot if you've been spending more time on certain events that were unnecessary. Or, maybe you've been investing less time in events that needed more input from you.
When you have exported your Google Calendar, there's no need to click on each event as all the events are visible all together after you have exported it. Moreover, you can see the details of the event like start and end times, the venue, and the total duration.
If employees of an organization work on an hourly or part-time basis, exporting their Google Calendar can easily generate timesheets. This saves time in calculating their pay as there's no need to note down their hours individually from the calendar.
If you have a copy of your calendar in Google Sheets or Excel, you can access it and make changes in it in offline mode. You may not always have access to Wifi and therefore, if you export your Google calendar, you can access it anytime. 
Just export your google Calendar using Tackle into the format that you want and give it out to your collaborators or keep it as a copy for yourself to easily manage your contractors.
How to Export a Google Calendar using Tackle
You've already created your Google Calendar and you want to export it so that you have a copy for yourself to use or share. One website that does the work for you is Tackle. There is No installation required, no hassle!
From the left panel, under Manage, click on 'Calendars"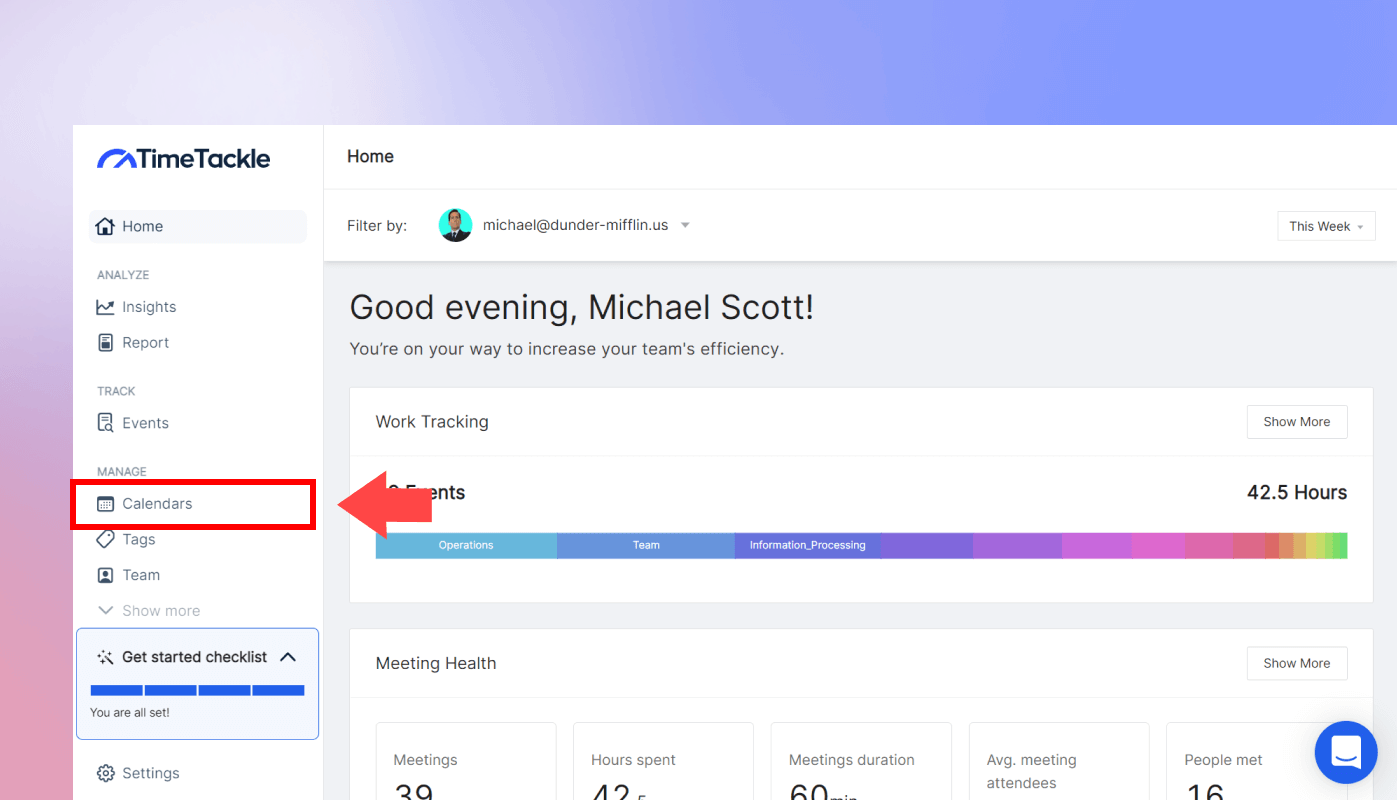 Select the calendar/s you want to export
Select a calendar or multiple calendars you want to export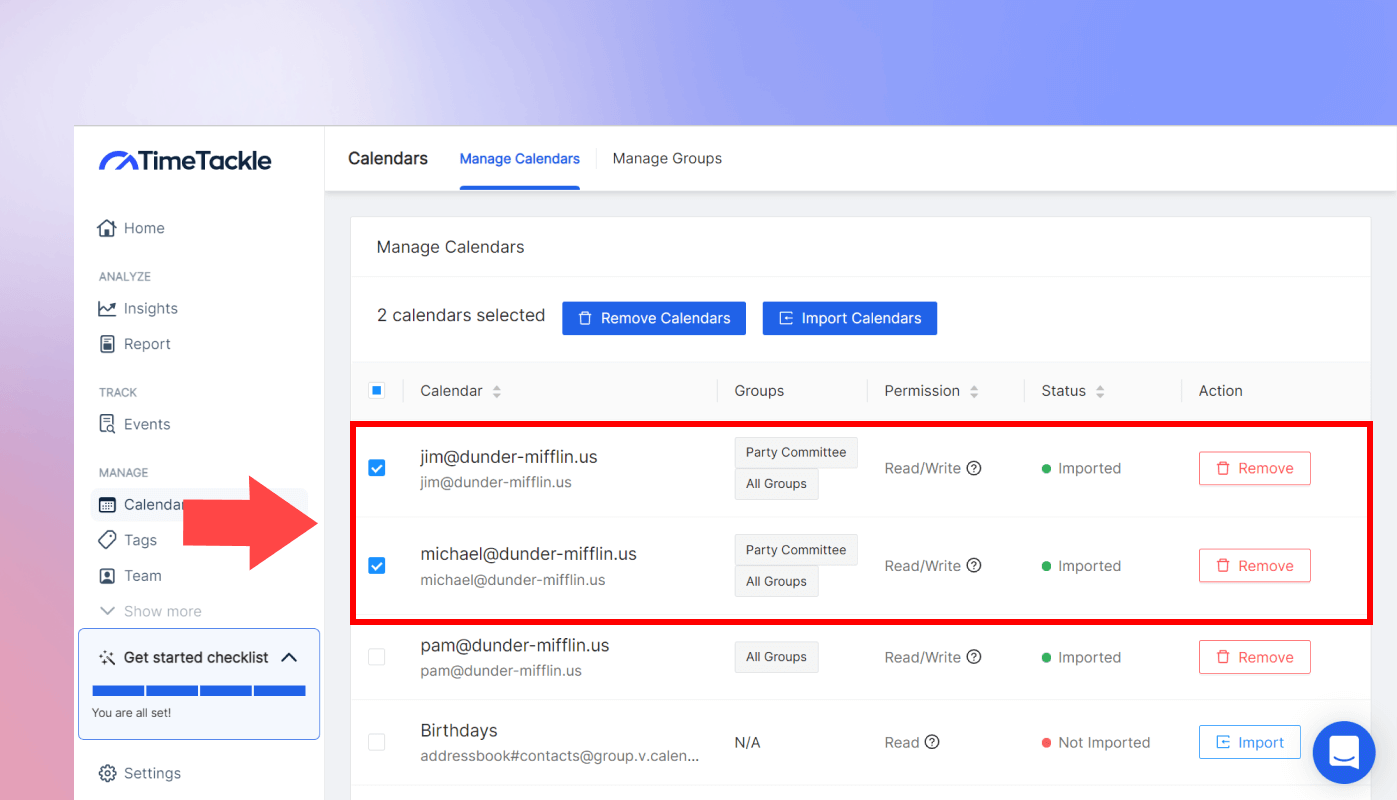 Click "Import Calendars" and import your calendar data into Tackle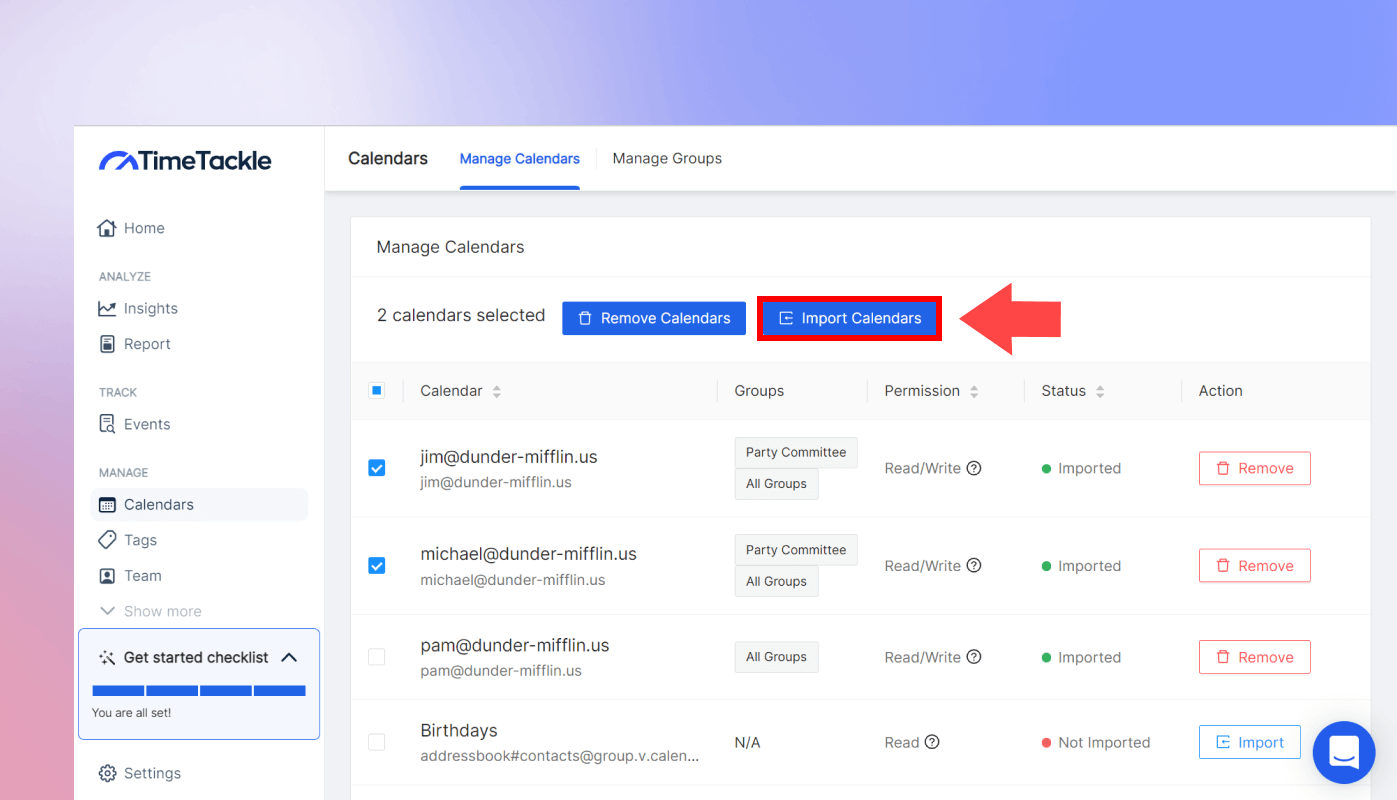 You will find the "Report" section, under Analyze, from the left panel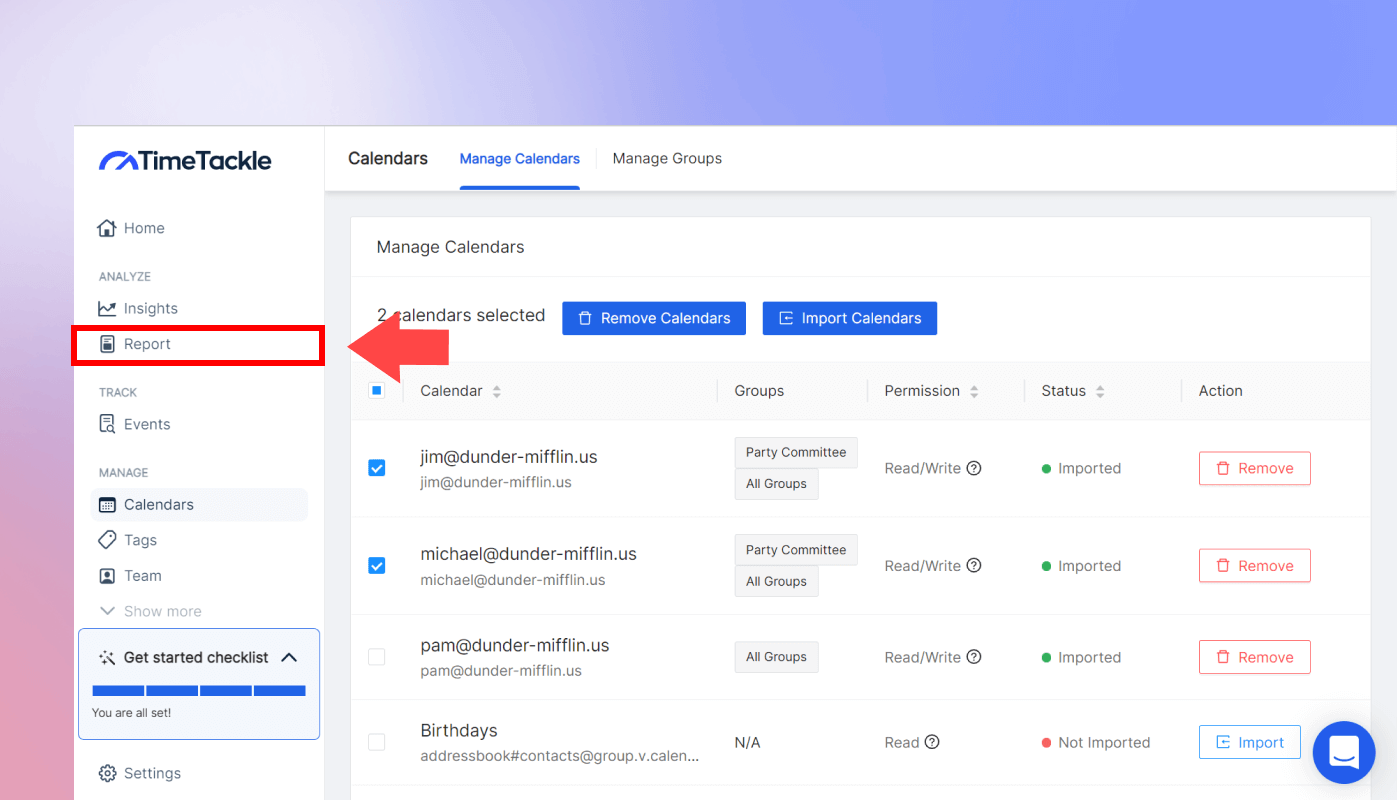 Rename and filter your report
Rename your report and select the calendars you want to merge and export from the "Filter" section
Select the fields for your report
From the "Columns" section, select the data fields you want to export along with the calendar events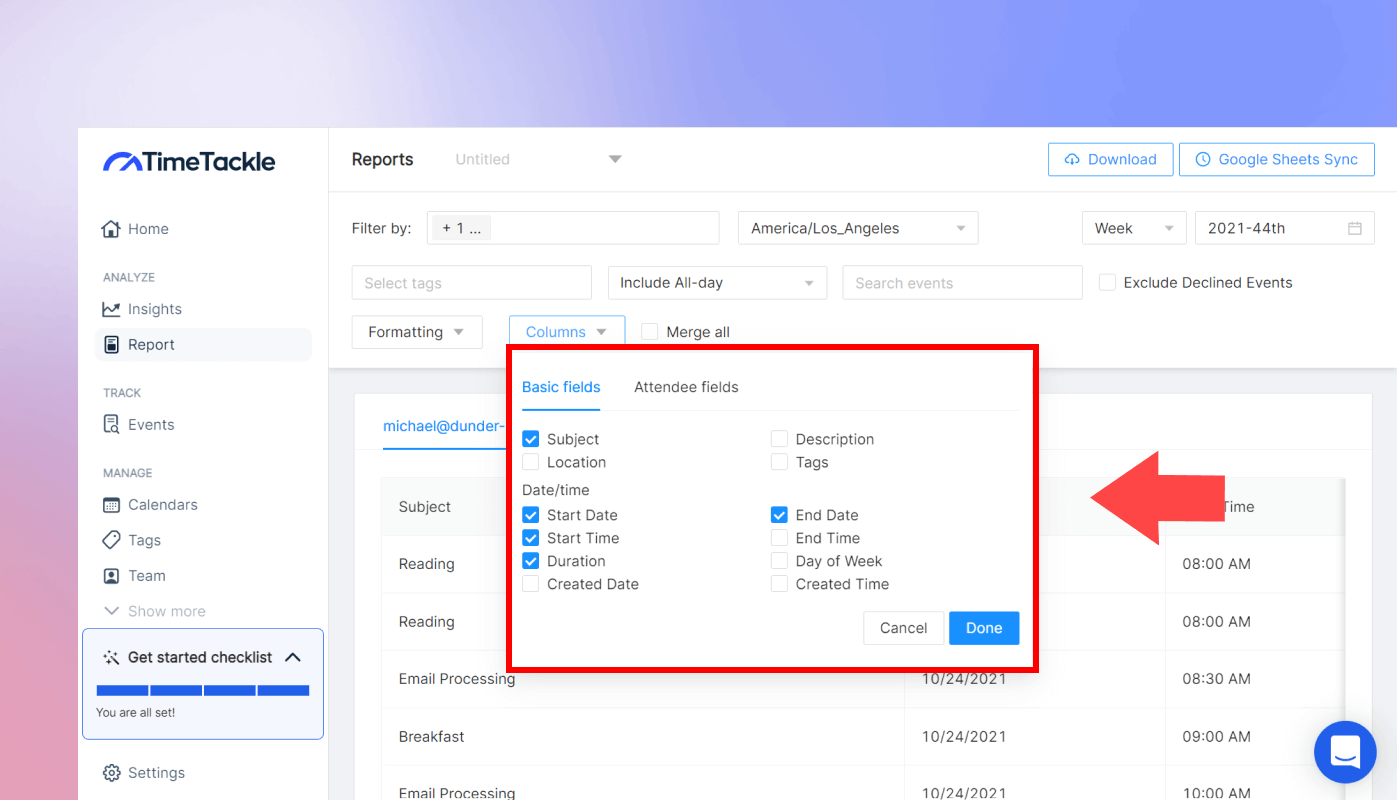 Using the "Formatting" section you can also customize your data formats in the way that works best for you.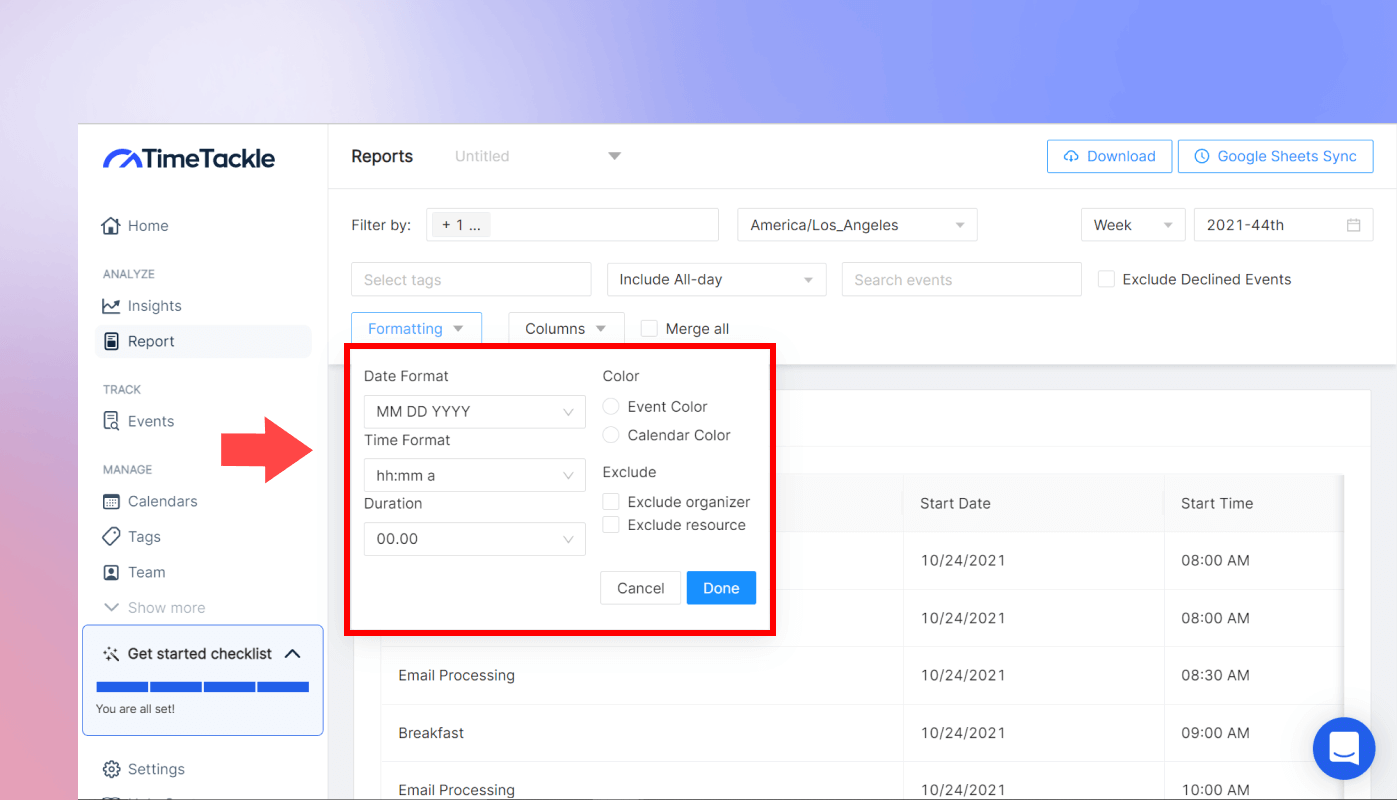 Download your merged calendar in .xlsx or google sheet. That's it your calendars are merged and exported!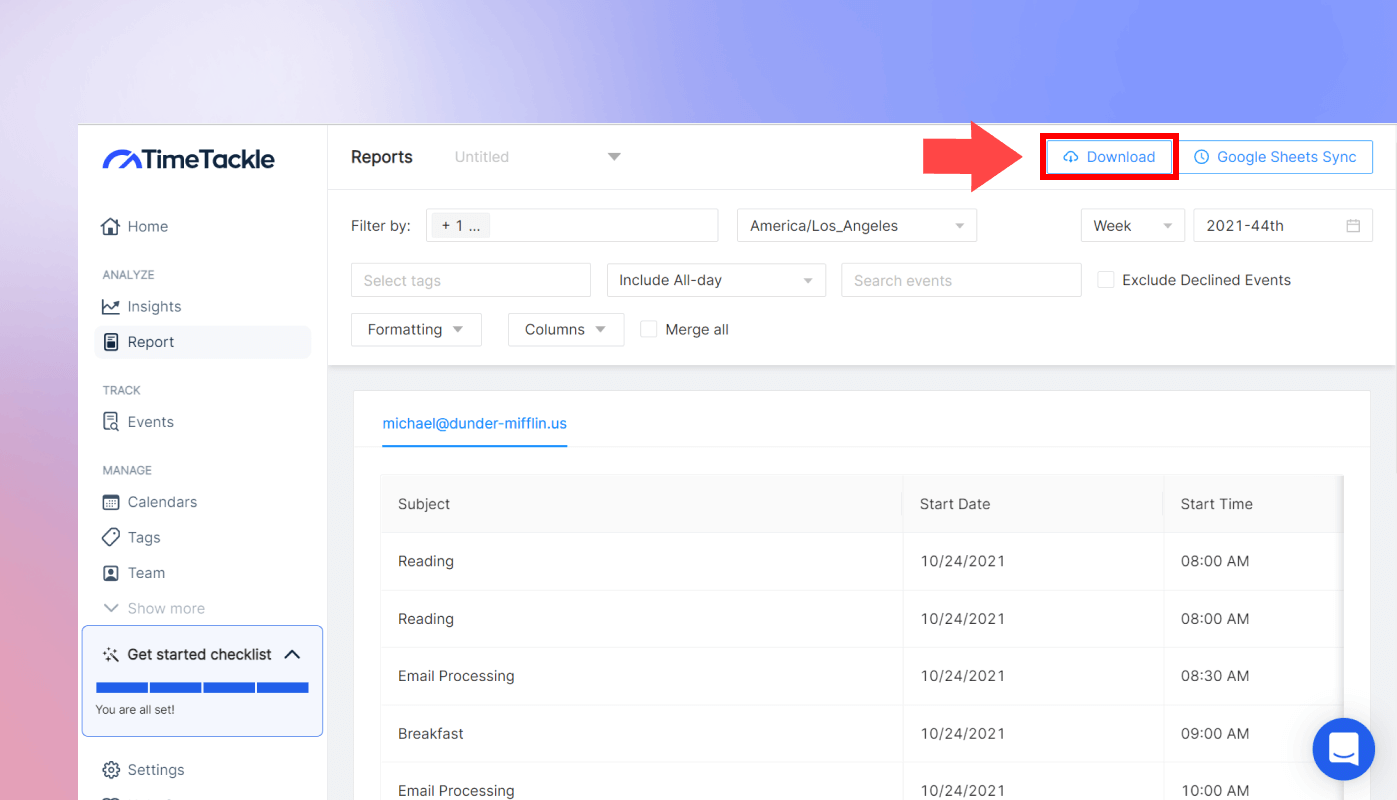 Frequently asked questions
Yes, you can transfer your calendar from a different Google account by following the steps below.
Step 1: Sign in to your Google account from where you want to export the calendar.
Step 2: Refer to the section above under How to Export Google Calendar.
Step 3: Download an ics file on your computer when you export the calendar.
Step 4: Log in to the Google account where you want to import calendar.
Step 5: Click on the Setting wheel and choose settings.
Step 6: Click the Import and export option from the left panel.
Step 7: Under Import, click on select the file from your computer and select the ics file you had saved.
Step 1: Go to Google Calendar to import your calendar data.
Step 2: From the top right, click the Setting wheel or gear icon and select Settings.
Step 3: From the left panel, select Import & export.
Step 4: Click on Select file from your computer under Import.
Step 5: The ics file will show on your computer. Select the file.
Step 6: Select the calendar where you want to add the imported events by clicking the down arrow and then click the Import button below.
If you have a zip file, open it to find ics files of every one of your calendars. You need to take each file out of the zipped folder and import the individual ics files.
When you export your Google Calendar, it means you're copying the information from your Google Calendar to another app like Google Sheets, Microsoft Excel, etc. Further edits on the main Google Calendar will not show on the exported file and vice versa. Remember that only limited information will be exported from your Google Calendar. These include the event title, description or summary, date and time, timezone, the text of the location of the event, and an event link.