Google Calendar Analytics
Align your executive's time with your KPIs, optimize your team's schedule or improve your company's meeting health.
* No Credit Card Required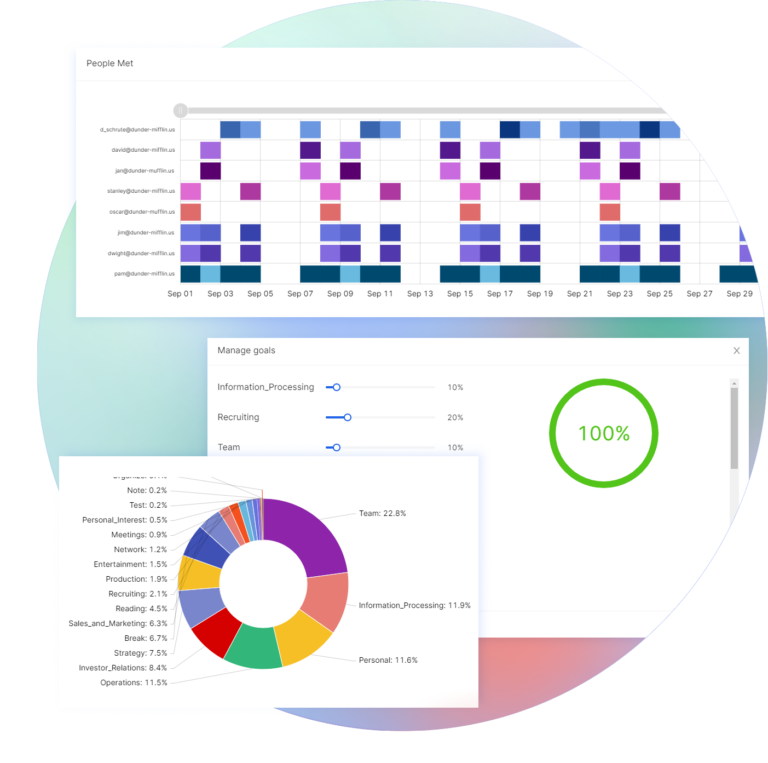 Seamless time tracking services for teams of any size
Busy executives spend most of their day in meetings. With TimeTackle Executive Calendar Audit, align your time with your Goals and Priorities. Get a real sense of where you spend your time, adjust your schedule for the highest ROI. 
Gather deep insights about how your team is spending time. With TimeTackle Team Analytics, track your team's work, identify inefficiencies in people utilization. Optimize your team's schedule for higher productivity.
Measure and track your company's meeting health with meaningful analytics. Get AI-generated recommendations and eliminate dysfunctional meetings to reduce meeting fatigue and increase deep work.
Superior algorithms and encryption to guarantee the privacy and security of all your data.
See exactly where your time is going
Set and achieve strategic goals. Connect your personal and professional goals to help you achieve them all in one place.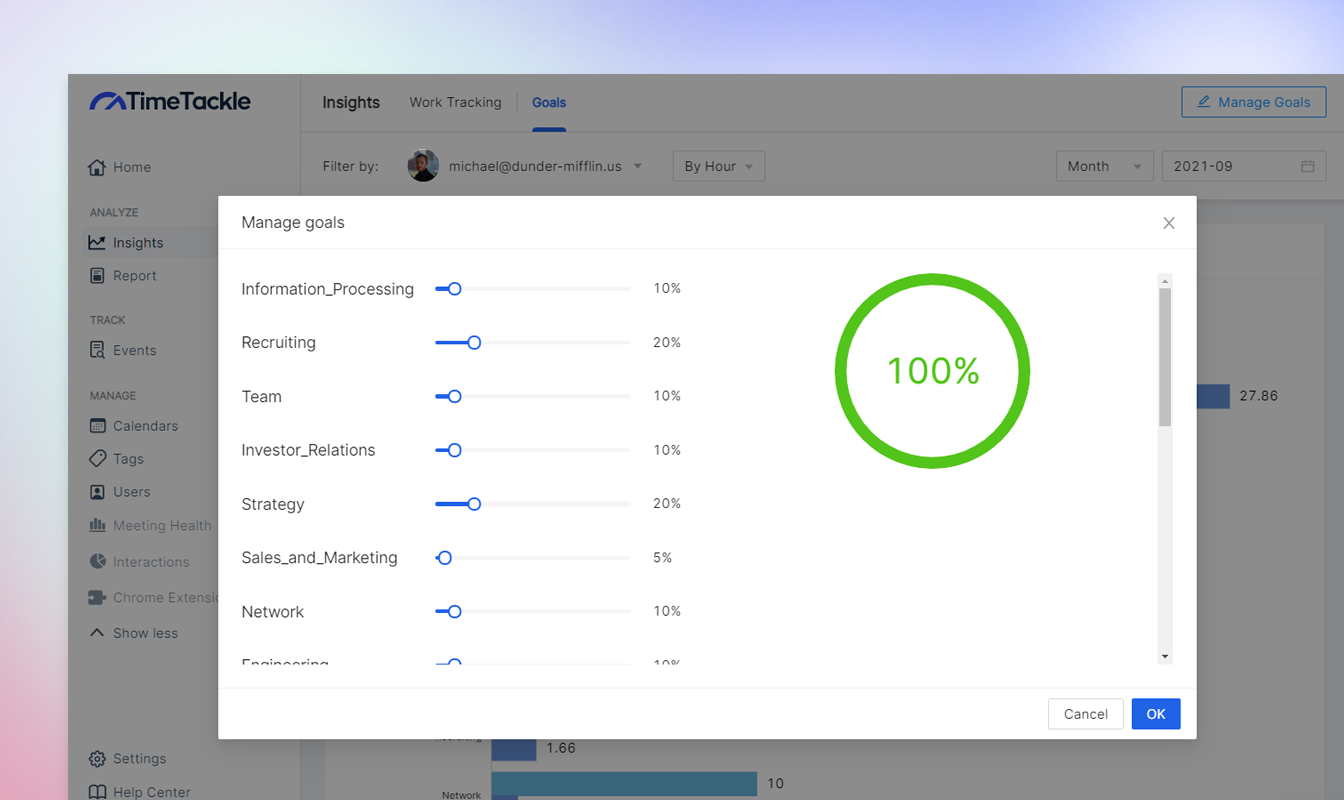 Get real-time project data in one place. Analyze your team's productivity across resource units, projects and focus on your core KPIs and measure how far you are from your goals.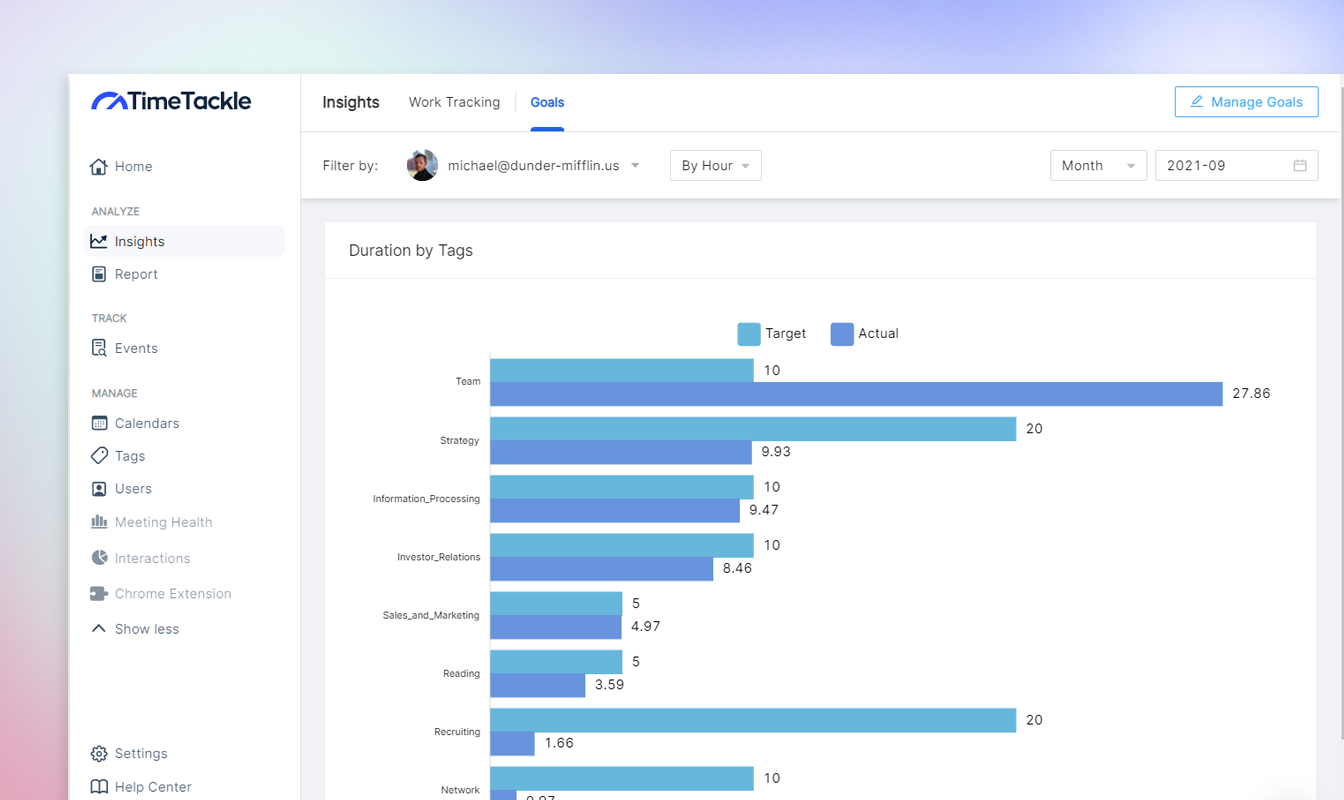 Monitor the status of all your projects in real time to make sure, teams are on track to meet company goals by keeping tabs on their progress. Without clear goals, people work in circles, allowing teams to reduce conflict and move in one direction.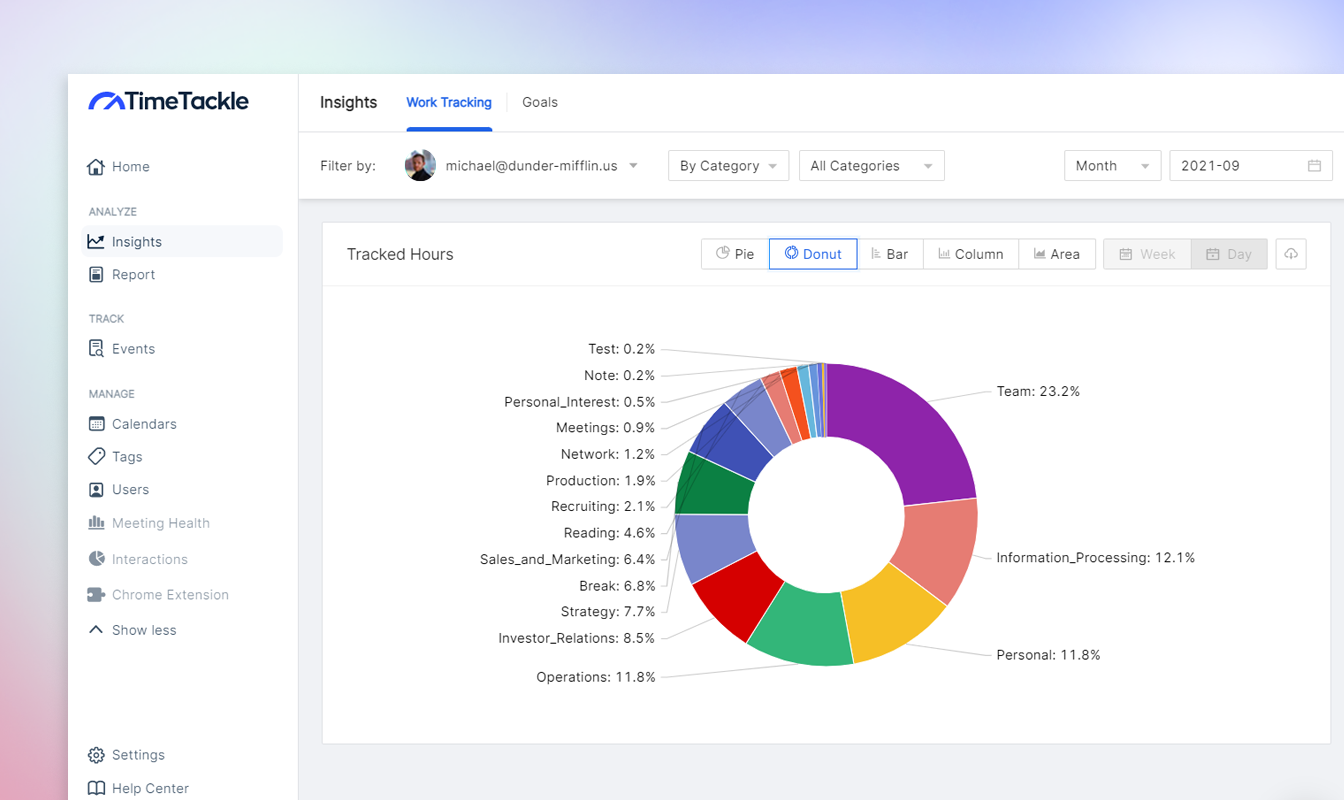 Get better work done. Measure and track your company's meeting health with meaningful analytics and AI-generated recommendations to eliminate dysfunctional meetings, reduce meeting fatigue and improve meeting health.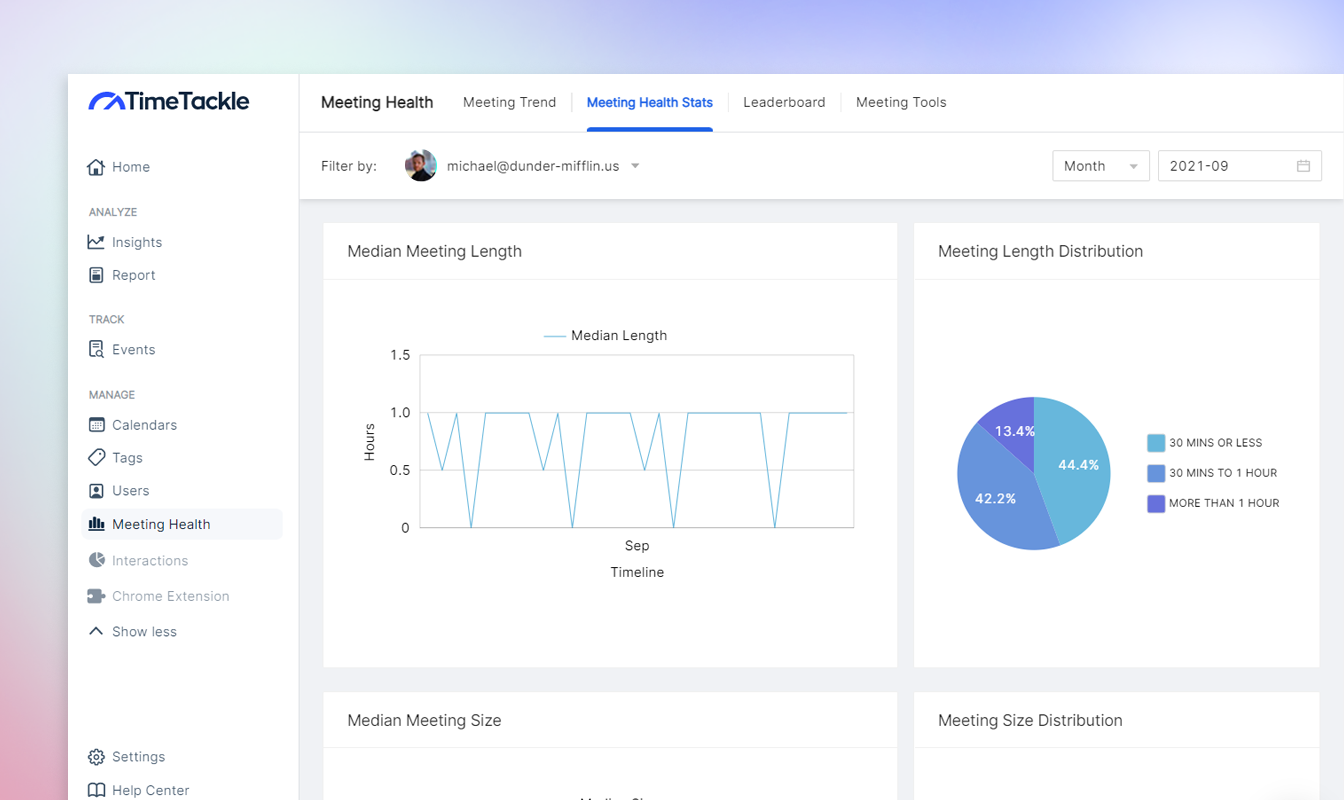 Time analytics leaderboard
Connect with your colleagues and teams and check who is good, better and the best in time allocation and time management!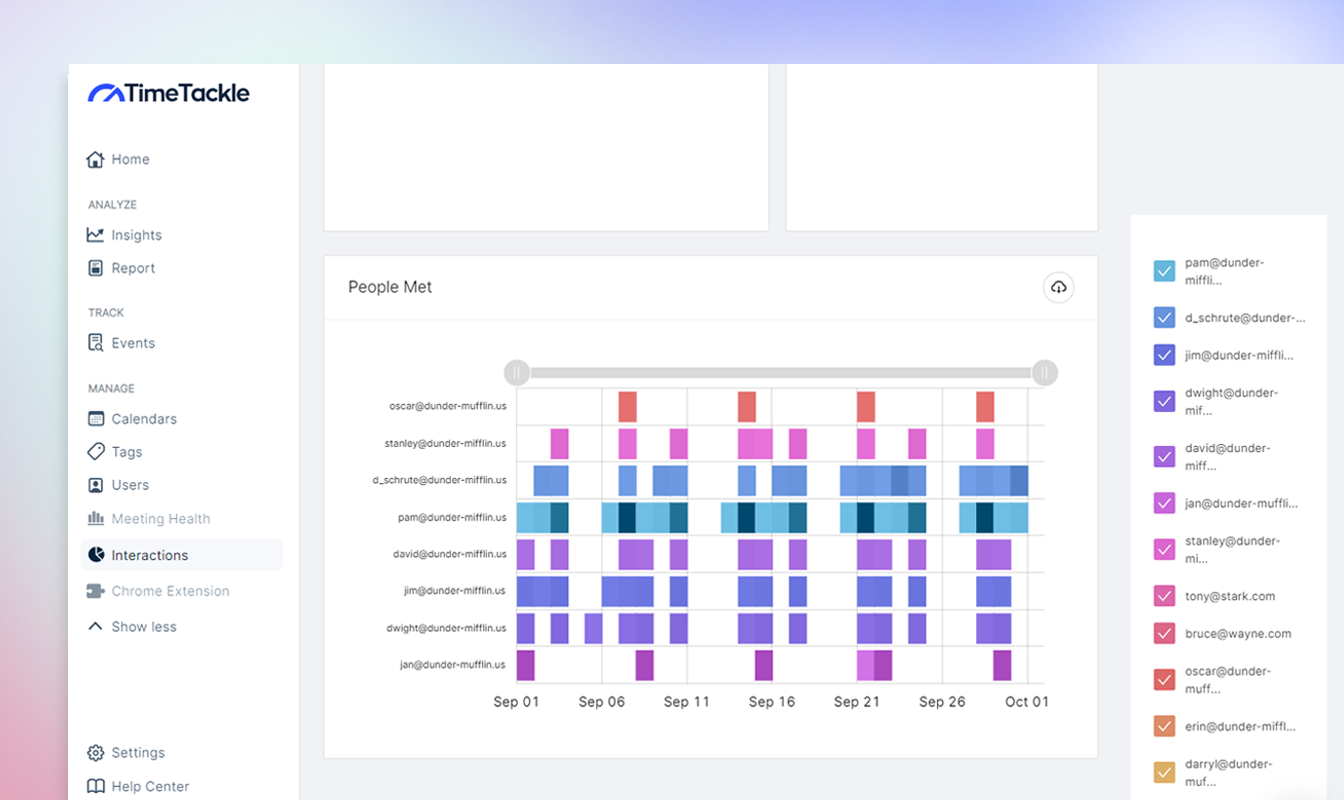 A few of the amazing brands who trust us with their time


Trusted and used by 600+ teams
Top executives and best teams around the world use TimeTackle.
TimeTackle is a great tool to measure times. It has helped our organization increase our accuracy in developing projects, comparing the planned- VS the real-time we take on this, making better planning and efficient our work.
TimeTackle allowed our CEO (Matt) to track and prioritize his time in a more optimized way. Because of this, he was able to streamline his schedule by reducing the number of recruitment meetings he was attending.
My team and I happily use TimeTackle to crunch down on time and manual work to create timesheets for our employees. TimeTackle is easy to use, syncs smoothly with Google Suite, and offers really useful features to make the workflow even better!
TimeTackle helped us to identify where we can optimize the calendars. The team was very supportive and open for adjustments of the tool which we needed, e.g show by events instead of hours, and is a great pleasure to work with TimeTackle and their highly competent team!