Enterprise-grade security
Privacy and data protection you can rely on
Comprehensive privacy and enterprise grade security programs to help protect and empower your organization and team's work.
* No Credit Card Required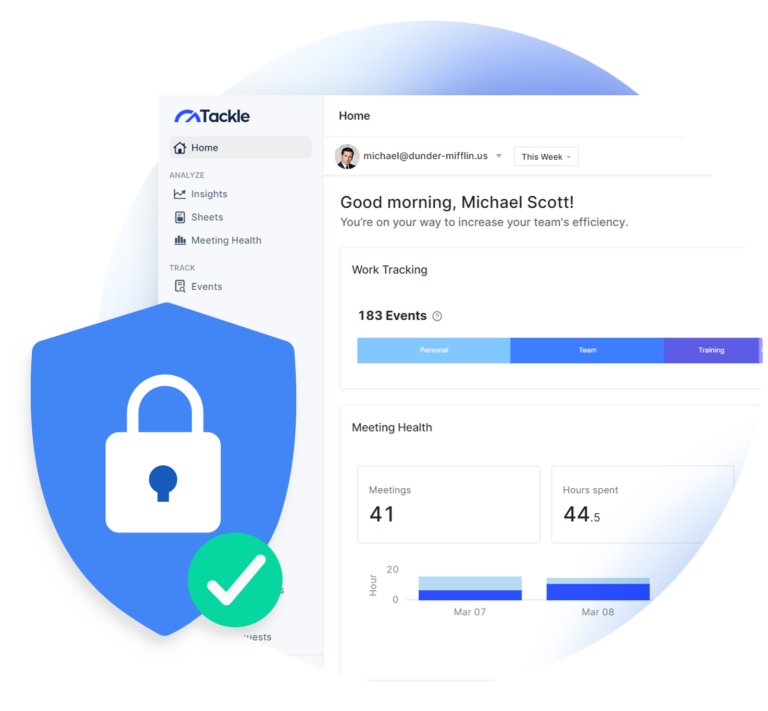 Network, application, and data security is vital for any enterprise solution.
Our systems and processes are independently audited and tested annually. For network security, we use TLS 1.2 and Google Cloud Platform data centers certified with ISO 27001 and SOC2 compliance. For our code, infrastructure, and tracking outside threats, we use Google Cloud monitoring services.
Enterprise-level encryption
We enforce TLS 1.2 everywhere. Data at rest is encrypted by default and we secure all sensitive information with strong hashing algorithms like AES-256 and AES-128.
GDPR is a priority to us. We have specific processes and tools in place to ensure compliance and protect your data and privacy.
Penetration & security audits
Our systems are penetration tested and audited annually by an independent security firm.
Data encryption in transit and at rest
We use TLS 1.2 to encrypt the data in motion and follows several security measures to help ensure the authenticity, integrity, and privacy of all data in transit. We also use Google Cloud Platform that encrypts data at rest managed the same way as for Google's production services.
We penetration test our service annually to make sure our application and infrastructures are not vulnerable. We also make sure our code goes through a thorough code review process.
Principle of least privilege policy
Application infrastructure is completely hosted on Google Cloud with least privilege access policy. We also have logging in place to audit any authorized access. Furthermore our application infrastructure is completely separated from our public facing website for enhanced security.
A few of the amazing brands who trust us with their time
Frequently Asked Questions
Trusted and used by 600+ teams
Top executives and best teams around the world use Tackle.
Tackle is a great tool to measure times. It has helped our organization increase our accuracy in developing projects, comparing the planned- VS the real-time we take on this, making better planning and efficient our work.
Tackle allowed our CEO (Matt) to track and prioritize his time in a more optimized way. Because of this, he was able to streamline his schedule by reducing the number of recruitment meetings he was attending.
My team and I happily use Tackle to crunch down on time and manual work to create timesheets for our employees. Tackle is easy to use, syncs smoothly with Google Suite, and offers really useful features to make the workflow even better!
Tackle helped us to identify where we can optimize the calendars. The team was very supportive and open for adjustments of the tool which we needed, e.g show by events instead of hours, and is a great pleasure to work with Tackle and their highly competent team!
Tackle is a great tool for our growing business! The ability to track and sort tags has been such a huge help for tracking time. We love Tackle!
I'm always looking for time savers by way of tools that maximize efficiency. Tackle's event tagging, insights, and reporting features have already delivered great value to our entire team.