Generate custom reports to highlight key features of your calendar according to your objectives and the audience you want to present it to.
* No Credit Card Required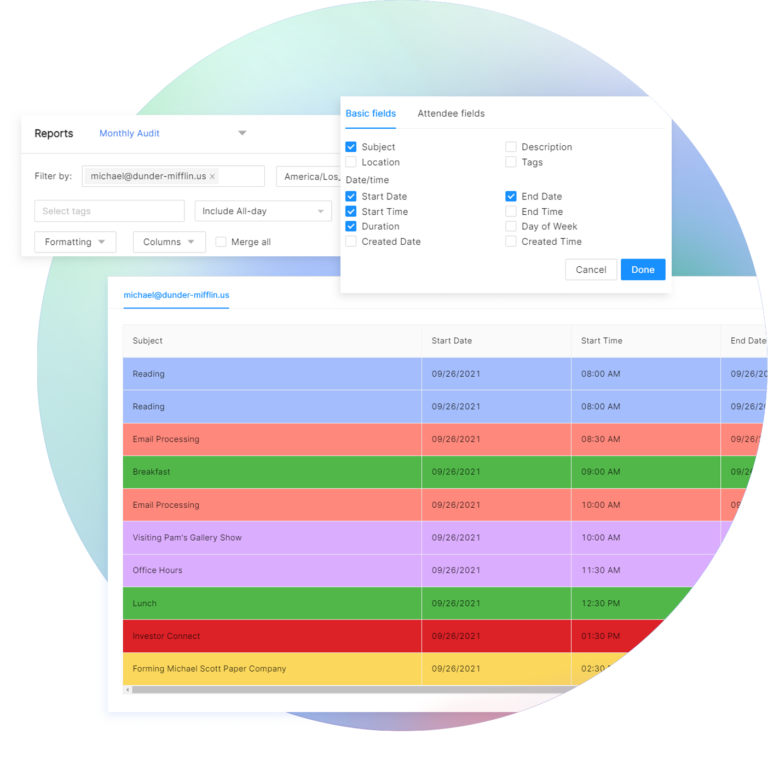 Save time for what matters
Business calendaring beyond scheduling
If you're managing a team and have access to their calendars, you can create a report with all their calendars in one file. There's no need to click on the individual calendars.
Perfect your connections with your peers and teams. Track your interactions with your external stakeholders. Create time slots for specific teams and companies.
Download reports in excel, Google Sheets. Each one can be utilized in different ways. What's more, you can also save the file to your Google Drive or download it on your computer.
Auto Sync with Google Sheets
Connect your calendar to Google Sheets through Tackle to create greater collaboration, streamline workflows, access calendar data anywhere anytime, prevent time sinks, and play with the data to generate reports and charts. Create a template you're comfortable with on Tackle, set up Google sheets sync timeline and your calendar will be automatically synced to Google Drive.
Your calendar entries with the start and end times of all activities can be effortlessly converted to timesheets with Tackle. Just make sure to add titles and descriptions to your calendar events so that your timesheets show exactly what you've been spending time on and the duration.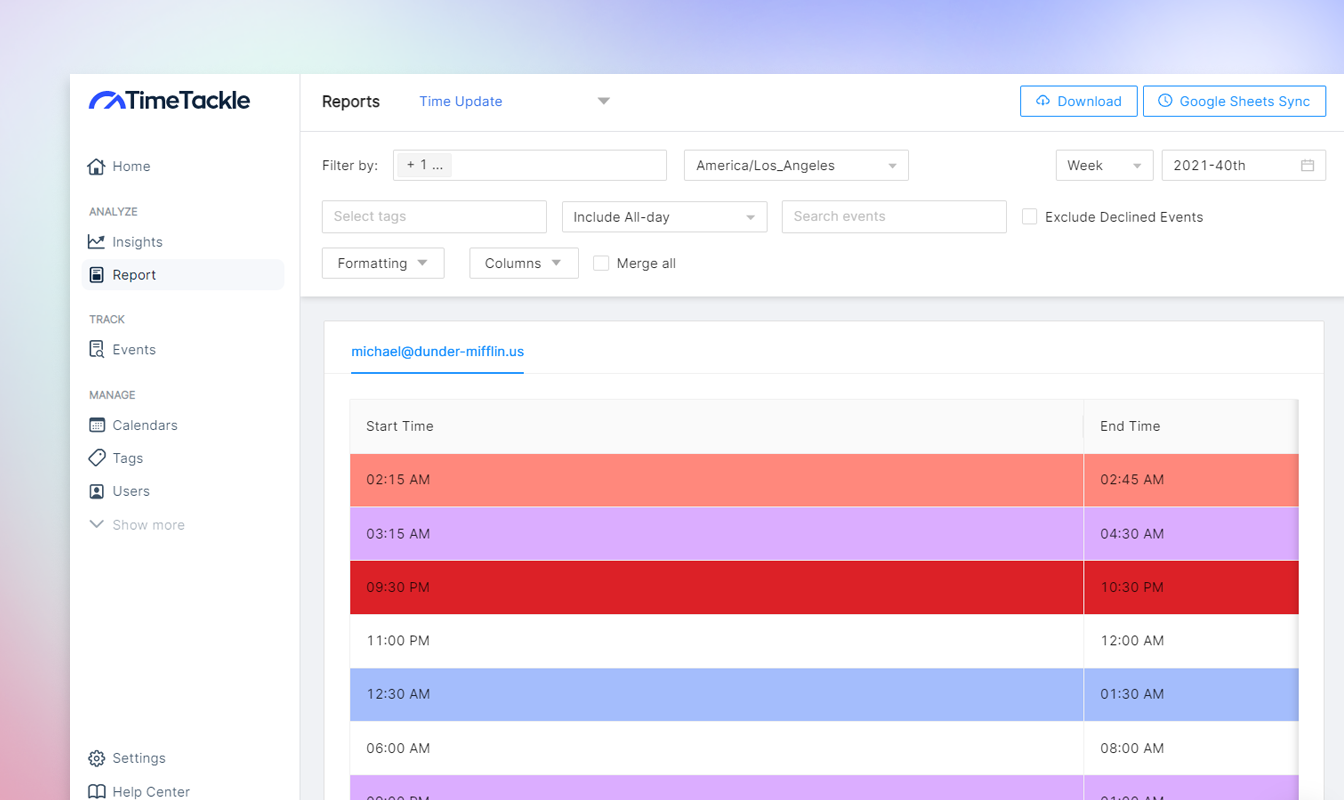 If you want to see the total sum of your calendar hours, just export your calendar data through the Tackle Report. You can also Merge and sum the calendar hours from Outlook and Google calendars.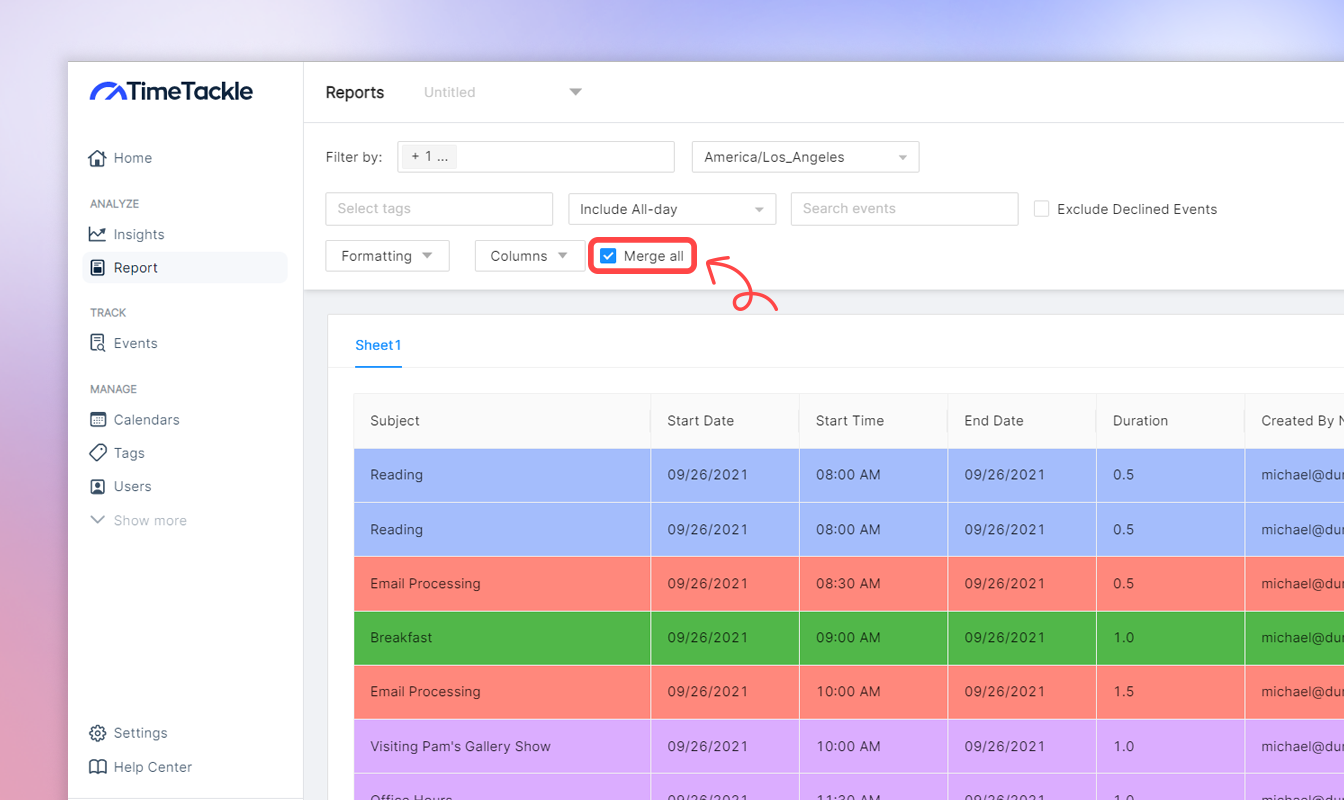 A calendar summary view of the selected date range is a breeze with Tackle. Choose your preferred calendars by checking the boxes and choose the date range. Voila! Your calendar summary is there for you!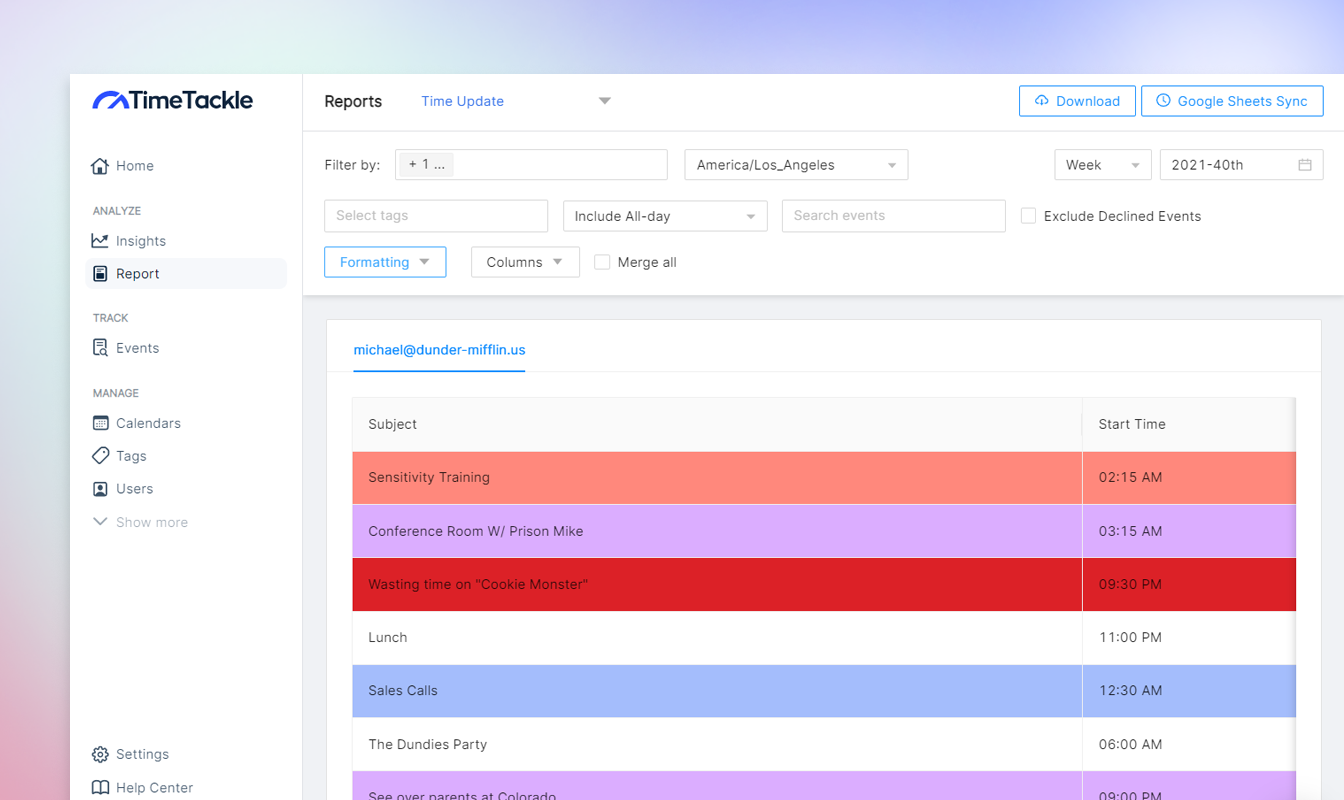 A calendar summary view of the selected date range is a breeze with Tackle. Choose your preferred calendars by checking the boxes and choose the date range. Voila! Your calendar summary is there for you!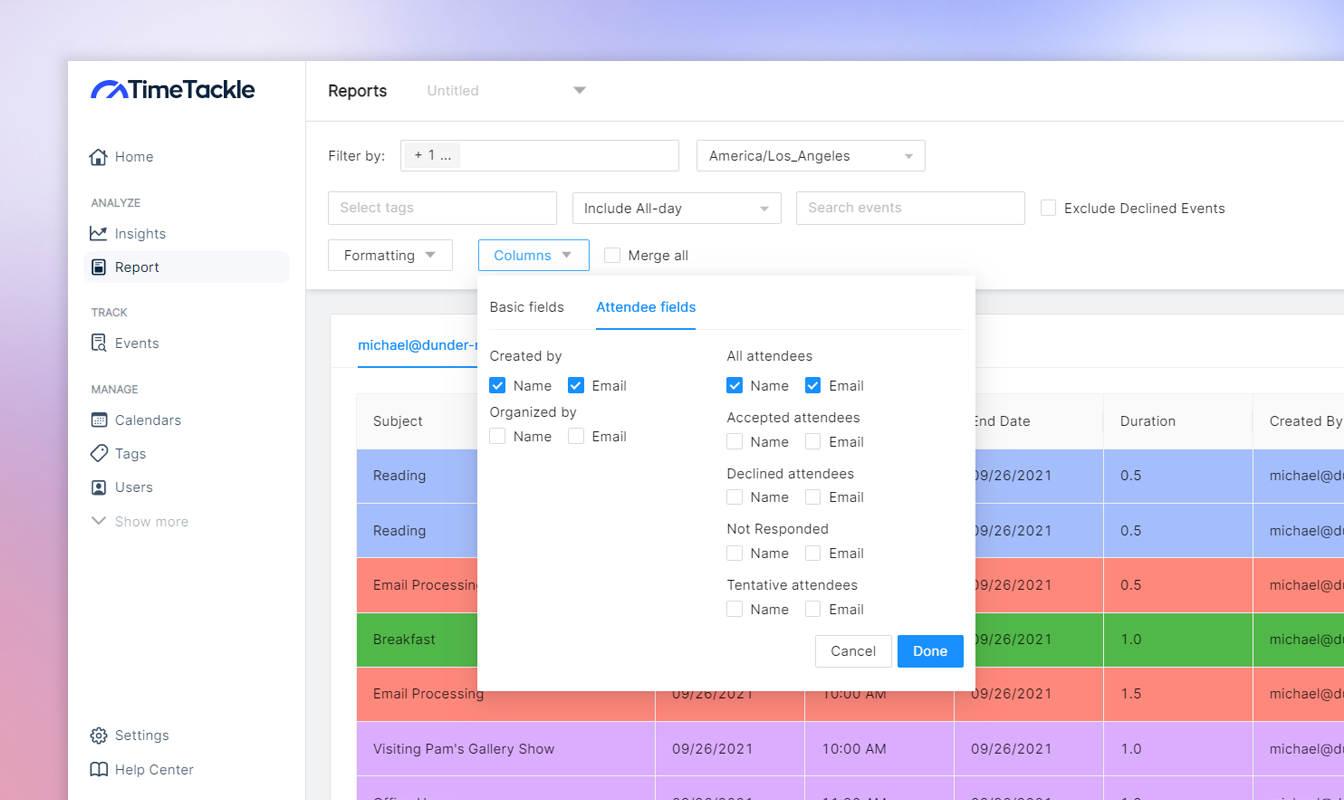 Time track using Google Calendar
Got too many projects and a diverse set of team members to manage? Handle all these with the time tracking reports generated with Tackle. Ask your teammates to have their calendars on the Share mode. This way, you can access individual calendars and track times spent on individual projects and tasks by your colleagues. What's more, Tackle helps you keep track of your time too. Instead of clicking on the individual calendar events to see the time you spent, just export your calendar data directly to Tackle Report and check out where you've been spending time.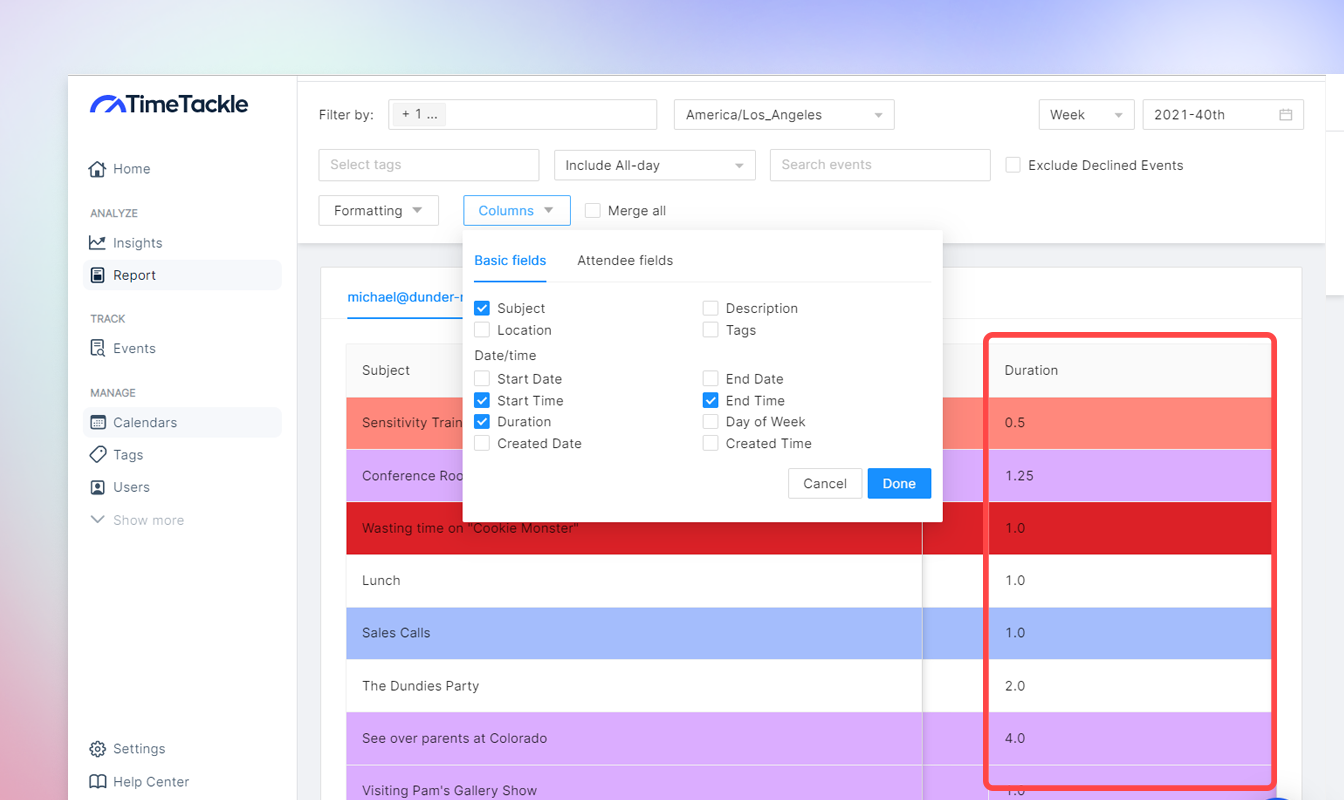 Meeting room usage report
If you want to get a report of meeting spaces utilization, let Tackle crunch the numbers and other details for you. In the Meeting tool page of the Meeting health menu, you can find the number of hours spent in various meeting tools.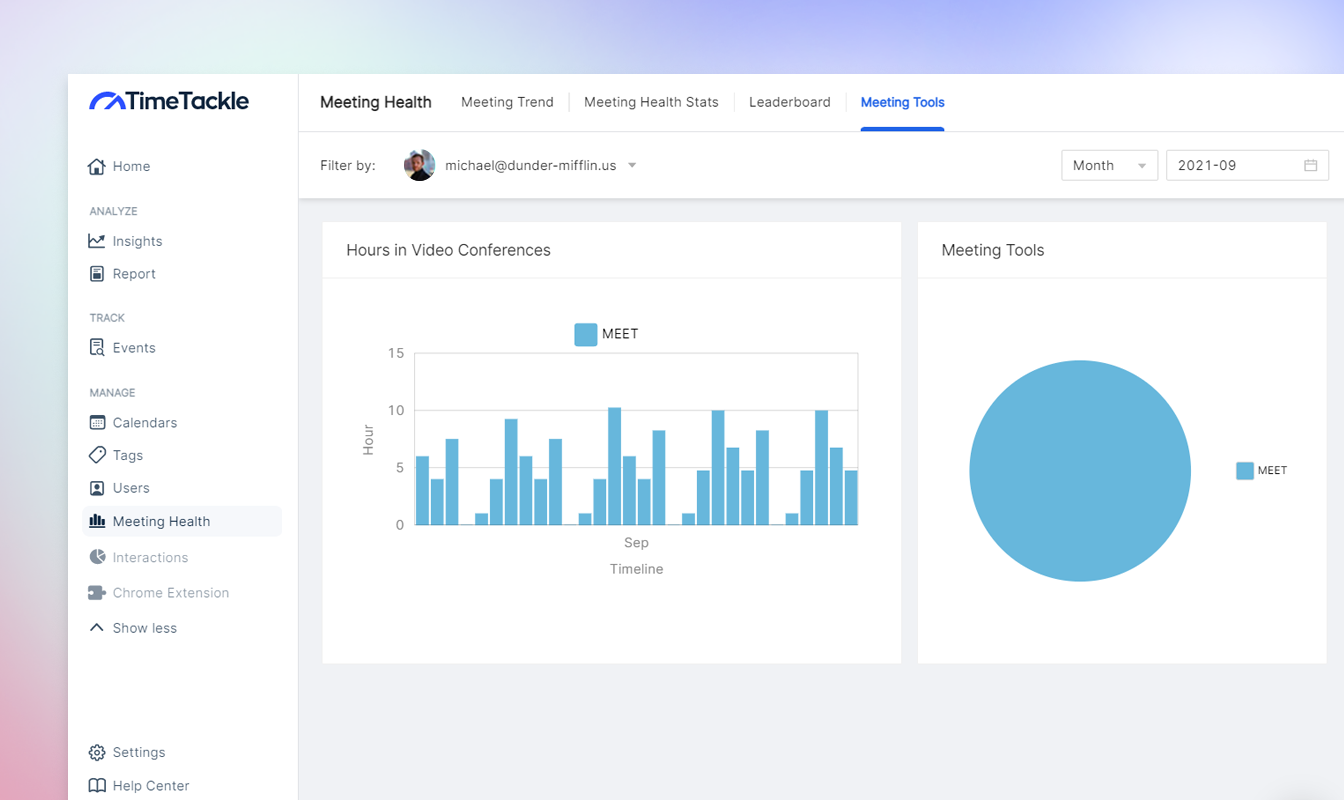 A few of the amazing brands who trust us with their time


Trusted and used by 600+ teams
Top executives and best teams around the world use Tackle.
Tackle is a great tool to measure times. It has helped our organization increase our accuracy in developing projects, comparing the planned- VS the real-time we take on this, making better planning and efficient our work.
Tackle allowed our CEO (Matt) to track and prioritize his time in a more optimized way. Because of this, he was able to streamline his schedule by reducing the number of recruitment meetings he was attending.
My team and I happily use Tackle to crunch down on time and manual work to create timesheets for our employees. Tackle is easy to use, syncs smoothly with Google Suite, and offers really useful features to make the workflow even better!
Tackle helped us to identify where we can optimize the calendars. The team was very supportive and open for adjustments of the tool which we needed, e.g show by events instead of hours, and is a great pleasure to work with Tackle and their highly competent team!
Tackle is a great tool for our growing business! The ability to track and sort tags has been such a huge help for tracking time. We love Tackle!
I'm always looking for time savers by way of tools that maximize efficiency. Tackle's event tagging, insights, and reporting features have already delivered great value to our entire team.