Google Calendar is one of the most productive apps out there that allows you to list out all the events and gives you reminders from time to time. But imagine that one day you open the application to see your weekly events and the app starts saying, "Google Calendar not Loading".
Many users use Google Calendar as their primary Time Management app and the "Google Calendar not working" issue can be a headache. But no worries cause we're here to help you fix all your issues.
Not loading in Google Chrome?

(Step by step solution)
Calendars websites in Google Chrome can even give troubles. Here's a step-by-step fix.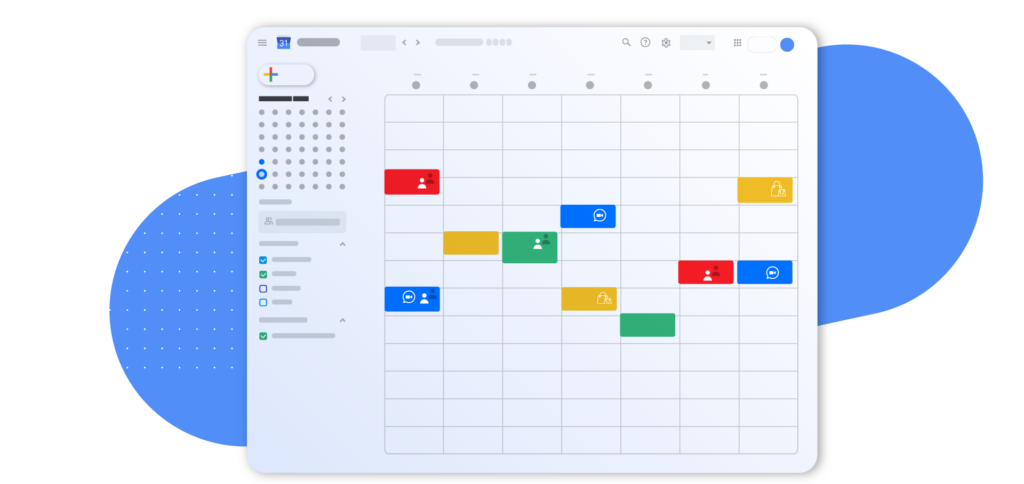 1. Update your browser
An un-updated browser can be an issue for Google Calendar to not load.
Simply go to the google chrome menu then update the version of the chrome browser through the "About Google Chrome" option. The install feature will be there and you can easily update your chrome browser through there.

Step by step instructions :
In the top right corner of the Chrome browser, click the symbol (three vertical dots).
Select Help.
Select About Google Chrome.
Chrome will notify you if an update is available.
If there is, click Install and follow the on-screen instructions.
Check to see whether Google Calendar works now!
2. Check your Internet connection
The Internet works as a root for online apps, so having an internet outage can also be a concern.
Troubleshoot your connection, restart your router or connect to a different server just to confirm the problem.
Step by step instructions :
Check your internet connection by visiting a random website.
Check your Internet Settings to see if you're connected to Wi-Fi or Ethernet.
If you're having troubles, reset the router. There is usually a button for this, but you can simply unplug it, wait a few seconds, and then plug it back in.
If your internet is working but you still can't access Google Calendar, proceed to the next step.
If all steps fail then call your ISP.
3. Check your extensions
Extensions are there to help but not always. Some extensions can also doom your Calendar. But to know if it's true, try using incognito mode cause extensions don't work there and see if google calendar is working or not.
If you're able to access Calendar through incognito mode then you'll know which extensions you've installed recently. It will be easier for you to fix it by disabling them from Menu>More Tools>Extensions
Step by step instructions :
Launch Incognito mode.
To do so, select the three-dot menu option.
Choose New Incognito Window.
Check if calendar.google.com is working or not.
If it does, an extension could be the source of the issue.
Select the three-dot menu option.
Navigate to More tools.
Choose Extensions.
Locate the Chrome Extensions you installed around the time the troubles began.
Remove it by clicking the Remove button.
After that go to calendar.google.com again.
5. Clear cache and cookies
Cache and cookies are like dust in your browser. Cleaning it up might solve your problem.
You'll find the "Clear Browsing" option through "More Tools" and select "Clear Data".
Step by step instructions :
Launch Chrome and select the three-dot menu button in the upper-right corner.
Drag your mouse over More tools.
Select "Clear browsing data".
Select "All time" under Time range.
Examine the cookies and other site data.
Examine the cached photos and files.
Click Clear data.
6. Fix your DNS
If you still face problems then you should take a look at your DNS.
The Domain Name System(DNS) is directly connected to your IP Address(xxx.xxx.x.x) and the server is provided to you by your ISP. The details are given below step by step.
You'll need to clear the cache of your DNS to get the most out of your ISP. To do that go to Start > Command Prompt > type "ipconfig" then hit enter.
Access the website using your password to check connection errors in your service. Then try free DNS services like OpenDNS or Google Public DNS for an easy way out.
Not opening in Android devices?
Android devices are full of bugs, so taking action is important. Follow these instructions step by step.
1. Restart your device
In smartphones, there are always some background apps roaming around that cause a problem for other apps to run properly and to fix that you might need to restart your device.
This is not the first time you're doing this because even before multiple problems were solved just by restarting the device.
Step by step instructions:
Hold down the Power button on your device.
Select the Restart option.
After the device has been turned back on, try launching the Calendar app.
2. Network Issues
We've talked about this before in Google Chrome. An unstable internet connection can be a barrier for your application to load.
Check your wifi, restart your router if needed. Make sure you have a stable connection to your server and you'll be good to go.
Step by step instructions:
First, launch your browser and go to Google.com, and search for anything.
If you get results then your internet connection is not the problem.
Open the Settings app if your internet isn't working.
Navigate to Network & Internet.
Check your Wi-Fi to see if you're connected.
Also, go to Mobile network. Check to see if you're linked to a network and if your mobile data is turned on.
Check the Google Calendar app to see if it is working or not.
3. Keep your device updated
Although this shouldn't be a concern but having a backdated operating system might cause some apps to not work.
Simply open settings, open "Device Update" then download the latest update for your phone. Then try opening the Google Calendar again.
Step by step instructions:
Open your phone's Settings app.
Go to System.
Select "Advanced".
Select "System update".
Check for any updates by clicking the "Check for update" button.
If an update is available, click Install once it has been downloaded.
4. Is your app up to date?
New updates come with account stability and new features which might cause your application to not load.
To fix that simply visit "Google Play Store", select "My apps and games" and update your version. Turn on notification for future updates.
Make sure your application is updated from time to time to get the best out of it.
Step by step instructions:

Launch the Google Play Store application.
Search "Google Calendar."
If an update is available, the button to the right will say Update. Tap it to activate it.
Allow the Play Store to do its work.
Once the update is complete, return to Calendar.
5. Clear cache and data
Just like in your browser, you'll need to clear trash on your phone as well to run your status.
Go to settings, select "Apps". Click on Google Calendar the select "Storage". Then clear the data and see if your service is running smoothly or not.
Step by step instructions:
On your smartphone, launch the Settings app.
Navigate to Apps & Notifications.
Select See all apps.
Find the Google Calendar app and navigate to its settings.
Select Storage & cache
Click on Clear cache and Clear storage
Now Check again to see if Google Calendar is working or not.
6. Restructure your time zone
Surprising but true, even the date and time can be a concern for your calendar google to detect its existence.
Due to google's syncing problems, many of their apps don't work due to improper time zones.
Go to settings, select "Date and Time" and make sure that "Automatic date and time" is turned on.
Step by step instructions:
Go to your phone's Settings app.
Choose System.
Select Date & Time.
Turn on "Use network-provided time" option.
Turn on "Use network-provided time zone" option.
Google calendar not syncing?
If you're using Google Calendar on our laptop or PC through a browser, there shouldn't be any syncing problems but on Android and IOS, there are plenty.
Android
On android phones there are some issues that cause the application to not sync but here are some quick step by step instructions.
1. Turn on sync
The Calendar google doesn't always turn on sync automatically and sometimes your device doesn't allow the application to do it.
Just go to your Device Settings, click "Accounts and Sync", tap on Google, select your account then turn the sync on for Google Calendar.
2. Clean unnecessary data
Clearing cache and data are common things to do and a lot of times it fixes multiple problems.
So just go to Settings>Apps>Google Calendar>Storage>Clear Cache and Data.
3. Enable calendar storage
When you add an event on your calendar it saves that data on your device in order to sync but if there's any concerns in saving the data, calendar google won't sync. Enabling Calendar Storage on your device might solve the case.
Go to Settings>Apps>Google Calendar>Permissions>Turn on Storage. This will end your concern.
IOS
IOS devices are mostly stable and they don't normally experience any problems except syncing issues. Here is a step by step solution to end the pain.
1. Check your settings
Unlike Android devices, in IOS you need to turn on the application status to make it work.
Just to be sure go to Settings>Apps and Notifications>App Info>More>Show System>Turn on calendar google status..
2. Re-install Google calendar
If the syncing problem is coming due to application instability then a quick reinstall can help you out.
Visit your app store site, search for Google Calendar then re-install it.
3. Enable storage
Just like android in apple devices the app needs to save data as well. So turning the storage is mandatory.
Go to Settings>Apps and Notifications>App Info>More>Show System>Calendar Storage
4. Clear cache
As you use your calendar app on a daily basis, the app keeps storing cache files that might be a reason for your app to work properly.
To clear your app cache go to Settings>Apps and Notifications>Google Calendar>App Info>Clear Data. The syncing service should run smoothly after that.
Common problems and solutions
1. Where are my events?
Report says, a large number of people lost their events/personal information without their permission. Before taking any action just go to Google Calender's site, press the settings icon, and click trash. Then start restoring your events.
No need to click privacy policy and read instructions or email support. Every event will be in the trash folder as backup.
2. Zero notifications
Oftentimes users don't receive notifications on repetitive events, unfortunately, after the latest update, Google has stopped this because they think setting an event on repeat mode creates an endless loop that hampers other events for ages.
You can't activate repetition through the "New Event" feature, however, you can use the "Event Starts" option to repeat your event.
Your screen might set up but when you start inviting others to your event they might not receive any notifications. To solve that you'll need to send individual invites instead of all together.
3. Missing holidays
A lot of times holidays might not sync with Google Calendar. Here's a quick fix.
For browsers, log in to Google Calendar server and press the "+" icon and add holidays.
For mobile phones go to Menu>Settings>Holidays to add an event.
One can easily log into Google Calendar through PC or Phone. Each platform has its own issues but doesn't worry, it doesn't matter what type of server it is, here's a solution for "Google Calendar not working".
Contact support 
If nothing works then only our friend Google can help you. Type the website name of Google Calendar Support on the search bar or click Google Calendar Support.
Through here you can directly connect to the community server using your email address and also see comments after comments from others. Every solution, content and tags will be on your screen.
Yet if you don't find any solutions on the website or menu then ask for reasons and report on the website page menu about your concern. You will get a good number of fixes from the page server.
You may also like How to Print Your Google Calendar in 7 steps !