Maintaining timesheets manually can be a chore when you can start tracking time from your Google calendar. Jotting down calendar events with start and end times is the perfect way to keep track of the work you do daily. At the same time, you need to keep a track of how efficiently you are spending your time on these recorded tasks. An effective way of doing this is by using a time tracking app to extract your calendar entries and show you a report to make you more aware of how you're making use of this precious commodity – time.
Benefits Of Google Calendar Time Tracking
1.Identifies Hours Spent Working
Time tracking lets you see how much time you spent working versus how much time you thought you spent working. Sometimes we tend to think we have spent a long time working whereas your time tracking log will show you otherwise. That's because there are distractions like a phone call, an email popping up on your screen, or a coffee break. These can eat up time from actual work.
2.Shows the Real Picture
Often we tell ourselves we don't have enough time to help out a new colleague or take a break for ourselves. If you keep track of the time you spend at work, you might see that answering an email the instant it showed up in your inbox could have waited till later. Instead, you could have spent these 5 minutes grabbing a cup of coffee or just popping over to the new colleague's desk and offering your help.
3.Helps in Priority-Setting
You may believe that your highest priority lies in setting down marketing strategies and goals. But in reality, you may be spending less time on this task and spending more on other lower-priority tasks like daily status update meetings for 15 minutes with your team members. You'd be surprised how much can be done in these 15 minutes if spent on the top-priority jobs. Therefore, when you track time, you can identify and eke out time for jobs that are higher on your priority list.
4.Encourages More Productive Hours
Once you track the time you spend, you end up spending it more productively. You realize how precious time is and you make a conscious effort to spend it getting important jobs done. Many jobs in the office can be easy to do but may not need your involvement. Therefore, you learn to see the difference and invest your time wisely.
5.Initiates Change
Time tracking is a great tool to show you your productive and unproductive hours. But it doesn't stop there. It initiates a real change in the way you perceive and use time. You start to spend less time on small talk or discussing what your colleague did wrong. Instead, you invest time in coaching yourself and others to make a difference in the organization.
How To Use Google Calendar Time Tracking
To track activities and tasks on your Google Calendar, you need to integrate it with any time tracking software through a browser extension. There are many such apps like TimeTackle, TMetric, Time Doctor, Forest, RescueTime, Toggl, Clockify, Timely, Timeular, etc.
Tips To Track Time On Google Calendar
1. Sync with Different Calendars Together
Syncing all your calendars together will enable you to view all of your events on one calendar, providing you with a clear image of your schedule. Therefore, if you have personal and business calendars, you sync them together and access everything in one place. Follow these steps:
Open Google Calendar
Click the "Settings menu" gear, then "Settings"
Scroll to "Import & Export"
Export your calendars
Then head into your main calendar
Click the "Settings menu" gear, then "Settings
Scroll to "Import & Export"
And Import your calendar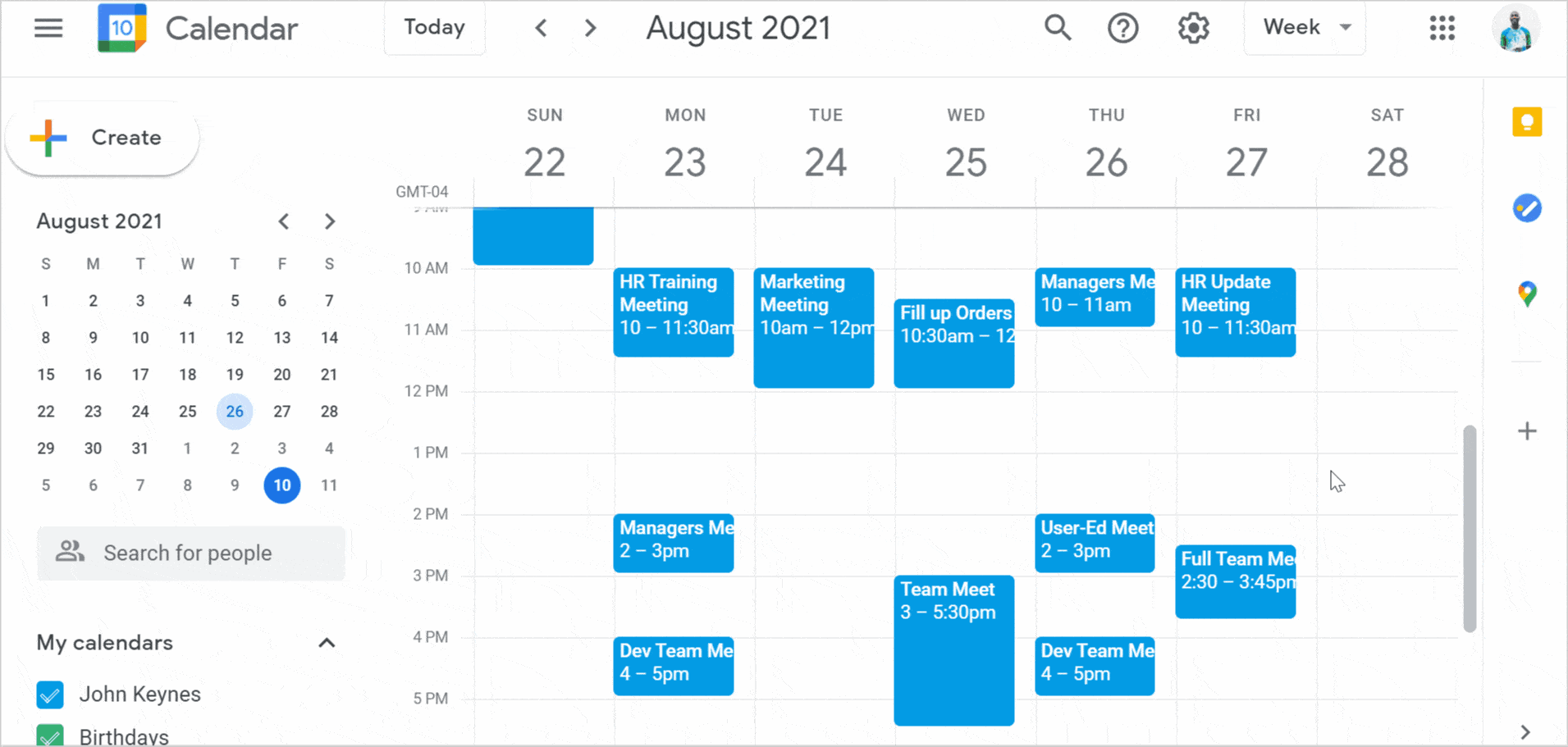 2. Update Your Calendar
When you forget to cancel a meeting, it will be recorded in your timekeeping system. It's always a good idea to keep your calendar up to date, especially if you're using it to track time. The goal of using Google Calendar is to save you time and assure correct data, not to send you down a dreadful (and unbillable!) rabbit hole of updating outdated events in your calendar.
3. Set Event Auto Reminders
If you have scheduled upcoming calendar events, you can create multiple reminders for the days before those events occur. If you need to make some preparations before the event, a reminder can be very useful. To create an automatic reminder for an event in Google Calendar, follow these steps:
Sign-in
Click the "Setting menus" gear and then Settings
Scroll down to "Settings for my calendars" and click on your calendar
Scroll down to "Event notifications"
Choose how much notice you need prior to events: minutes, hours, days, weeks
Choose whether you'd like to receive a notification or an email
Click "Add notification" and your event timer will start.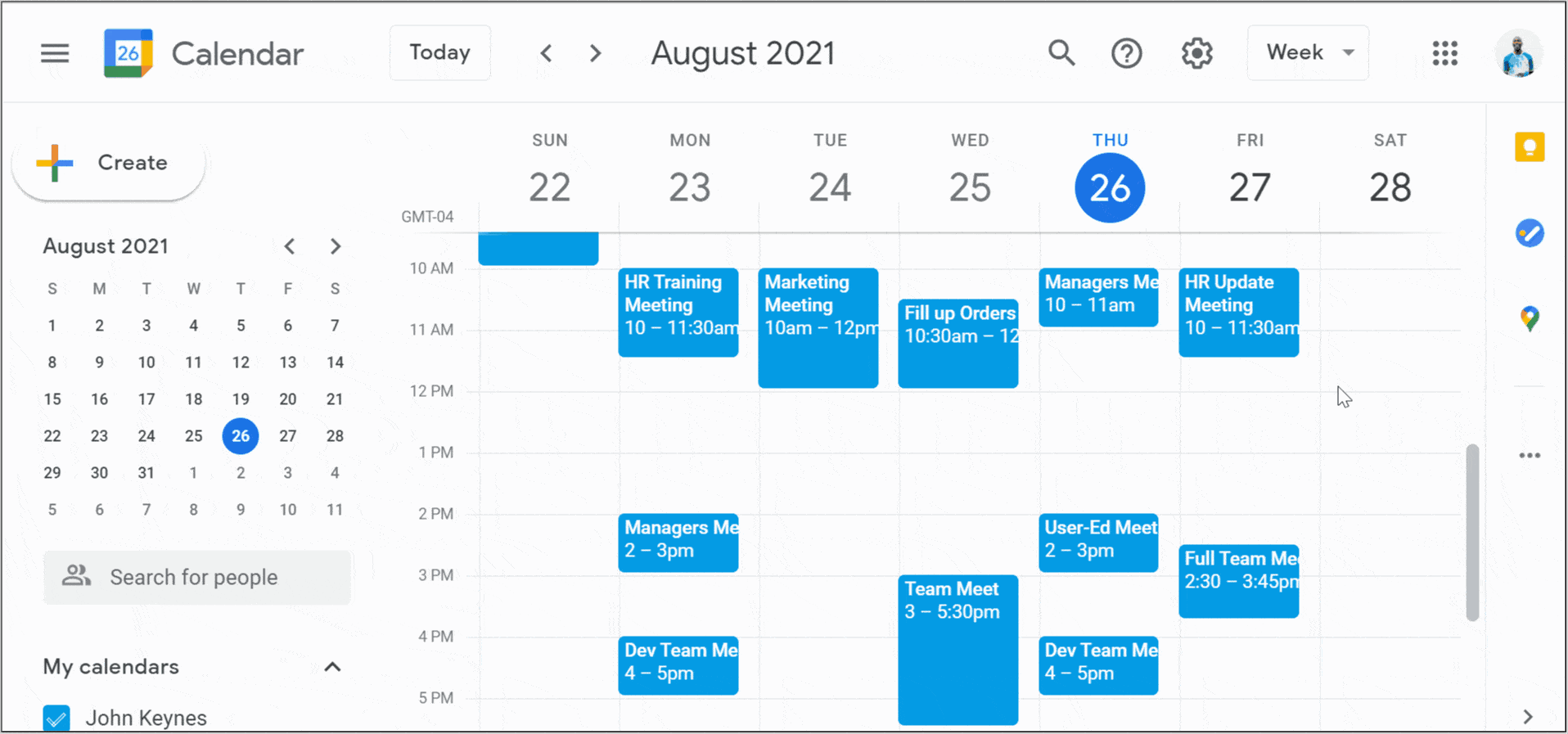 4. Don't Add All-Day Events
These all-day events show 24 hours and can be tricky. As the time tracking software will not pick and choose the info it exports, it will include such all-day events, showing that you spent 24 hours in a meeting, and will not give you a clear picture of the time you spent on specific activities. Create preferences in the software so that these all-day events are not taken into account.
5. Precise and concise entries
Making entries in your Google Calendar should be precise and concise as these will be exported as they are into a time tracking app. Therefore, instead of vague entries like meeting with a new client, write clearly and precisely the name of the client along with the designation. The more precise information you add, the better your Google calendar time tracking will be. Make sure to add the date and start and end times.
6. Add Facebook Events to Your Google Calendar Events
Google calendar is not just a time management tool for scheduling professional events; you can also include some personal occasions. You may add Facebook events to your Google Calendar for a variety of purposes, from commemorating a friend's birthday to remembering your anniversary. Then you will be able to keep track of everything, starting from important business meetings to your anniversary, all in one place. Here's how you do it:
Visit your Facebook Events page
On the bottom right-hand side you will find the "Upcoming Events" and "Birthdays" link
Click on the one you want to import, an option to download file will appear
In Google Calendar, go to your Calendar section and click on "Settings"
Under "Import and Export," drag and drop the file and click on "Import"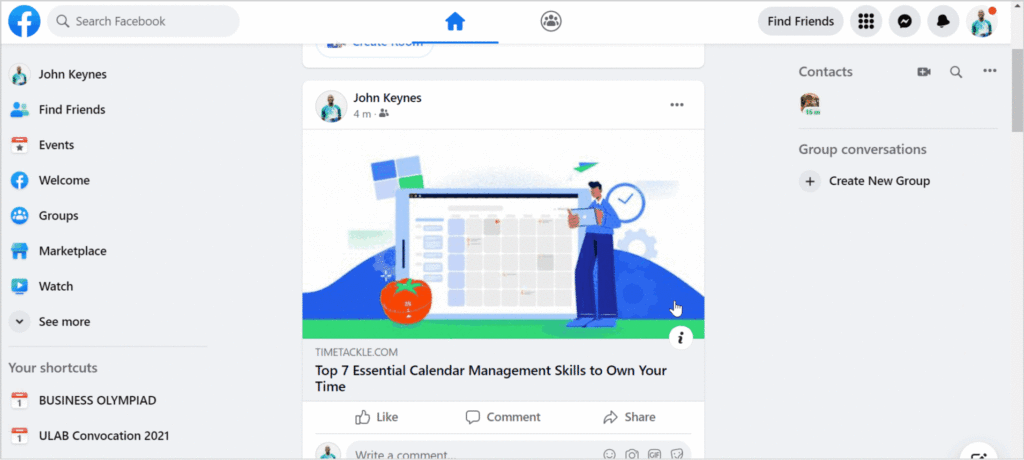 7. Get Your Daily Agenda Emailed to You
If you're the type of person who always has a busy day ahead of her, it might be helpful to receive a daily agenda including all of the activities and events for the day emailed to you the day before. And if you want, you can set Google Calendar to email you, your daily schedule. Just follow these steps:
Open Google Calendar
Click on "Settings menu" gear, then "Settings"
Under "Settings for my calendars", click on your calendar
Scroll down to "Other notifications"
Under "Daily agenda" select "Email"
Now Google Calendar will send emails about your events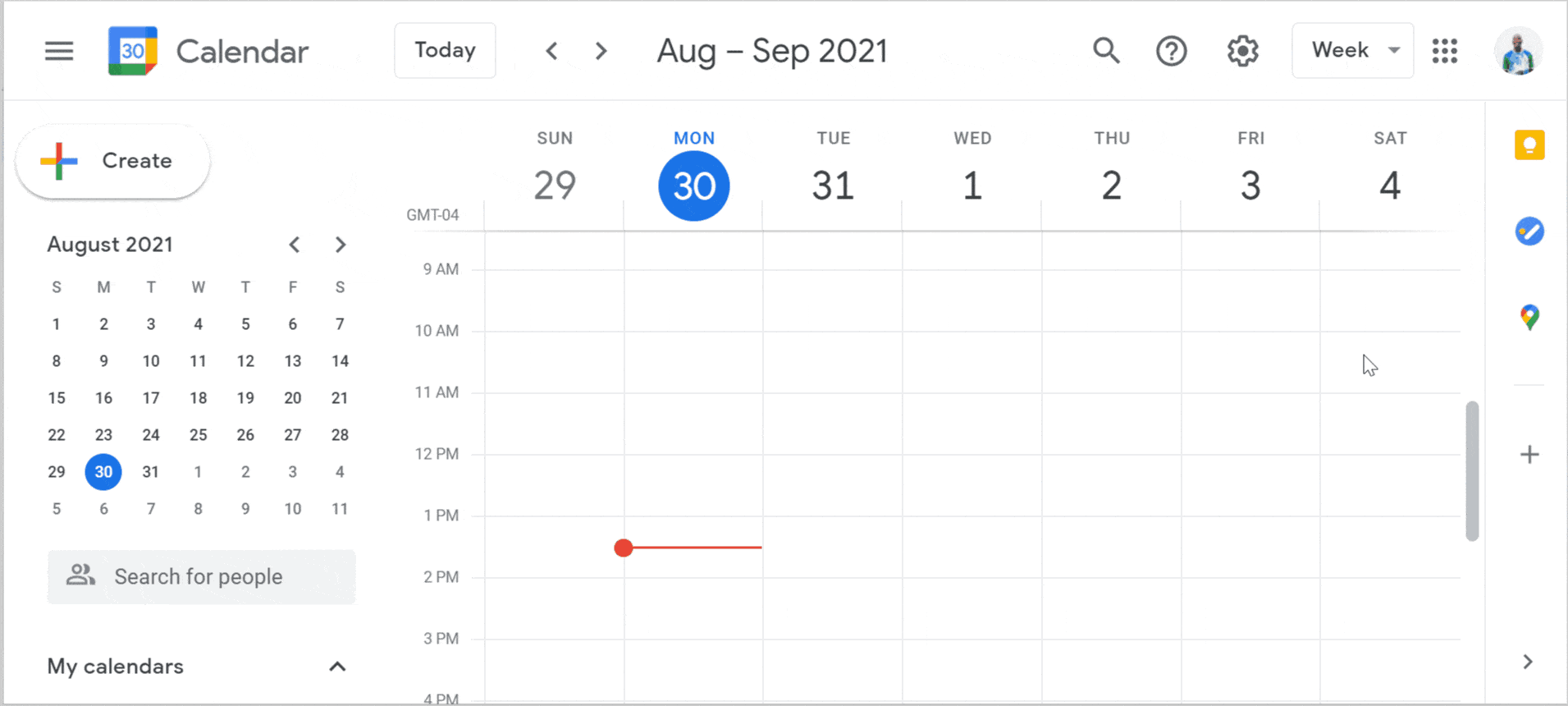 8. Track When a Meeting Starts
Track the time from when the meeting starts, not when you create the meeting. You'll want to verify that the time data is being pulled from the meeting's start time, not from the moment the meeting was formed. Otherwise, it would show inflated hours and won't give you a true reflection of how you've been spending your time. You can start a timer by clicking on the event, or copy the whole event as a time entry.
9. Add Attachments to Google Calendar Event
Sending emails outlining the meeting agenda before a meeting to everyone can be very tiring. To keep everyone informed, you can include attachments for folks to view straight on the Google Calendar invite.
This way, you can be certain that everyone invited to the meeting has a copy of the paper that they can access at any moment prior to the meeting. Here's how you can set it up:
Open Google Calendar
Select the day you want to create an event on
Click on the paperclip icon to add your attachment
If the attachment is on Google Drive, you can search for it in the search box
Otherwise, click Upload to add a file from your computer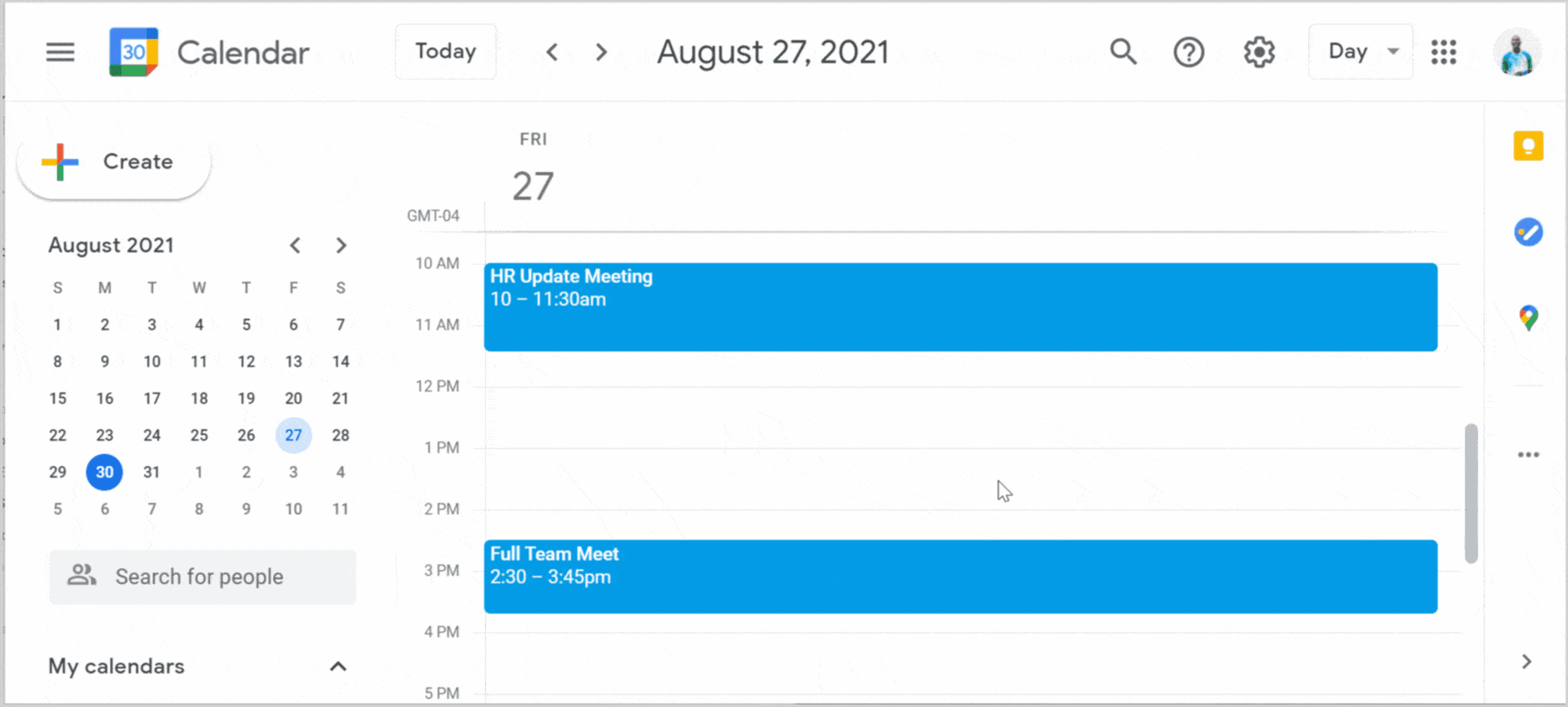 How to use Google Calendar to Track Time? Best Essential Time Tracking Integration for Google Calendar
To track activities and tasks on your Google Calendar, you need to integrate it with any time tracking apps or software through a browser extension. There are several apps that will help you integrate google calendar events for calendar time tracking and analysis. However, with more than 100,000+ users, we recommend TimeTackle the only integration you need for Google Calendar Time Tracking to track and save time spent on any scheduled calendar event.
TimeTackle is a time tracker which allows you to measure your time spent on tasks in real-time and then analyze whether you've achieved them or not. TimeTackle provides an easy way to construct timelines from your calendar data directly so that you will be able to track hours and time spent in new and inventive ways.
What makes TimeTackle special is that it caters to all types of users' time management needs. You can sign for yourself as well as for your teams so that your organization can achieve true-time efficiency. Audit and adjust your schedules to make your team time efficient. It utilizes machine learning to explore and analyze your key performance indicators(KPIs) and priorities and assists you and your team in getting the most out of your workday and save time.
Additionally, you can also measure your meeting health with TimeTackle. TimeTackle allows you to understand the overall meeting load across your organization and lets you identify and eliminate time sinks.
Key Features:
Calendar Event Analytics
Realtime Time Tracking
Categorize and Tag Events
Custom Reports
Sync with Google Sheets
Enterprise-Grade Security
Easy to use Chrome Integration
To know more about how to how to take meeting scheduling one step further and amplify your and your team's productivity to the next level check out Time Tackle Features.
How To Track Time Using TimeTackle
You can easily track how and on which activities you spend time by letting TimeTackle extract your Google calendar information and organizing them under neat labels with meaningful descriptions. Follow the steps below to start tracking with TimeTackle.
Step 1: Go to www.timetackle.com and sign in with your Google account.
Step 2: Create tags for your events using the Tags tab from the menu bar on the left panel. For a board categorization of the event, choose the Label option and write the event name in the tag key field below. To add more info, choose the text and/or options.
Step 3: Go to your Google calendar, create an event, and scroll down to the Add Tags button. When you click on this button, a dropdown menu will show all the labels and tags you created in the TimeTackle web app. When you are doing this for the first time, you will be asked to log in to your TimeTackle account.
Step 4: After you have logged in to your TimeTackle account, you will see a message on the top of the window asking you to install the Chrome extension to use this feature. Click on the button and install it from the chrome web store.
Step 5: Use your Google Calendar normally and add the tags to every calendar event from the Add Tags button. Edit these tags using the + sign to add and the trash icon to delete.
Step 6: Export your calendar from the TimeTackle web app by going to the Exporter page and choosing the calendars for which you wanted the time to be tracked. Don't forget to set the date range, check the Export tags box, and other options. Click the Preview and Download Export button below to get a copy of the report.
Step 7: Choose the Analytics option from the TimeTackle web app to do an analysis of the time you spent according to the Google calendar inputs.
Learn more about "What To Do When Google Calendar Events Disappear".
FAQs
1. Can Google Calendar track hours?
Yes, you can track hours on Google Calendar by turning on the working hours. This will show people when you are not available so that they don't schedule meetings with you during those hours.
Follow the steps below to set the working hours on your Google Calendar.
Step 1: Go to your Google calendar, click on the Settings wheel on the top right, and select settings from the dropdown menu.
Step 2: From the left menu bar, under General, select Working Hours.
Step 3: Check the box beside the Enable working hours option and deselect the days when you don't work. You can adjust the working time by clicking on the starting and ending hours and selecting the ones that apply to you.
However, if you want to track the time you spend on the tasks you input in your Google Calendar, you will need to do so with a time tracking app.
2. Does Google have a time tracker?
No, Google does not have a time tracker but there are many apps with which you can connect your Google calendar to keep track of the activities you spend time on and how much time you invest in such activities.
3. How do I show start and end time on Google Calendar?
Step 1: Create an event in your Google Calendar and click the More Options button beside the Save button.
Step 2: Adjust the start and end times beneath the name of the event. Then click the Save button on top.
Step 3: Go back to your calendar, click on the event, and it will show you the start and end times.