We are always working to improve Tackle and keep everything running smoothly for our users. See what's new for the month of October.
Table of contents
Freemium plan (New plan)
We have launched a free plan available to all users. From the free plan, new users can sign up for any paid plan, and existing users can switch to a free plan at any time. Even though this plan has limited features and functions, new users can try out Tackle for up to 10 team members without adding any payment information.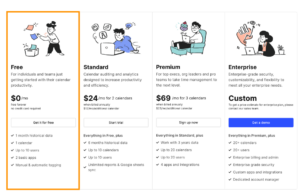 Tag template for VCs (New recommendation)
When a user signs up, we suggest some tag sets based on what the user wants to do. Now we've added a new set of tag Venture Capital firms that they can select during their onboarding.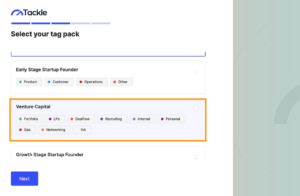 Event type – all-day event (UX improvement)
We recommend several tag sets for distinct user goals when a user signs up. We've created a new Venture Capital tag set that users can choose from during onboarding.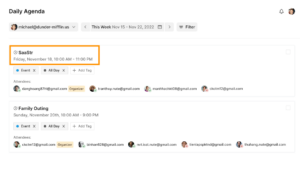 Add tag component – (UI improvement)
Users can now see the tag color on the "List" page. If you have "Auto Tag Color" selected in Settings, this update will help you in ensuring that your event color coding in Google Calendar is carefully followed while adding tags to any events. We've also tweaked the visual style and functionality to improve your tagging experience.