TimeTackle Exporter Manual
Welcome to "The Exporter Manual". In this manual, we will introduce you to different calendar export related components of TimeTackle.
After you login to TimeTackle you will see a Menu on the left hand side that looks like this: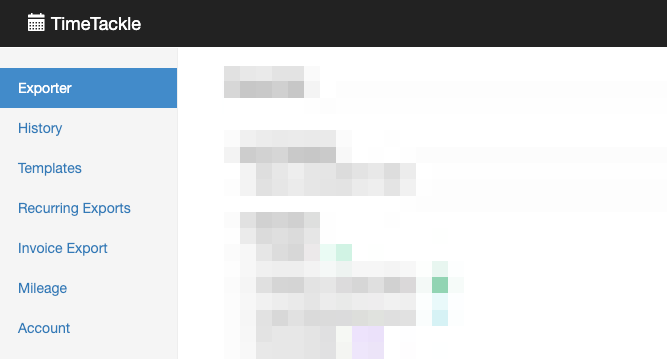 This is the side menu. It lists different tabs of the TimeTackle. You can click on a menu item to visit a specific tab. Let's take a quick look at the menu items.
This is the main tab where you are able to export the various Google or Outlook calendars that you currently have access to. This tab is selected by default when you log into TimeTackle.
In this tab you can see the history of your Exports. Access all previously exported files here.
Manage all your saved form settings. You can choose to save the form preferences from the Exporter tab. This saves a lot of time in future exports by loading a previously saved setup. We will discuss Templates further later.
Use Recurring Exports to schedule automatic calendar extraction using a pre-defined template. Recurring Exports will be discussed further later in this manual.
Use Invoice Exporter to generate invoice directly from your calendar events. Useful if you track your time on your calendar and need to create invoice for you work hours periodically from calendar data.
If you drive for work and if you have your "assignments" logged in your calendar already you can easily calculate mileage from this tab.
Account tab contains all information regarding your account. You can access and manager your current plan, billing information and download invoices.
The exporter tab is where you will primarily export your calendars. There are various settings and preferences in the exporter form to format, aggregate and filter the exported data.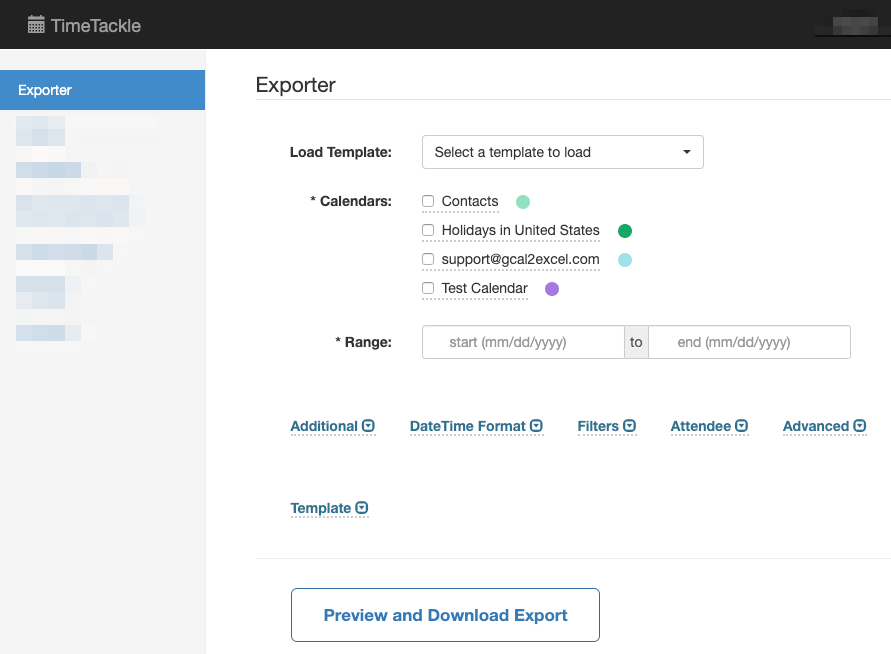 At the top you can see a list of your calendars. Here you can select the calendars you want to export. Only calendars that you have access to appears here. If you don't see a calendar make sure that calendar is shared with you from Google or Outlook calendar. This is a required field.

After selecting which calendars to export you can specify the start date and end date. This specifies the period of events to be exported. This are mandatory fields.

When you click on the start and end fields a date selector will appear. This allows you to easily select the dates. You can also opt to type the dates manually. I want to export events that will fall between January 5, 2016 and July 31, 2016 so I've set the start and end dates as such:
Once you select the calendars and date range you can export your data by clicking on the Export and Preview button.

Once you click the button TimeTackle will start extracting the data from your calendar. You should see progress bar(s) while it's busy at work. A preview of the spreadsheet will appear with all extracted data when it's done processing.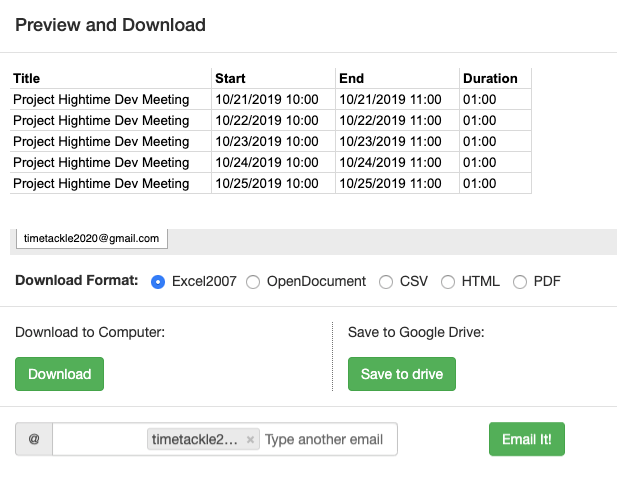 If you like it you have the option to download the data in different formats. You can also save the file in Google Drive (for that you will have to provide TimeTackle a limited write only access to your Google drive). You may also choose to email the file to any email address.
Maybe you want to have more control on the data and format to be exported. There are plenty of advanced options available to control the output.

There are 5 subsections: Additional, DateTime Format, Filters, Attendees and Advanced. Each subsection can be expanded to access more options in it. Click on the downward arrow beside each subsection to expand.
This section contains some additional operations, fields, transformations and formatting options.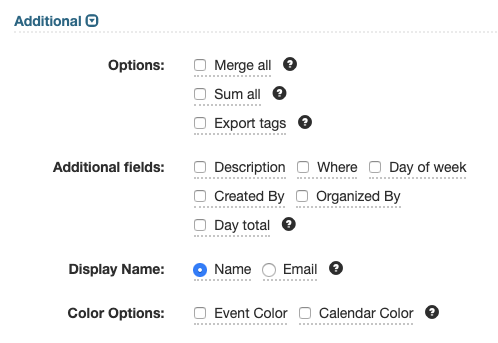 Check this box if you want to merge events from selected calendars into a single worksheet.
Check this box if you want to show the total calculated sum of all durations in your exported calendar/s.
Once you select the calendars and date range you can export your data by clicking on the Export and Preview button.
Description
Where
Day of week
Created by
Organized by
Day total
In you exported calendars here are fields such as: "Created By:", "Organized By:", "Attendees", and "Email". If your person is displayed in these fields you have the option of having your Full name OR Email Address exported in these fields.
Event color
Calendar color
DateTime Format section provides options to format date and times in exported files.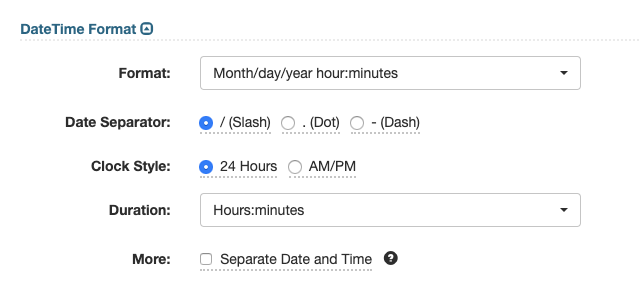 Specify the Date/Time format of the exported calendars here.
Choose what date separator to use.
Specify what clock style, choose between AM/PM or 24 hours.
Choose duration format. It can be any of the followings:
Houes:minutes:seconds
Hours:minutes
Hours (in decimal)
Check this box if you want to put date and time into separate columns.
Apply different filters to exclude events.

All-day Events only – checking this option will only let events that last one whole day be exported.
Exclude All-day Events – checking this field will exclude all day events from being exported.
Events with the search keywords typed in the text box will be the only be included in the export.
Control what attendee fields you want to include.

Check what attendees you would like to be included in the exported calendars.
Specify if you want to exclude the organizer or resource (like meeting rooms) in the exported calendars.
Contains advanced controls, such as TimeZone selection. In most cases, you don't need to change these options.

Choose what time zone to use in this dropdown menu. By default will select your current calendar timezone.
Templates help you to quickly fill out the Exporter form. If you end up using the same Exporter form settings every time. You can use Templates to store the settings and easily reuse that later to populate your form. Templates tab contain all saved templates.
You can save current form settings as Templates to be loaded later for quick exports or to set up Google Sheets Sync.

Simply type in a template name and click "save". The template will then be saved and you can choose it the next time you would like to export your google calendar/s with the saved settings on the template.
A successful template save will prompt a dialog box saying "Template saved!"
To use a previously saved template from exporter tab use the "Load Template" dropdown menu where you can choose from your existing templates. 
If you have to export a calendar periodically, Google Sheets Sync can help you automate that. In Google Sheets Sync tab, you can configure pre-scheduled recurring calendar exports using a pre-defined template.
As an example, if you need to perform export every Monday for the previous week, you can schedule a recurring export to do the job for you even when you are sleeping :). Exported reports are automatically emailed to you.
Create a Google Sheets Sync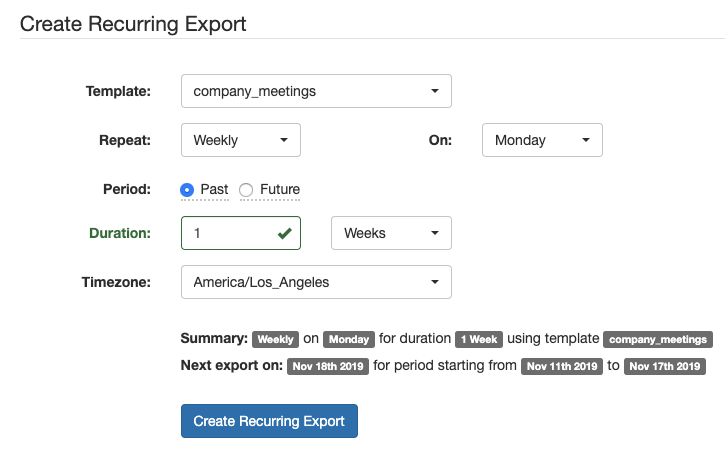 Specify what template to use for this recurring export.
Choose the frequency of the export be it: daily, weekly and monthly/
Past – for past period.
Future – for future period.
Specify the duration of the export. Choose from days, weeks, and months.
Choose the time zone. By default it should select user's current timezone.
Shows a more readable summary of the recurring export.
Shows next export date and the export duration.
Click on this button to create a recurring export. You can delete recurring exports later from this same tab.