Do you want your teams to provide quality work much faster? Look no further than Asana, a cross-functional work platform. Asana helps drive efficiency across teams. Whether you are a part of Project Management or Operations, Asana can help manage complex work.
Teams use Asana for task management, strategic planning, campaign management, creative production, and agile management. Whether you work as a remote employee or an in-house member, Asana can help you to transfer data and collaboration seamlessly.
Get to know a few features of Asana
Asana facilitates work efficiency by doing some of the coolest things possible:
It is the only platform with built-in goals which can help you view related tasks and work progress.
Asana provides customized support teams to migrate their data. So, simple adoption and less downtime.
You have timelines to map out projects over time. So you can plan for dependent and overlapping tasks.
The list view helps teams understand which tasks are a priority and make plans accordingly.
The board feature breaks down current projects into detailed parts to identify the problems.
Asana provides 200+ integrations, making it possible to work with all your favorite tools in one place.
Asana prioritizes revenue-driving work, maximizing profits for your organization.
Does Asana have time tracking?
Business and enterprise customers can avail of Asana time tracking. Asana time tracker helps teams calculate the time needed to complete a task and record the actual time spent. As a result, teams can compare their strategies and identify the pain points in the process. They can make informed decisions about time allocation, workload allocation, and resourcing.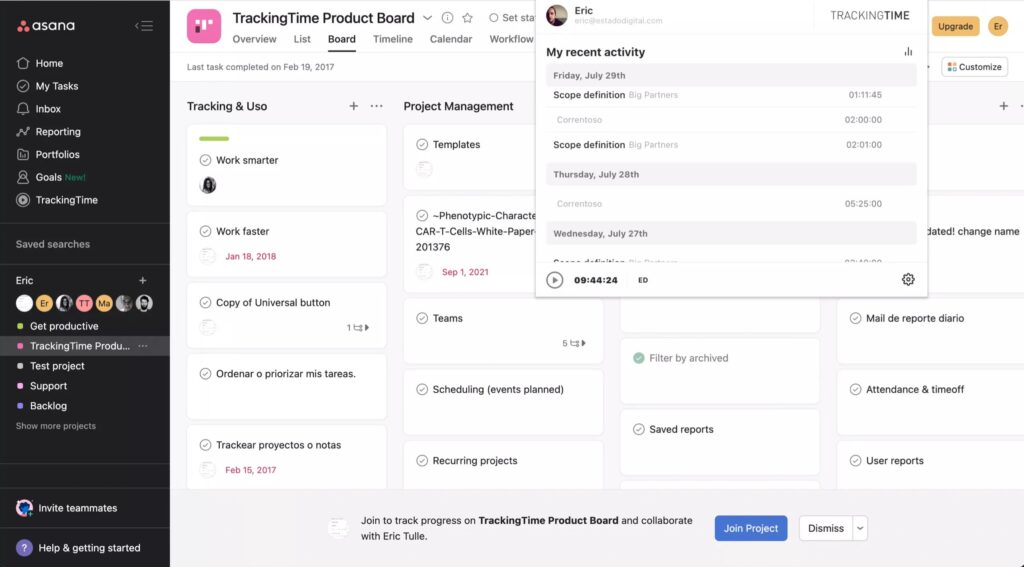 Credit: Asana
Also, time tracking in Asana provides real-time information regarding project progress. So, teams can use these data for budgeting and forecasting.
You can use this task time tracker to manually log time or rely on automation. You can report tracking time on dashboards and work on it like any other custom field.
Should you go for Asana time tracking?
Time tracking Asana has both positives and negatives to it. You can check out the table below to identify the pros and cons of Asana time tracking:
| Pros | Cons |
| --- | --- |
| Estimated time and actual time fields | Turn on native time tracking for each task |
| Project time tracking | Cannot setup project budget |
| Estimated time by group of assignees | Notification feature in unavailable |
| Asana time tracking live timer | Only available for business and enterprise plans |
| Tracking time by section | Cannot setup individual time tracking estimates |
| | You cannot view what your team is doing currently |
Let's get back to the question. Should you switch to the Asana time tracker?
Despite some of the cons, the answer is still yes. Why? Because Asana provides powerful integrations with lots of tools. All you may need is powerful time tracking software.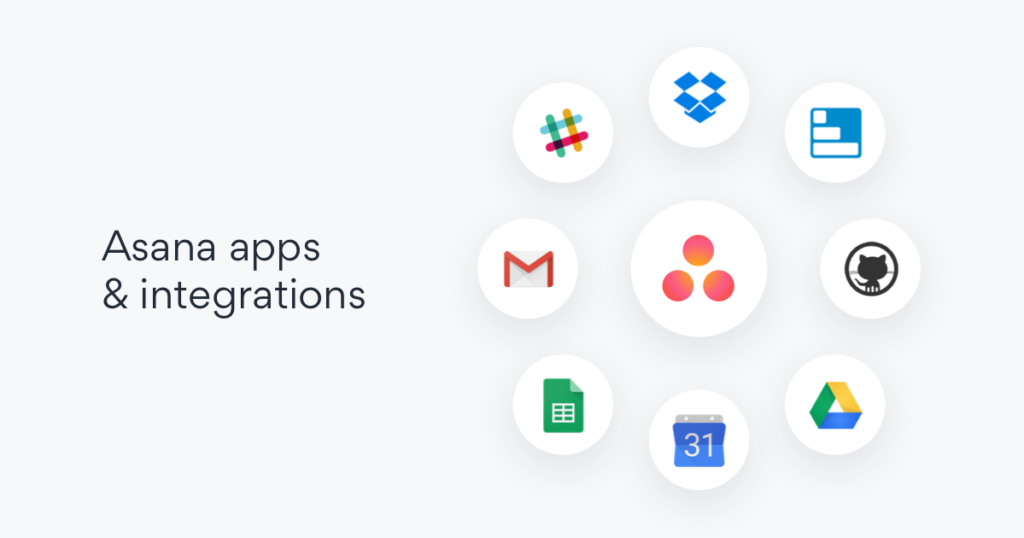 Credit: Asana
Why use time tracking apps?
Time-tracking apps are tools to measure how much time employees spend on tasks. The data generated from these tools can help teams calculate productivity.
Once teams have access to these data, they can make planned changes in terms of employee time and resources. Scheduling tasks and meetings becomes easier.
Some of the incredible features of time tracking software are:
Variations and integrations 🔄
There are tons of time-tracking apps available that can cater to your expectations. There are free time tracker apps and time trackers for remote teams. Furthermore, these tools provide seamless integrations with many popular tools, which employees use every day.
For instance, you can integrate Salesforce, Monday, Google Calendar, Zoho, Slack, and many other tools with time-tracking apps. Hence, your employees can do all their tasks in one software.
Detailed insights 📊
Once you start time tracking Asana by using one of these apps, you can generate insights about meeting health, task time, project forecast, productivity spectrum, and so on.
Asana time tracker will work with real-time data after integration with time tracking apps. So, any change in the system will reflect automatically on the insights. So you will be able to make instant decisions or changes. It will save time and resources.
Project budgeting and billing 💸
Using a timesheet app as a time tracker for Asana, you can calculate the overtime hours of employees. Setting up a billing or payroll system becomes much easier. Time tracking integration of Asana will ensure that employees get paid fairly.
Also, based on present records, you can forecast the expenses for future projects. Once, you have that data, there will be no problems regarding fund management. So, your projects will run without any hindrance.
Report on the Asana time tracking app
First, you need to integrate Asana with time-tracking software. It could be anything. For instance, Clockify, Tackle, HubStaff, TimeDoctor, Timely, and so on are some of the best options.
Do remember to choose software based on the following requirements:
Offers plans under your budget
Provides integrations with necessary tools like Slack, Google Calendar, along with Asana
Provides data analysis features
Some tools have more features than the ones above.
After making your pick, sign up with the app and download it as a Chrome or Firefox extension. You can then integrate it with Asana from the settings section.
What is the free time tracking app for Asana?
Tackle can be your time-saving partner, making life easier whether you're at work or managing your personal life. Our users represent a diverse array of organizations, spanning various sizes, industries, and geographical locations.
Let's take a closer look at how it enhances productivity for all.
You can use tags and properties to ensure your agencies and professional services maintain optimal resource and budget allocation for projects.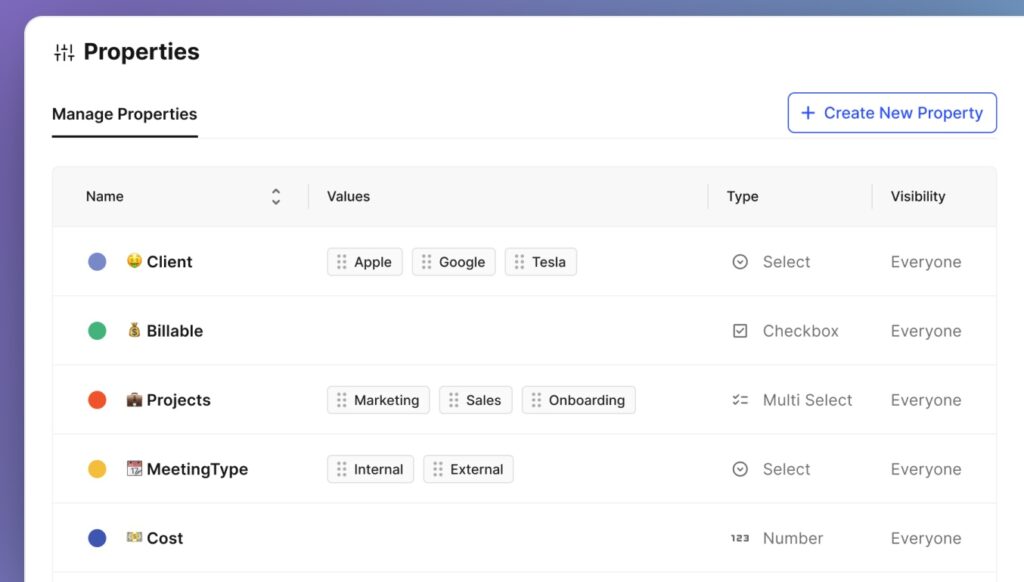 It enables business success by providing clear operational insights and ROI tracking.
Tackle enhances sales team efficiency – it increases revenue per employee by providing insights into activities with its seamless CRM, calendar, and email integrations.
You can use Tackle's calendar and intercom integrations to track your team's activities across different buckets like inbound calls, internal meetings, or break time.
Why worry about time tracking in Asana?
Asana is a popular tool that most teams use across different industries. It provides great help in maintaining organizational efficiency. Think of Asana time tracker as a bonus feature. If teams can use this additional feature as an advantage, why not?
So, switch to Asana time tracking to boost your team's efficiency.