One of the cardinal rules of a construction business is effective time management. Why? Effective time management allows task completion within deadlines while ensuring customer specifications.
"If you build a great experience, customers will tell each other about that. Word of mouth is powerful."

– Jeff Bezos, Amazon.
Another reason why effective time management is predominant in the construction business is because it reduces any risk associated with construction schedule and delivery. So, employee and client safety remains intact.
But how can you ensure everyone makes the best use of their time? Start using a construction timesheet app for your business.
What is a timesheet app?
A timesheet app is software that helps organizations keep track of their time and task progression. Assume that you work in a start-up consisting of 30 employees. Some employees are regular, some are freelancers, and some are remote workers. Now, each of these employees has different work schedules, and they are collaborating on different projects.
It becomes a hassle to keep track of all these employees and how they spend their time.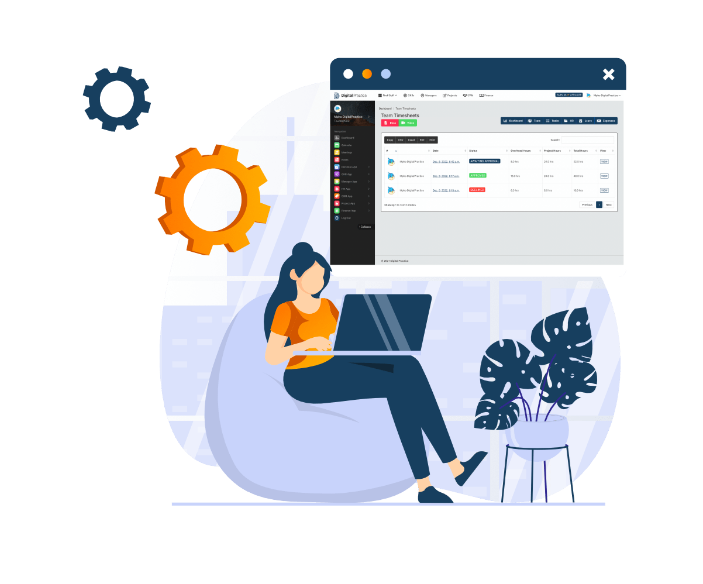 A timesheet app allows employees to sync their Google Calendars to the app or manually input their work hours. Furthermore, they can share the necessary content of the app with the team for different purposes. Hence, everyone knows the current progression of tasks, which projects are a priority, and if the execution is on the right track. Also, data will reveal whether employees struggle to manage their time or need extra help. So, resource allocation is much more efficient.
How to choose the best timesheet apps for construction business?
There is a plethora of options for construction timesheet apps on the internet. Also, there are different categories of timesheet apps. For instance, there are several construction timesheet apps free for businesses. So, which one's the best for you?
Make sure to look for the following features when selecting a timesheet app for your construction business:
Time tracking ⏱️
It's a no-brainer that the construction timesheet app you choose allows you to track time accurately. Also, you can look for apps that can accommodate your team and are easy for your employees to learn.
Also, search for an app with all the necessary metrics built in. The app should facilitate time tracking for multiple employees working on diverse projects.
Detailed reports 📊
The timesheet apps for construction should provide detailed reports, charts, and in-depth analysis of employee work patterns. The reports will consider real-time changes. Also, the app should provide integration with Google Sheets so you can export data in CSV or Excel formats.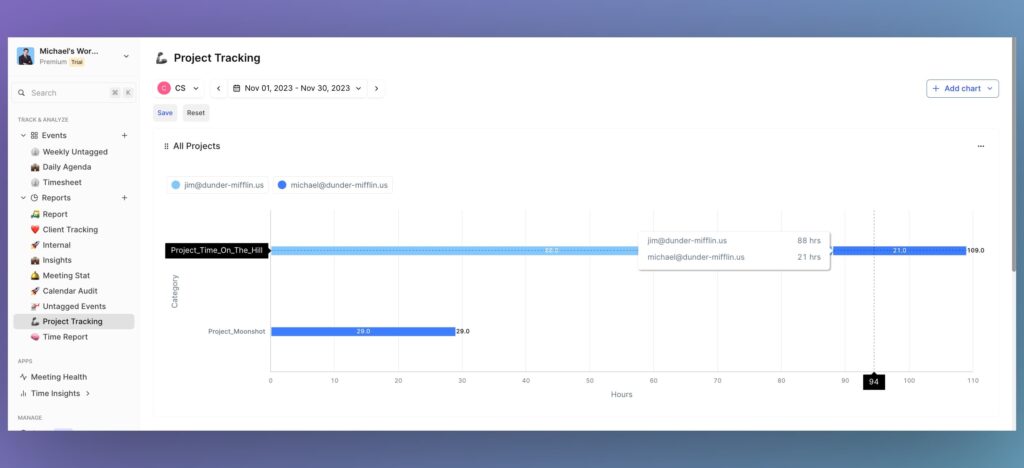 Some timesheet apps provide customizable templates for generating reports. Furthermore, you need to check out what metrics these software provide, such as cost per object or hours worked per employee.
Payroll system management 💰
Some of the best timesheet apps for construction include a payroll or invoice management system to generate quick invoices for clients and employees. Some of the other apps offer integrations with popular accounting software like Quickbooks or payment platforms like Stripe.
In addition to these features, construction timesheet apps should support cross-platform compatibility, customizations, security, and integrations with platforms like Slack, Google Calendar, Asana, and so on.
The best timesheet apps for construction
You may have different preferences regarding timesheet app for construction depending on your business. The following 3 picks are some of the best options available.
After this read, you could check out any of the following apps to see if it matches your requirements.
1. Monday time tracking
At its core, Monday is a popular project management tool among teams across various industries. However, its time tracking feature is brilliant as well.
It allows you to keep track of how many hours employees have worked and assign tasks to different team members. Project tracking, budgeting, forecasting, invoicing, and other features are available on Monday. Monday provides many third-party integrations as well.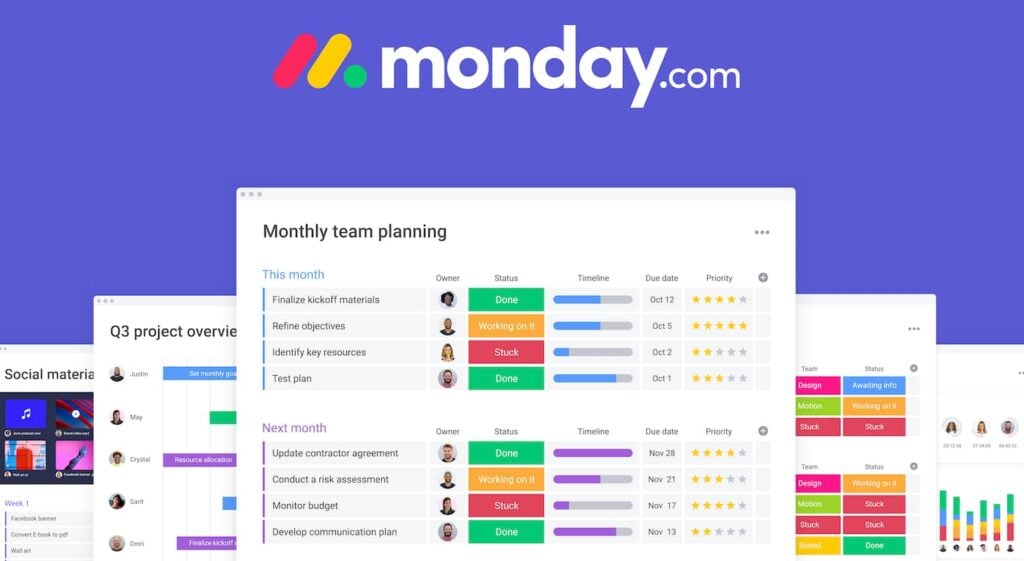 Key features
Project management integration to keep plans organized
Detailed reports on total hours utilized and break hours
Push notifications for timesheets
Purchase plan
Free plan: Free forever (upto 2 seats)
Basic plan: $8 per seat per month (billed annually)
Standard plan: $10 per seat per month (billed annually)
Pro plan: $16 per seat per month (billed annually)
Enterprise: Custom pricing
Do check out the article on Monday Timesheet feature for more insights.
2. Tackle
Tackle is a construction timesheet app that allows you to achieve your goals like a boss. You can seamlessly track time and capture productivity insights.
Timesheets at Tackle have the feature of customizable tags and meta descriptions. So, you can add tags such as, ad-hoc, personal etc. or add extra description regarding the tasks.
As a result, your supervisors can view your tasks and get a detailed breakdown of what you are working on.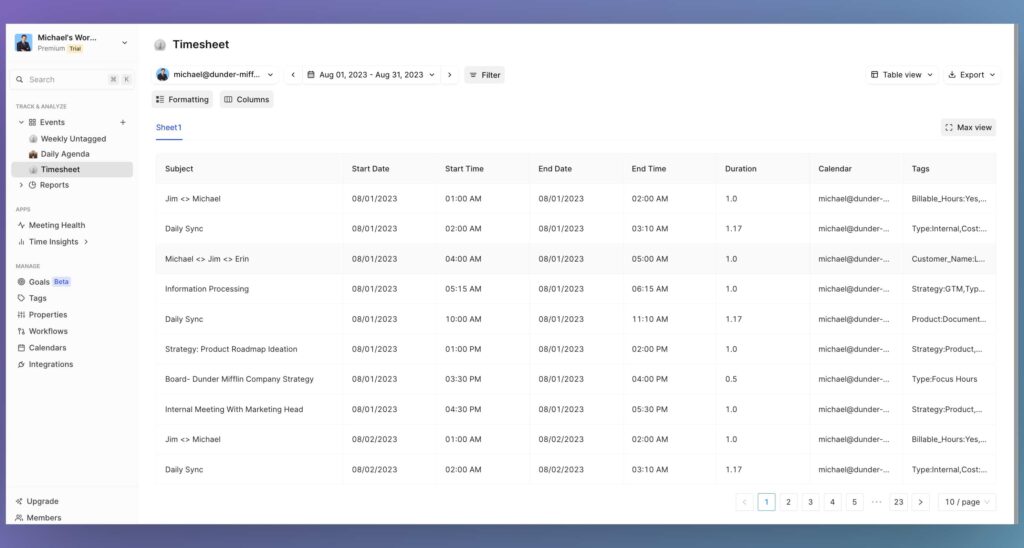 Key features
Customizable tags for tasks
Personalized daily reports like meeting health, team productivity, etc.
You can export your Google Calendar to a Timesheet by using TimeTackle integration. Just follow some quick steps and you can view your Calendar in TimeTackle withing Seconds.
Purchase plan
Standard: $24 per month (billed yearly)
Premium: $69 per month (billed yearly)
Enterprise: Custom pricing
3. RescueTime
Our last pick for the list of best timesheet app for construction is RescueTime, a timesheet app that helps you focus. RescueTime helps you take control of your time and timesheets. You can simplify your lives with RescueTime's automated timesheets and time management software. It provides daily reports so that you can analyze it and make adjustments according to the changes in data.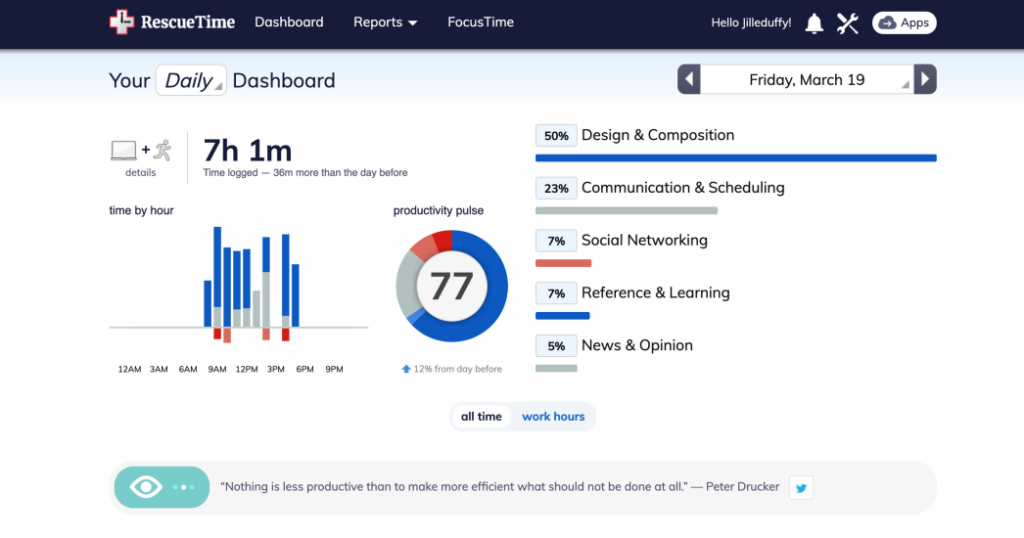 Key features
Detailed tracking of each employee and task
Contains focus-blocking tools such as websites or apps
Automated notifications to keep you on your toes
Purchase plan
Basic Plan: $6.50 per month
Opinion of the day: Do get subscribed to a construction timesheet app
Construction businesses need to assess their time and resources properly. Leverage the use of the best timesheet app for construction.
Time tracking or timesheet management is a popular concept today. So, businesses across different industries are opting for timesheet apps. So, don't let your business fall behind. Also, while choosing a timesheet app for construction or a construction timesheet app free, check out their user-interface, integrations, pricing-model and other important factors.
Hopefully, this read has helped you save time while selecting a timesheet app.