Team Collaboration is key.
No matter how big or small an organization is or what it does, it can only grow by completing big projects like sales deals and product development programs. Each phase of a project needs meetings, and there are usually a lot of them.
But no two meetings are alike. Each has a different goal and involves different people inside and outside of your organization. Getting everyone to meet at the same time is harder than setting up the usual one-on-one meetings on your calendar.
Companies often struggle to create a team schedule that works and that employees also enjoy working on. There are a lot of unhappy workers and a lot of turnover, as shown by the fact that 41% of workers would rather have a different work schedule.
The best way to cut down on time wasted on simple tasks is to give them to a third party, like a group scheduler. With a group scheduler, you can avoid sending unnecessary emails back and forth, which will smooth out your workflow.
We'll get into the details of team scheduling to help your management team do a better job of scheduling employees.
Overview: What is team scheduling?
Scheduling employees entails arranging their shifts to best suit your company's needs. In order to keep your business operations running well, you'll need to lay out precise schedules for each shift.
Employee workloads fluctuate often across most industries, so it's important that managers are prepared to deal with challenges that may arise in the context of team scheduling, such as:
Both overstaffing and understaffing occur when work demand is low and high, respectively.
Resolving unexpected situations and dealing with absent workers due to illness
Overspending due to a hasty but expensive hire
In order to keep your employees happy, loyal, compliant with labor regulations, providing excellent service to customers, and keeping your business running smoothly and efficiently, you need to have a solid team scheduling policy.
A. Use a reliable team scheduling software
Use team scheduling software with a lot of features, like built-in scheduling templates and rules that are easy to set up and can be changed, to avoid things like having too many or too few people on staff, etc.
Tackle, for example, has all the tools you need to track your employees' time and easily manage their schedules.
It gives you the numbers to optimize for (like Meeting Fatigue Score or Deep Work Score). Track and compare your progress over time across different teams. See how far you are from the baseline, create concrete time-saving goals, and measure results using real calendar data. No extra work is needed to form your team.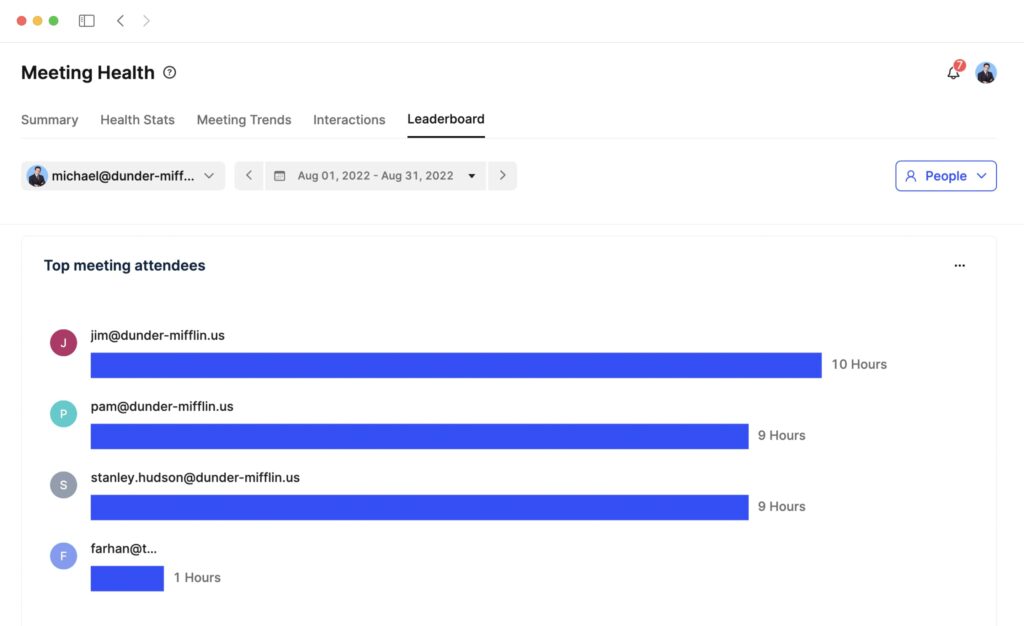 B. Know your people
Understanding your employees gives you the freedom and flexibility to mix and match their strengths, weaknesses, personality types, skills, and other things to make the best shift for any given work day.
Make a list so that when you are making schedules for your team, you can easily find the best person to put on a shift. This needs to have:
Name of your worker
Full-time or part-time status
Relevant skills Limits on overtime
Certifications (when applicable)
Other useful notes, such as "careful," "efficient," "can handle large crowds," etc., that tell you more about how your employee works.
C. Create the schedules in advance
Stop employees from leaving because their schedules are hard to predict. When you can, make your plans ahead of time. Allow for last-minute changes and let your employees know about events that will happen soon. This makes sure that everyone on your team knows what's going on and reduces the amount of damage that could be done to your staffing and schedule.
Use an app for team scheduling that lets you make and change standard schedules that your employees can easily access. Also, use appointment scheduling software to get a full picture of your clients' bookings and work them into your employees' schedules to avoid any delays in your service.
D. Set up an availability chart
Make sure you have a plan B for employee emergencies by making an availability chart with a list of your employees and the dates and times they can work.
This makes it easy to find out who on your team might be willing to fill in and work extra shifts so your business can keep running smoothly.
E. Delegate some of the scheduling
Give some of the scheduling work to your most reliable or most experienced employees to make making schedules easier and to keep your employees interested.
Using a work schedule maker, try putting a few of your best employees on each shift. Then, give the rest of your staff access to the schedule so they can fill in their preferred date and time.
Give team members one or two days to make changes to the schedule, and let them know that you or your managers may still make a few and final changes.
Once that's done, go over the schedule and make any changes that are needed to make sure each shift has enough people working it. Then, share the final schedule with your employees.