There is no denying that CEOs have access to a wealth of support and resources. However, they face more acute scarcity of one resource than anybody else in the organization: Time. Everything that a CEO has to do takes up time, quite a lot of it to be exact. Despite this, CEOs are nonetheless held responsible for all of the company's activities.
It's critical for CEOs to determine where and how they spend their time and energy because it has a direct impact on both their own effectiveness and the success of their organizations. What gets done and the priorities of others are determined by where and how CEOs participate. It has an effect on their credibility as well. An isolated and out-of-touch CEO will be perceived as a micromanager if he or she doesn't spend enough time with his or her coworkers, whereas a micromanager who spends too much time in direct decision-making risks eroding employees' initiative. This means that the CEO's schedule, like that of any other top-level executive, is an expression of how that person leads and communicates with the organization.
In an interview with XO Group CEO Mike Steib by Entrepreneur, Mike highlighted that maintaining a healthy time schedule is key. From the moment he wakes up, Mike Steib has a blueprint of his day planned out. Daily meetings, interviews, employee check-ins, even time to just think — Steib has every minute marked on his calendar. As the CEO of media company XO Group, Steib's job keeps him pretty busy without compromising his health.
"I'm very focused on healthy habits to start my day. I get a good night's sleep, I wake up early, I exercise and I plan the things that I want to achieve for the day. I have tightly arranged and laid out my calendar to maximize my productivity.
"If you wanted to underline one thing I cannot emphasize enough — leadership requires energy and focus and discipline. You can only have good habits and they start with getting a decent night's sleep and exercising."
Create a Zero-Based Calendar.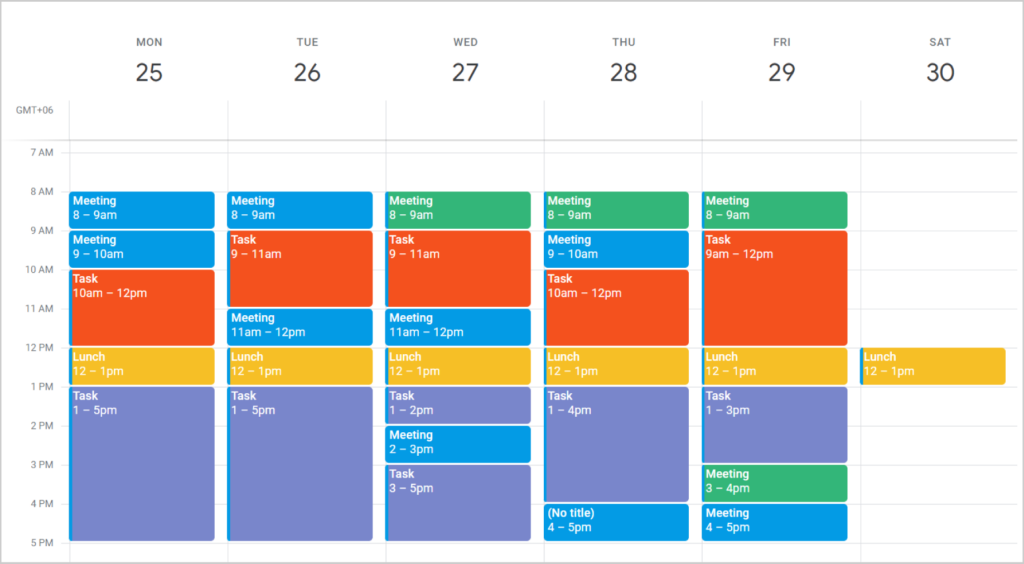 "Promoted by Cathryn Lavery and Allen Brouwer, co-founders of BestSelf Co, the Zero-Based Calendar is a time management system that requires you to account for every second of your day," Calendar co-founder John Hall explains. As a result of this, there will be no unused space in your calendar. There's no point in paying attention to something that isn't scheduled.
To get started, plan everything out ahead of time. including, but not limited to, the items on your to-do list, gatherings, and breaks. Next, determine how long it will take you to execute each of these tasks. Observe your schedule for a few days and see if you can figure out how much time you spend doing what you want to do. You'll need these estimates so you can set aside enough time in your calendar for each activity.
For a final precaution, allow yourself a 50% buffer time. Greg McKeown, author of Essentialism, advocates a simple principle in his book. A 30-minute meeting requires an hour of planning, so allocate an hour and use the first 15 minutes for preparation to avoid running behind schedule. It's okay to use the extra 15 minutes at the end of the meeting if it runs beyond schedule.
Add in a few "free" blocks, even if you're pre-scheduling everything. An hour or two in the afternoon could be set aside to allow for some flexibility and spontaneity.
Aim For Work-Life Integration, Not Just Work-Life Balance
Stephen Kohler, CEO, and creator of Audira Labs explained work-life balance and work-life integration as
"While work-life balance emphasizes keeping your professional and personal lives separate but equal, work-life integration is based on the concept that there is no separation between the two and that they must coexist in harmony."
Work-life balance aims to establish an ideal situation in which work and life coexist and thrive separately; work-life integration focuses on integrating your work and life together as one.
Professionals who integrate their professional and personal lives take less notice of what defines "work time" and "personal time" and instead focus on the optimal time to accomplish these tasks. This may be working later in the day in order to concentrate on a personal project in the morning, or checking email after hours but also checking and replying to personal email during the workday.
In other words, work-life integration views all of your daily activities collectively and is less concerned with compartmentalization.
To know more about work-life integration check out our article on Work-Life Balance vs Work-Life Intregration.
Build playbooks
CEOs already have a grueling work schedule to contend with. Due to your increased responsibilities, such as those of board director, visionary, manager, and decision-maker, you should also devote some of your free time to assisting others in their personal development. On top of that, you also have to deal with a wide range of stakeholders, both internal and external, such as consumers, investors, and service providers such as lawyers.
Short on time and resources, you have a lot on your plate. It's easy to let your personal life and top priorities suffer as a result of your work obligations. One solution to this problem is to limit the number of responsibilities you have by delegating.
Go over your list one more time. What chores are taking up too much of your time and resources? These are issues on which you have no expertise or that aren't of the utmost importance to you. It's a good idea to delegate some of the marketing tasks to someone else if your area of expertise is marketing, such as a marketing manager. That should be handled by your company's marketing department.
Day-to-day operations can be delegated to your staff as well. This will not only save you time, but it will also strengthen your relationship with your workers. Making a playbook is essential. Much like when a teacher would leave lesson plans for a substitute to follow, this is similar in concept. In the event of a teacher's absence, they are prepared.
It's always a good idea to outline your method and expectations in a document or wiki before assigning work. Sometimes, it may even be necessary to let them watch you do the exact job for which you want them to be responsible.
Be Proactive, Not Reactive💢
"When you become a leader it's usually because you're a good problem-solver and you're good at getting things done. And the more senior you become as a leader, the more problems there are that you could solve, and the more things there are that you could do.
"So it is choosing where to apply your energies to get the best results for the business. It was Peter Drucker who said, 'Efficiency is doing things right; effectiveness is doing the right things.' The idea is it's key to a leader to do the right things." 
As a CEO, everyone is going to be coming to you for everything — regardless of the size. In short, you're continually battling fires.
The thing is if you're always putting out fires, it's impossible to manage your calendar effectively. That's why you need to be like a chess player and anticipate your opponent's next move.
Summary
"Because you are a leader, people are nice to you and don't necessarily tell you everything that you should be hearing. I think that's one of the reasons why you want to create a really open and transparent culture. In some cases, I've seen leaders be willfully ignorant, and in other cases, I've seen leaders just not get all the information they need and fail because of that.
"How do you make sure that you're not drinking your own Kool-Aid too much, and that you're being appropriately self-critical with how you spend your time." – Sam Hodges, Co-Founder and Managing Director of Funding Circle U.S.
Being a CEO has become more difficult as the job's size and scope have expanded, organizational complexity has increased, technology has advanced, competition has increased, and CEO accountability has increased. In introducing these principles, we hope to provide current and future leaders, who must shoulder such a heavy burden, a better understanding of their role and how to make better use of their most valuable resource: time