We are thrilled to announce the latest features, improvements, and bug fixes that have been implemented in our platform this month to enhance your user experience.
New Features 🌟
Chart Library:
We are excited to introduce new templates in our chart library. You can now customize the report pages with a wide variety of charts to visualize your data exactly the way you want.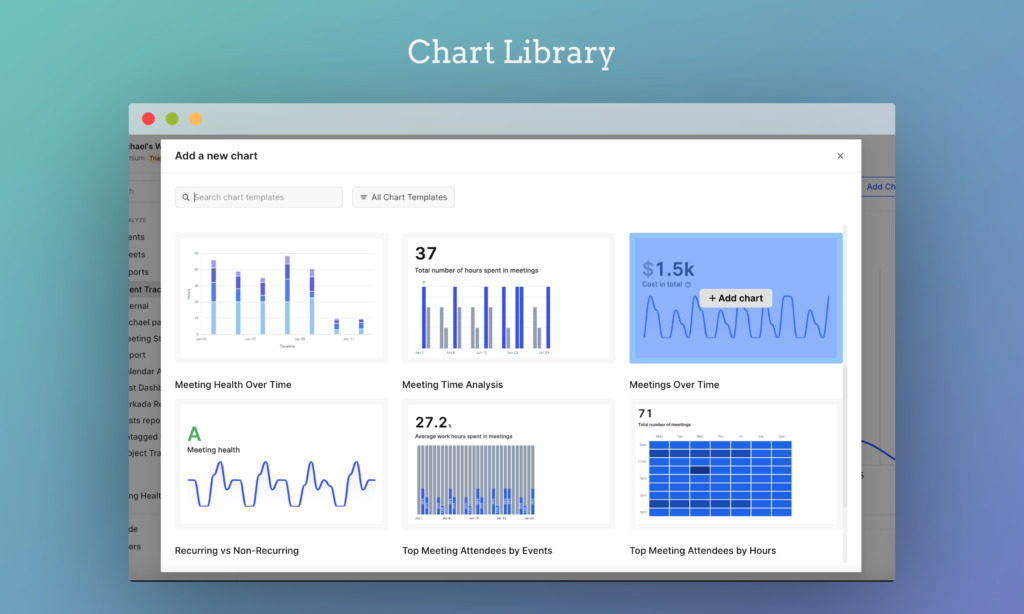 New Workflows – Google Sheets/ Email Bot:
We have added two powerful workflows – Google Sheets and email bot. With these new features, automating Google Sheets is a breeze. Additionally, you can create email bots to receive daily reminders of the events you've attended.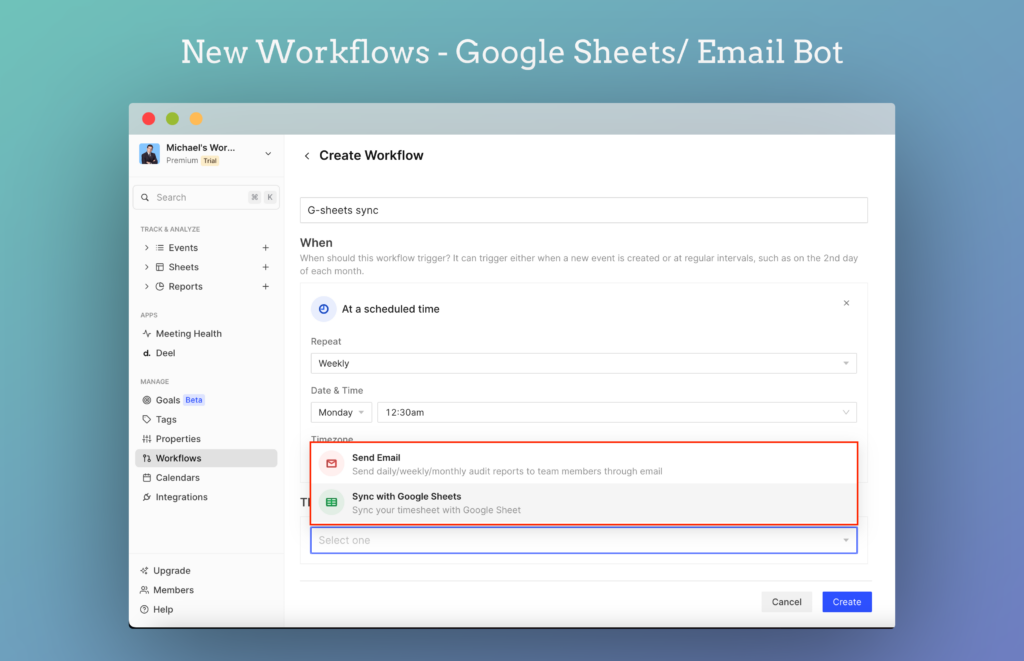 New Custom Add Member Flow:
We have streamlined the process of adding team members. You can now add team members without providing specific calendar permissions. Once they join your team, they can easily connect the calendars they need.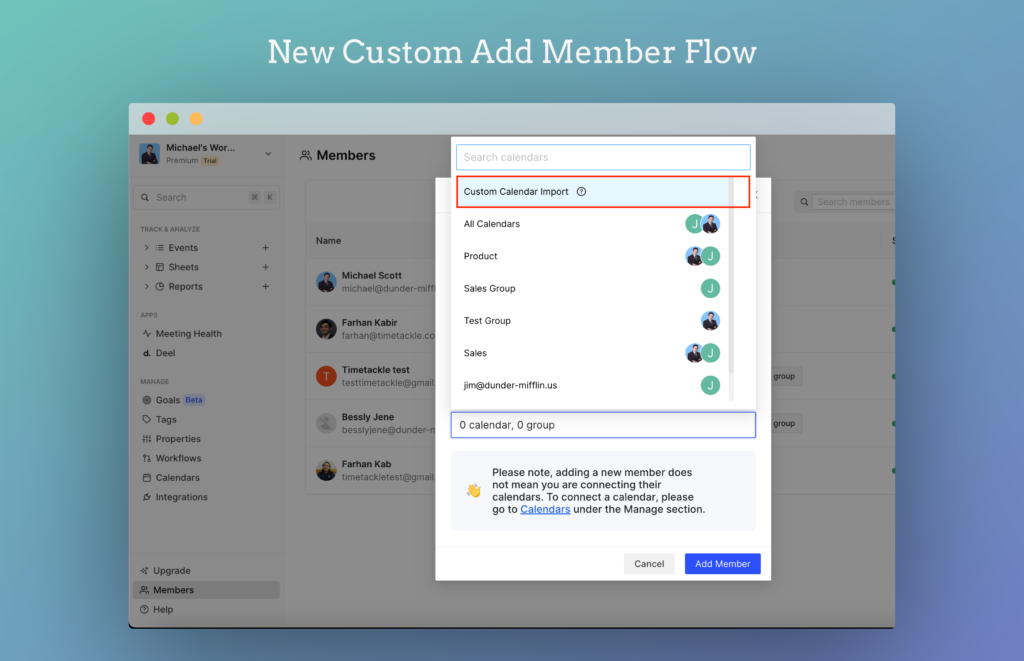 Meeting Cost Customization:
You now have the ability to customize meeting costs based on your organization's parameters. This new chart can be added to your regular Insights dashboard for better financial visibility.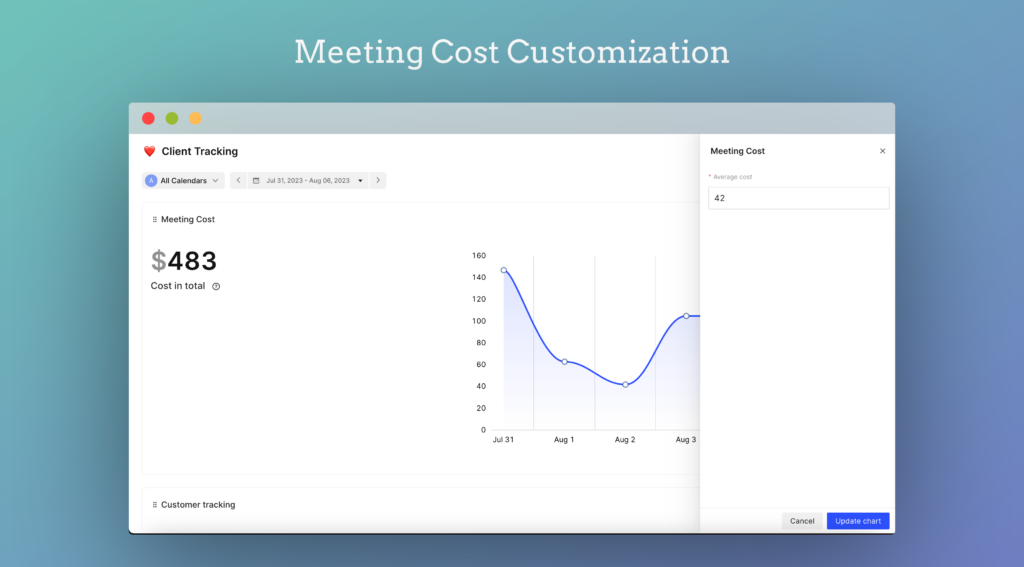 CRM Integration – Account Owner Property:
Our CRM integration now includes a new property field where you can assign team members as account owners. This allows you to track and analyze how much your team is spending on different clients and projects.
Improvements ⚙
Duplicated Workflow Prevention:
To avoid cluttering your workflow lists, we have made an improvement where you can no longer create duplicate workflows from inactive ones.
Enhanced Onboarding Experience:
To assist new users in understanding our platform better and getting on board quickly, we have introduced several new video content that provide our users with comprehensive guidance.
Leaderboard Chart Enhancements:
Our leaderboard charts now offer increased flexibility. You can now include or exclude specific meeting attendees using the chart settings, ensuring more accurate and relevant data representation.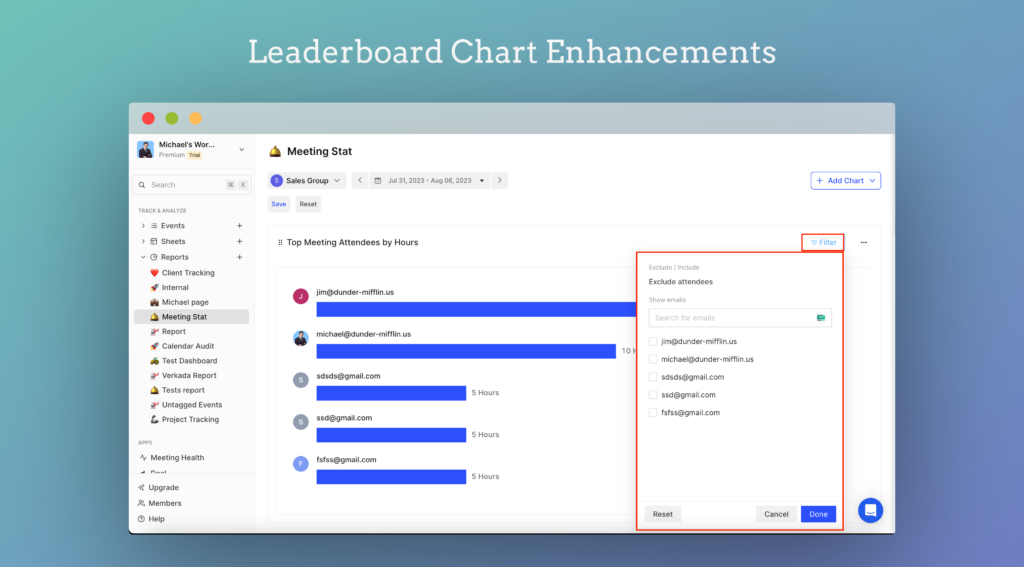 Optimized Reports Page:
We have optimized the reports page to provide improved performance, ensuring greater accuracy and responsiveness.
Bug Fixes 👾
Detaching Tags Issue:
We fixed an issue related to detaching tags from declined meetings, ensuring smoother management of meeting data.
G-Sheets Sync Bug:
A bug that prevented G-sheets sync from functioning correctly after the introduction of the new workflow system has been resolved.
Multiple Subcategory Fields Fix:
We resolved an issue where multiple subcategory fields were not functioning as expected, ensuring seamless data organization.
We hope these updates enrich your experience with our platform, making it even more efficient and user-friendly. As always, your feedback is highly valued, and we remain committed to continuously improving our product to meet your needs. Thank you for choosing our service!
Best regards,
Tackle Team