Google Calendar is part of Google Workspace designed to facilitate time management and event scheduling. With Google Calendar, you can stay on top of your meetings, tasks, and upcoming activities. Furthermore, you can share your calendar with your colleagues to let them know the suitable time to reach you. Scheduling and managing meetings has never been easier. Google Calendar stays at the top of its game with constant updates. The Google Calendar time insights is one such new feature.
What is Google Calendar time insights?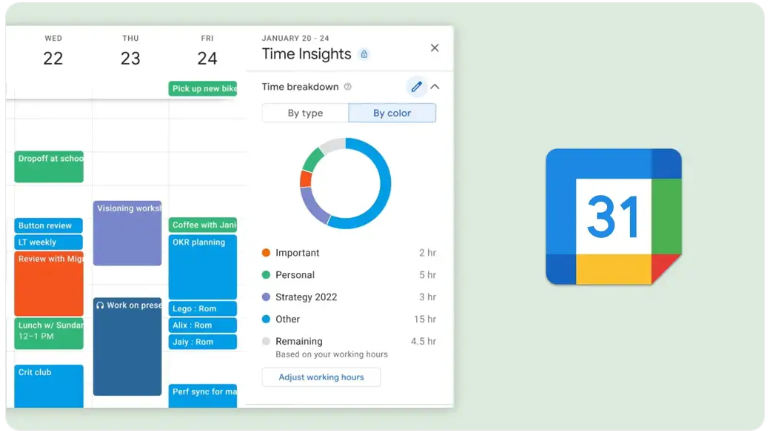 When you enable Time Insights Google Calendar, you can view 3 things:
1. Your entire time breakdown
Depending on your work hours and type of meetings, you can view how your overall time spans across the week/month.
2. How much time you spend in meetings
Time Insights Google Calendar can highlight which dates were meeting heavy and what is the typical frequency of meetings on such dates.
3. How much time do you spend with individuals:
The feature also allows you to pin specific users on your calendar. So, you can hover over that individual and see how many meetings have you had with the specific person.
You can view other people's time insights if you have the 'Make sharing and manage access' permission on their Google Calendar.
How to get time insights on Google Calendar?
Follow the steps below to view this app on your computer:
Step 1: Sign into your Google Calendar account
Step 2: Scroll down on the left and click on 'More Insights'
Step 3: A sidebar will open on the right side, and you can view your entire time insight
And you are done! You have enabled time insights in Google Calendar. Now, you can select a graph to view time breakdown, time spent in meetings, or time spent with people.
You can also scroll down and select the 'People you meet with' option. Click on 'Manage pinned people,' and you can pin your contacts.
Is Google Calendar time insights enough?
Despite being a cool feature, time insights Google Calendar isn't quite there yet.
Firstly, you can only avail this feature through a business or school plan. If you are a freelancer, you need to purchase the enterprise plan.
It's ironic because time insights want to help individuals assess their time. However, the plan isn't available for individuals.
Secondly, you can view the time insight feature only on the web. So, if you ever wondered why Google Calendar time insight is not showing on your mobile app, you probably got the answer.
There is room for human error because you have to manually set most of the functions. If you are someone who spends a lot of time in meetings, keeping track of them manually is a hassle.
Hence, the time insight feature is cool but not perfect.
So, what can you do?
The solution is simple. Get started with a time tracking software, preferably Tackle. Let me just highlight some of the best features of Tackle for you:
Calendar analytics to measure your ROI, productivity, meeting health, and tons of other metrics
Seamless integration with Google Calendar and other work tools your teams are familiar with
Automated time tracking by syncing data with Google Calendar
Enterprise-grade security and data-encryption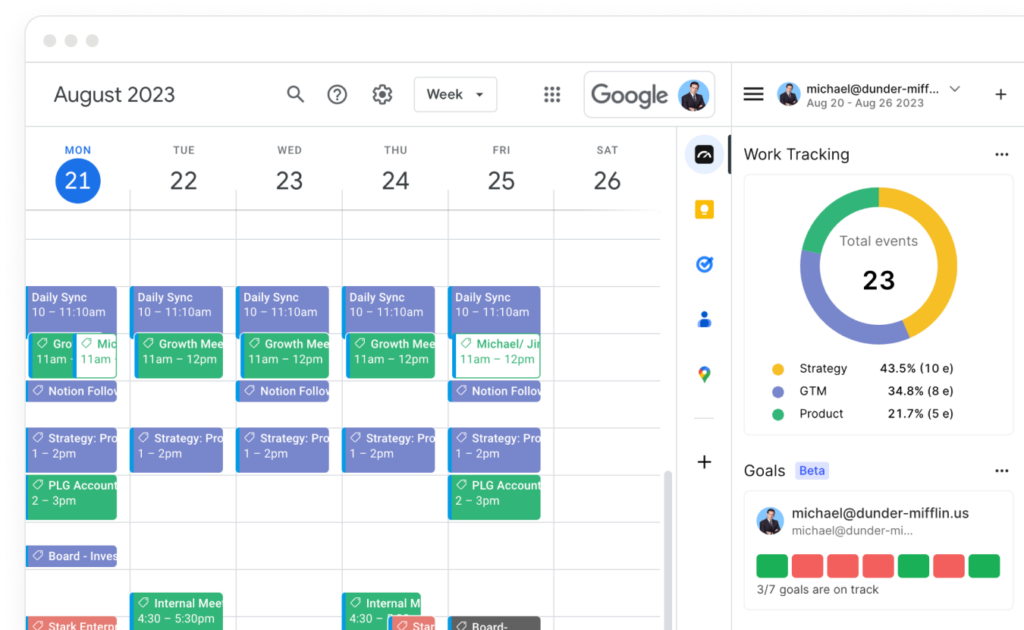 Credit: Tackle
These are some of the many features Tackle possesses. Because of its effectiveness, Tackle has gained the trust of 300+ teams.
You can sign up for free at Tackle to try out its features and see if it's worth it.
Try the Tackle app. It's free, forever!
Summary
It isn't about whether you should try Tackle or not. There is a variety of time-tracking software or timesheet apps.
The question is, "Do you want to unlock your team's maximum potential?"
If yes, Google Calendar time insights aren't going to be enough. You need to adapt to what the industry is doing.
You need to switch to time-tracking apps.
Do check out the following blogs on how you can make the best out of your Google Calendar using Tackle.