Google has added a new "Time insights" panel to Calendar on the web, which will show users how much time they spend in meetings during the week. According to Google's blog post, the feature will begin rolling out gradually on select plans over the next month. It was first announced in March as part of a slew of new Google Workspace features.
Google calls Time Insights a "personalized, analytical experience."
"With the changes to our working environments in the past year, some people have more meetings and may feel less control over how their work time is spent. Time Insights can show you this data, and help you plan your time better."
Time Insights arrives two years after Google and Apple added similar breakdowns to Android and iOS Calendar apps to show how much time is spent on various apps. However, while these OS features included the ability to set time limits for individual applications, Google Calendar does not allow you to do the same for meetings. Rather than that, it provides you with the information necessary to help you manage any meeting-obsessed colleagues.
Google Calendar Time Insights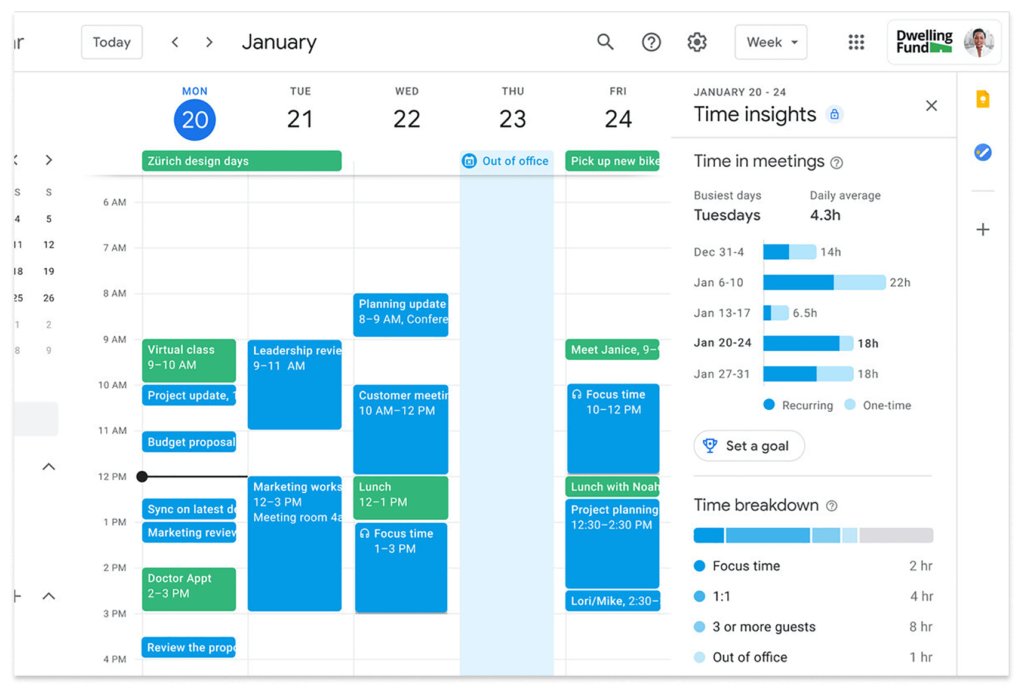 Google Time Insights is a simple feature that allows you to track how much time you spend in meetings. While there is a lack of advanced features, the real question is whether Time Insights is enough for our day-to-day needs. Sometimes, more features can be a hindrance.
The Good
The goal of Time Insights is to help you gain a better understanding of how your time is spent so that you can make adjustments if you're spending an excessive amount of time in Zoom calls or conference rooms. For example, you might be able to consolidate meetings if you spend a lot of time with the same people.
"According to a blog post shared by Google, it read, "You can now use Time Insights in Calendar, a personalized, analytical experience on the web, to see how your time is spent across meetings and collaborators," The time insights can be seen only on computers, it added."
This feature is extremely useful if you want to highlight the days and times when you are most likely to be in meetings.
Additionally, you'll see in the "Time in meetings" stat a breakdown (including the average amount of time spent in meetings each day) and information about the people with whom you meet most frequently. When you hover over an individual, Google Calendar highlights all of the meetings they are a part of. According to Google, this will help you know who your most important stakeholders are and let you prioritize meetings more efficiently.
The Bad
Time Insights' main goal is to provide a basic understanding of how an individual spends their time and to help them save time, but it does not go deep into time analytics or time tracking. Like many time tracking software online, Time Insights does not offer automatic time tracking features or other useful tools designed to help large remote teams and organizations coordinate their meetings and track time in sync.
Most of the functions of Time Insight need to be manually set by the users, and so this creates room for human error.
This side panel first shows a "Time breakdown" based on the "working hours" you manually set in Calendar and the types of meetings you have (1:1, 3+ guests, "Need to respond," and everything else over the course of a workweek).
For someone who spends most of their time in meetings, tracking meetings manually is a bit of a drag considering all the time-tackling alternatives available in the market.
Google emphasizes that "this information is viewable by you alone, not by your manager," and pursues it as one of the key features of Time Insights.
Keeping your time stats to yourself may keep you from being micromanaged or from feeling like you're being watched all the time.
"Google explicitly notes that this information is "visible to you, not your manager" amid criticism of other analytics attempts done by other companies and products."
While this is good from an individual perspective, from an organizational perspective, it is counterproductive. An organization needs to have a proper idea of what your weekdays look like otherwise and the work you are doing, to maintain coordination and carry out the proper evaluation. So, in the end, this might actually hinder your productivity in terms of coordination and team communication.
However, Google adds that if you have permission to manage another person's calendar, you may be able to view their breakdown.
"If you manage other people's calendars and have "manage sharing access" permission to those calendars, you can view their Time Insights."
The feature will be enabled by default, and while Workspace administrators can disable it, end users can only minimize it, not disable it. The problem with this is again 'everything needs to be done manually.' And in this modern era where saving time is everything, doing things manually in a feature that 'aims to help people save time' is a bit of a disappointment.
Lastly, Time Insights is now available for a select few Google Workspace users (i.e. Business Standard, Business Plus, Enterprise Standard, Enterprise Plus, Education Plus, and Nonprofits users). It will not be available to other plans, such as Business customers, or those using Google Workspace Essentials, Business Starter or G Suite Basic users. What's confusing is that Time Insights aims to help individuals get a general idea of how they spend their time, but the feature is not available for the basic individual Google Workplace accounts but is made available for Enterprise accounts even though Time Insights lacks basic features for team or enterprise time tracking.
TimeTackle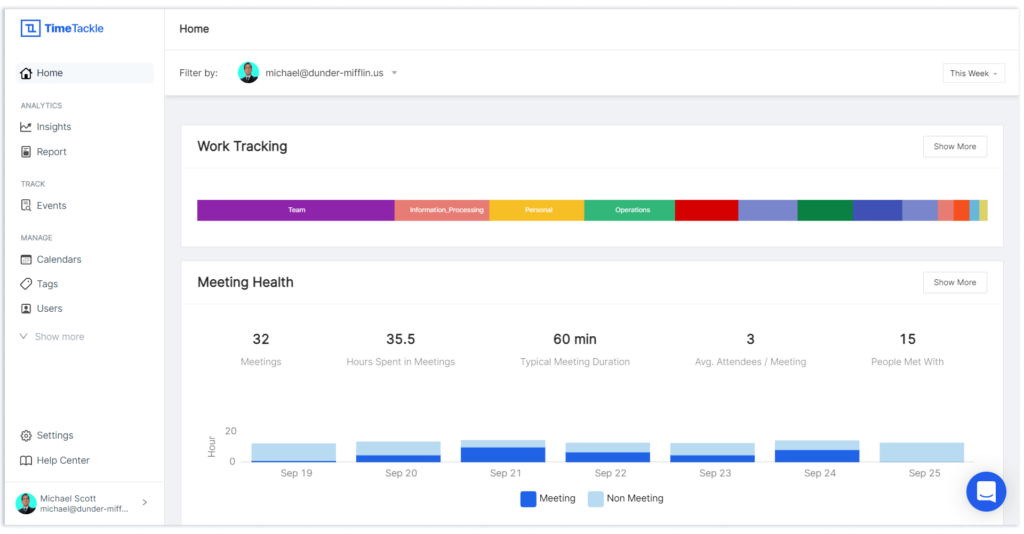 TimeTackle, on the other hand, is a fully loaded time tracking app that does more than showing you the amount of time spent on meetings. TimeTackle allows you to create timelines directly from your calendar data, allowing you to streamline your tracking process in real-time, effortlessly.
The Good
What makes TimeTackle special is that it caters to all types of users' time management needs. You can sign for yourself as well as for your teams and for your organization to achieve true-time efficiency. You get everything you need in one place.
Calendar Analytics
Analyze your and your team's productivity through the calendar analytics feature that shows you bars and charts of time spent vs time sinks or people and organizations you've met for at-a-glance measurement and analysis. Get deep insights into where you or your team is spending most of their time, and readjust your schedule for the highest ROI.
TimeTackle also allows you to measure and track your company's meeting health with custom thorough reports. You can get AI-generated recommendations to improve employee engagement and eliminate all dysfunctional meetings to reduce meeting fatigue and increase deep work.
Tags
Built for all users, TimeTackle Tag lets you seamlessly categorize all your calendar events using #Hashtags. After identifying similar patterns in your event title and description, you can set up rules for the events to automatically tag the events with your desired tag. For example, you may construct a rule by mapping the "BOD" keywords on your Event Title to a "Board of Meetings" tag. Finally, make sure to reload your data from the Settings page after every time you add new auto-tagging rules.
Track what project your team is working on, what type of appointments you are getting, or what meetings you are attending without wasting time searching for it.
Enterprise-Grade Security
To address security concerns for enterprises, TimeTackle uses TLS 1.2 to encrypt the data in motion and follows several security measures to help ensure the authenticity, integrity, and privacy of all data in transit. The data at rest is encrypted by default and we secure all sensitive information with strong hashing algorithms like AES-256 and AES-128.
TimeTackle's infrastructure is completely hosted on Google Cloud with least privilege access policy. Users have "logging in place" to audit any authorized access. Furthermore, the application infrastructure is completely separated from our public-facing website for enhanced security.
These are a few of several features of TimeTackle, which shows that TimeTackle provides industry-leading services when it comes to time tracking. If you are interested in knowing more about TimeTackle Features, please click here.
The Bad
TimeTackle's executive plan costs $40 per user per month.It will let you add tasks, set alerts, and offer automatic tagging, personal analytics, and many more. Google's Business Standard is $12 per user per month, and it will let you track meeting time, set reminders, and know whom you are spending most of your time with.
The key difference between TimeTackle and Calendar Insights for many users is the price. However, for a higher price, TimeTackle provides more user-oriented services such as multiple calendar tracking, automatic tagging, calendar export, custom reports, etc.
This makes TimeTackle a bit more expensive but also more feature-rich than Time Insights.
Summary (The Best)
We have clearly laid out all the facts here and we will leave it to you, the users, to decide which is better. Frankly speaking, Google Calendar time insights is a useful feature, but it's not there yet. Time Insights lacks the variety of features that are considered standard when it comes to automatic time tracking, which many companies like TimeTackle provide. So our recommendation is that if you already own a Google Workspace Business Standard or other supported account and you want a simple integration that will show the amount of time you have spent in meetings, then Time Insights is perfect for you. However, if you are a CEO with the aim of maximizing productivity by streamlining your tracking process, then TimeTackle is perfect for you. TimeTackle is here to save your time so that you can spend it where it matters. You don't have to take our word for it. Learn more about how TimeTackle can help you, your team, and your enterprise get up to speed with employee time tracking here, or talk to sales to arrange a demo. You might be surprised by how much you can improve with the right tools.