2021 is officially the year of calendar apps. Calendars, of course, show you your schedule. Every calendar app manages that; the best calendars, however, aren't just functional. They give you clarity about how you spend your time, and we all know time management is crucial.
For personal users, a calendar app can simply be useful, but for business users a calendar app is essential. For business purposes, it can be a great way to cover all that, as well as, more important issues such as deadlines, meetings, and events.
What makes a calendar app great?
In looking for the best calendar apps, we should look if they have the following characteristics:
Easy to use
Can integrate with other apps
The best calendar applications will not only work on their own but will also integrate with other important apps you use, such as email and office software. That way you can get sent notifications in good time of anything coming up on your calendar.
Has a bunch of features
Power features, such as configurable views and integrations, will help you get the most out of your calendar if you're a serious scheduler. For apps with less functionality, look for customization options that allow the program to adapt to your preferences.
Available for multiple devices
Apps that are accessible on more than one platform will always be more preferable. You should be able to see your calendar regardless of where you are or which device you are using.
Simple to share
You probably don't work alone, and your calendar shouldn't either. You can share appointments or even your full calendar with the best apps.
What are the top 5 calendar apps?
1. Google Calendar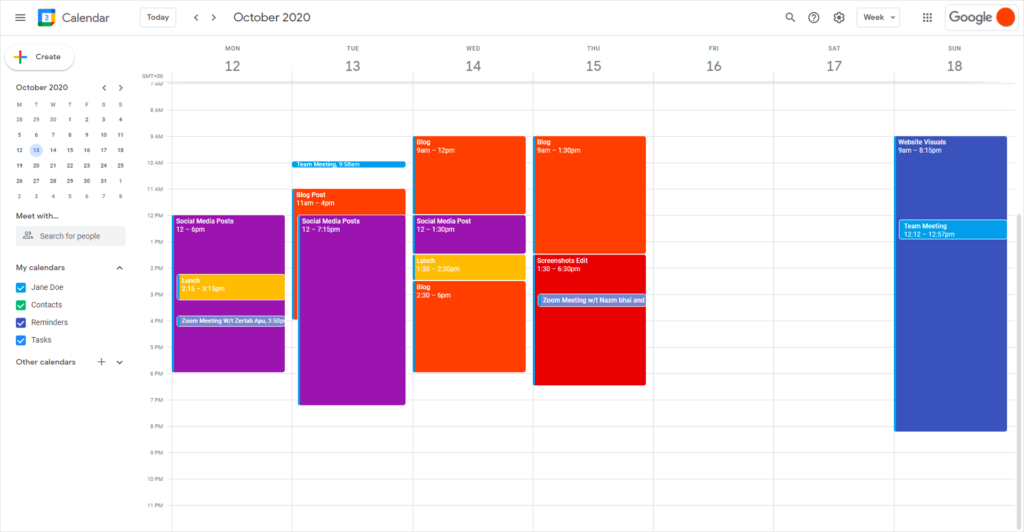 Google Calendar is the OG application. Its popularity stems from the fact that you can create multiple calendars in one place using a Google account, which almost everyone has. Those entries can then be transported to almost any other online calendar.
Google Calendar also works with nearly everything else on the market. You can connect your Google Calendar not only to your email and other calendar apps but also to business apps and services that have calendars as part of their features, such as Trello and Asana.
When creating events, you can color-code your calendar so that you can quickly identify the various types of activities you have scheduled. You can schedule one-time activities, such as a call with a client, as well as recurring events, such as weekly staff meetings. Let everyone know if you're attending with just one click from the event invitation.
You can also create personal reminders. Google Calendars can be shared that gives the ability to check your coworkers' schedules alongside your own. You can choose between sharing an entire calendar or just using the invite option to add people to an event.
Furthermore, you can manage event notifications, choose how many days you see at a time in your calendar view, and change the way your calendar appears when you have several calendars layered on the same screen. This is also free.
2. Microsoft Outlook Calendar
When ranking the best calendar apps Microsoft Outlook Calendar is always trailing one step behind Google Calendar. This is because it's meant more for personal use than for business purposes.
A lot like Google calendar, the desktop app brings together your calendar, email, notes, tasks, and contacts in one place. Outlook's mobile apps aren't quite so ambitious, but they do at least combine your calendar and email. It allows you the most basic of functions like creating appointments and events and organizing meetings. But it has many more features than that as well.
Outlook lets you share calendars with people. With Exchange Server accounts and the appropriate permissions, team members can view and manage each other's schedules and subscribe to one another's calendars.
Outlook also allows you to view multiple calendars at once: side-by-side or with calendars combined in an overlay view. This too is free across all Microsoft devices.
3. Calendar.com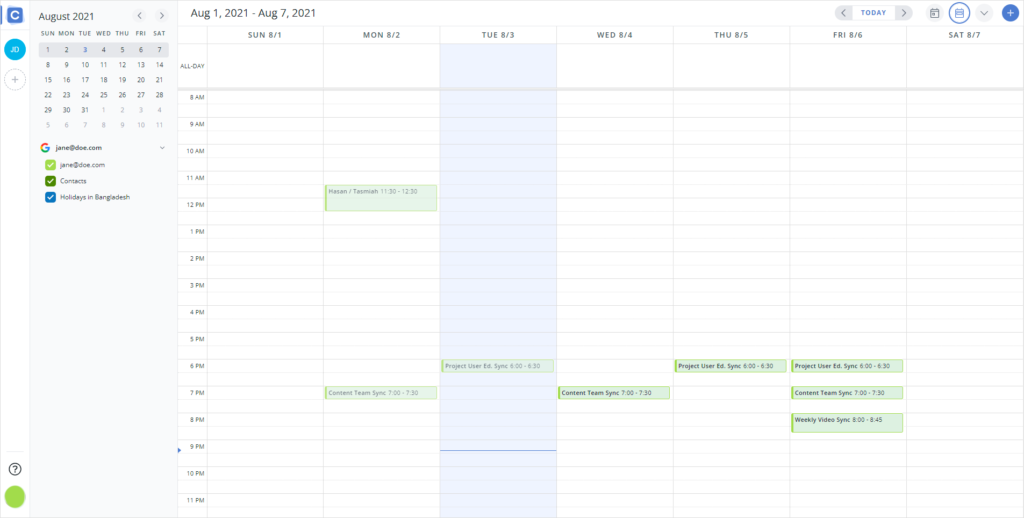 Calendar is one of the more new apps on the market but has all the essential features and much more so that you can get the most out of your calendar. That is really the aim of Calendar.com.
You can schedule meetings that work for you by using Calendar's smart scheduling link. This allows you to eliminate the back and forth emails to find the best meeting times.
You can also create events quickly and always know what's coming up by connecting calendars that sync with Google, and Outlook and manage all of your meetings in one place, and always know what your schedule looks like.
4. Any.do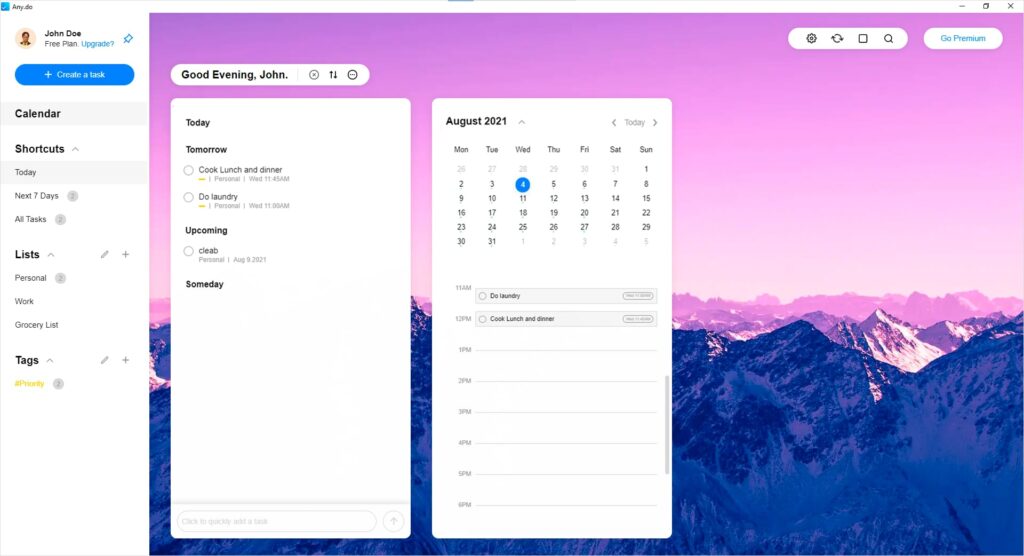 When talking about apps, what's really important is how well it does on mobile phones and that is where Any.do takes the spotlight. It shines on mobile thanks to an easy-to-use interface that gives you all the tools and information you need on smaller touchscreens.
It also works with practically everything. iPhone, iPad, Android phones, and tablets? Check. Web, Chrome, and Mac? Also, check. And finally, it takes it a step further by even integrating with Slack, Alexa, Google, Outlook, and iCloud calendars.
You can very easily review your and organize schedule every day, week, or month with Any.do. You can also establish free recurring events, share objects, receive location-based reminders, capture activities by voice, and have the Any.do assistants take care of particular tasks for you with only a few taps.
5. Fantastical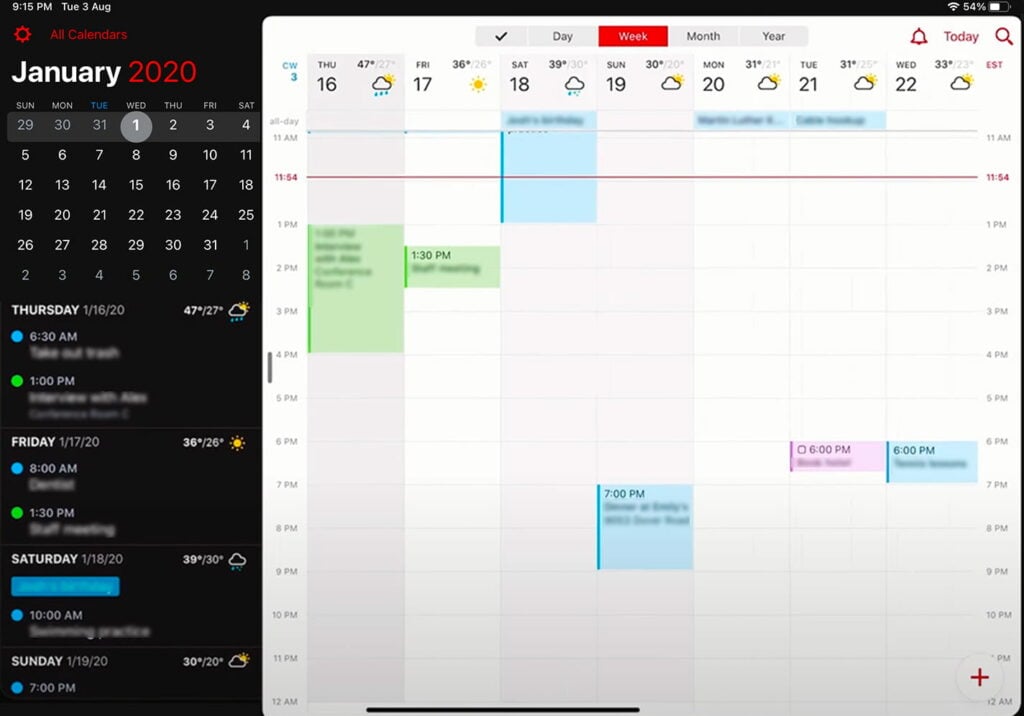 Just like its name it is arguably the most fantastic app for you if you've got a wide range of Apple devices, from MacBooks to iPhones and even an Apple Watch.
Its never-ending list of incredible features will make you drool. It supports multiple languages like English, Spanish, French, Italian, German, and Japanese. This is a feature you won't see anywhere else.
It can set up meetings and events quickly and easily, and it can also check to see if your coworkers have time for a planned meeting via Google Apps or Exchange, making it a more robust and new software than Apple's default calendar. The only downside to this app is that it's a bit expensive.
Summary
Time can be tricky to manage and life often gets in the way of that. While your life isn't something you can control, calendar apps can definitely make it easier to deal with. It can be difficult to pick out the best calendar apps but our breakdown will give you the best apps in the market in 2021 and all the tips and tricks you need to go with them.