Businesses need two things for smooth administration: scheduling and time tracking. However, it's ironic that many organizations often lose time completing these tasks. Why?
Tools such as Microsoft Excel, Google Sheets, etc, are accessible to employees. However, organizations still use the ancient method of manually entering data into Excel or Google spreadsheets.
The average typing speed of a person is 38-40 words per minute. Now, imagine you work for a big corporation such as Apple or Target, where hundreds of employees work in a department.
How will you track time or create a schedule for this large pool? Manually data entry is not the answer.
What is a timesheet?
Companies use timesheets to record when and how much employees work over a certain period. Timesheets are helpful as they ensure that employees properly log hours.
Also, you easily track employee overtime and pay fair compensation to workers for their efforts.
Since Google Sheets or Excel have functions such as Vlookup, Average, Sumif, etc, you can calculate average productivity, generate graphs, and identify trends using timesheets.
How do timesheets work?
Understanding how timesheets function before implementation is essential. Here are the fundamental aspects of how the timesheets work:
You need to decide between digital or paper timesheets depends on your payment structure and company setup.
Employees should clock in at the beginning of their shift and clock out when they finish work. They should also log their breaks and indicate vacation days to ensure accurate payment.
Timesheets are not limited to hourly workers; full-time employees might also use them, especially if you bill clients by the hour.
Collect employees' timesheets after their last shift of the week or at the end of each workday. Approval of these timesheets is necessary for payroll processing.
Reasons to avoid manual timesheets
Let's break it down to how manual timesheet management can be a menace for you.
Time-consuming: It's a no-brainer that manually entering every piece of information will take several hours or even days. You can put your time and resources to much better use.
Difficulty in tracking: Traditional timesheets don't provide a comprehensive view of the information available. So, as managers, you will have to go through every timesheet to find time sinks or deviations in productivity.
Inaccuracy: Manual timesheets can never be 100% credible because humans are too bound to make errors. Finding and rectifying those errors will waste more time and energy.
"We must accept human error as inevitable and design around that fact."

– Donald Berwick
Frustrated employees: Energetic employees bring higher productivity. But, if employees spend most of their day doing redundant administrative work, they squander their talent. Furthermore, inaccuracies or errors cause demotivation among employees.
What are automated timesheets?
Automated timesheets can record work activity in real-time by using time-tracking software.
Automated timesheets are a great way of improving your company's timesheet submission and management process. How? With the help of time-tracking tools, you can access the timesheets from anywhere at any time and can help your team focus on what's more important.
Automated timesheets are a form of cloud-based timesheet system. So, collaboration and communication becomes much more convenient. Your timesheet system becomes much more concise and readable.
What are the benefits of automated timesheets?
For 3 core reasons, you should quickly convert to automated timesheets:
1. Generate insights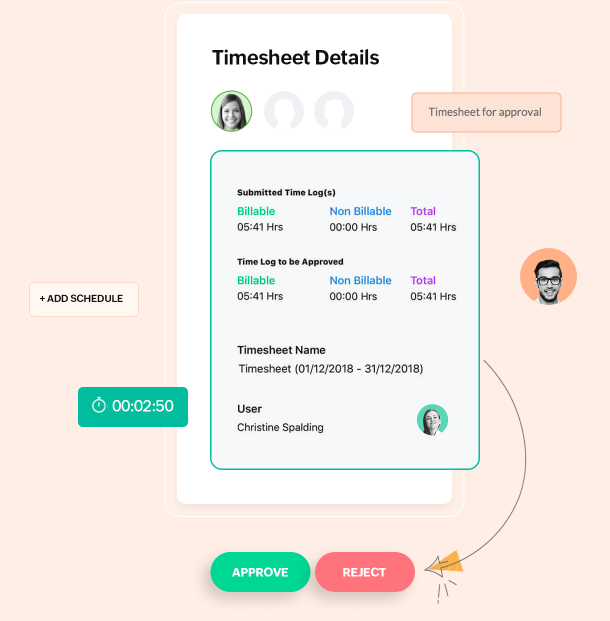 Time-tracking software or apps can help you create reports about project completion, progress, time investment, etc. You can flag areas for improvement. For example, you can identify whether employees are working too hard or slacking off and make decisions accordingly.
Since it's a cloud-based platform, all workers can access the reports anytime. So, there is improved transparency in the organization.
2. Better payroll system
Automated timesheets can save your life when it comes to billing. Billing accuracy improves, and you can account for overtime hours, holidays, sick leaves, absences, etc. while making payments.
Workers don't appreciate getting underpaid for their work, and as an employer, you don't want to overpay them.
Timesheet automation can save you from making these errors. In addition, employees develop a sense of trust in the company when there is greater transparency in the payroll system.
3. Prioritize projects
Once you can view the entire data, you can identify which areas or projects need more focus. After you have made your priority list, you can assign resources accordingly.
Also, employees no longer need to do redundant tasks, which add little value. So, organizations can free up resources and use them in better projects. So, the output-to-input ratio improves.
How do you automate a timesheet submission?
Step 1: Identify the software best for you
There are many time-tracking apps in the market. You could go for Timely, TimeTackle, Harvest, or any other tool of your choice.
However, prepare a checklist before signing up for an app. Make sure to go through the following items before making your choice:
Also, go through their case studies and blogs and talk to sales representatives to identify the best fit for you.
Step 2: Provide training to your staff
Before implementing time-tracking software on a large scale, ensure that your employees get accustomed to the software.
Provide proper training to employees on how to use a specific tool. If it's not feasible to hold mass training, then hold sessions department by department.
People often resist change and prefer their usual routines. So, some might be skeptical of a time-tracking app. In that case, try to inform them of the advantages of the automated timesheet submission process and how a time-tracking tool can save chunks of their time.
Step 3: Start monitoring employee time
Supervisors need to onboard their team members on the app. Once that is complete, you can start tracking employee performance.
Overtime, regular analysis will become more convenient, and you can identify individual and team productivity. This way, you can regularly support workers in complex projects and help with personal improvement. Furthermore, you can forecast problems and nip them in the bud.
Why use Tackle?
Tackle stands out for its effortless and automatic time-tracking capabilities, boasting browser extensions, deep calendar integration, timesheet exporting, automated rule-based tagging, and versatile desktop/mobile plugins.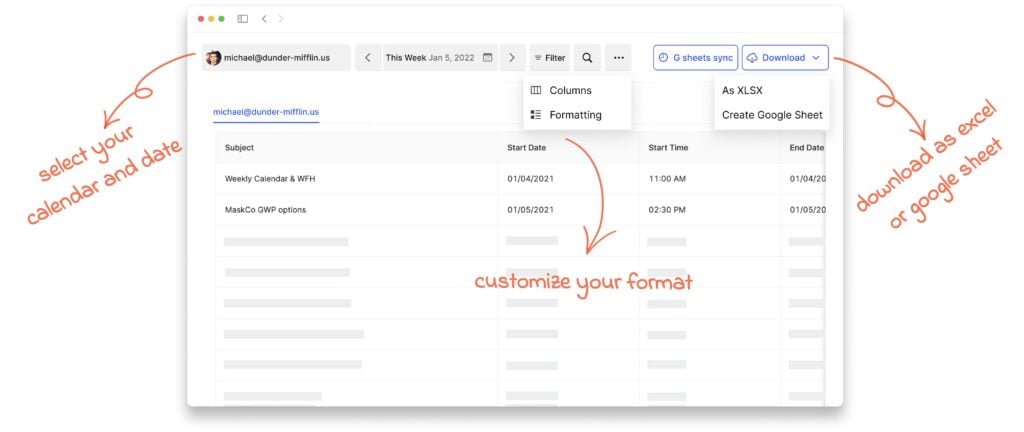 It's remarkably user-friendly, offers simplicity, and provides extensive reporting options. 300+ teams embraced Tackle as the solution to their time-tracking challenges!
Furthermore, it provides a wide range of integrations with Asana, Monday, Google Calendar, Slack, Salesforce, Hubspot, and so on.
Also, you use Tackle for the following tasks as well:
You can generate custom reports tailored precisely to your team's specific preferences and automate the timesheet submission process.
Tackle's intuitive workflow builder helps you to automate your repetitive time-tracking processes.
You can generate insights from existing data sources (like calendars, docs, and emails) and measure your operational efficiency and time investments across your clients and projects.
You can automatically track your team's time from existing calendar data, export your data into Excel or Google Sheets, and keep your projects on track by setting goals.
If you are convinced of the superpowers of Tackle, try out for free.
Try the Tackle app. It's free, forever!
Moral of the read: say adios to traditional timesheets
Automated timesheet submission can help save time and boost your productivity. Something the conventional ways could never have achieve.
We hear the word 'productivity' a lot on social media or YouTube videos. Several pundits relentlessly try to sell you different methods to boost productivity.
Interested in finding a tool that helps you to supercharge your productivity? Just click here to read a blog on