As a result, today's organizations need to integrate their CRM systems (Customer Relationship Management). The extensive range of CRM applications provided by Salesforce, for example, is frequently used in isolation. The best results come from integrating these solutions with other platforms.
In terms of Cloud-based CRM (Customer Relationship Management), Salesforce is one of the most powerful and commonly used software in the market. Customer data, contact information, and marketing data are all stored in this system to help with Customer Relationship Management. Create Sales Forecast Reports for your leads as well. Integration with Outlook, Gmail, and other email clients is also possible. In terms of business operations and client management, they have pretty much everything you could ask for.
Consequently, Salesforce enables you to design a custom-tailored solution to meet the demands of your business. Businesses of all sizes can benefit from its pay-as-you-go concept, making it a feasible and attractive option. Salesforce makes it a lot easier to maintain and grow your customer relationships because of the increased focus on the customer.
Addtionally, using Tackle, you can sync your google calendar events with Salesforce data. It helps you to analyze time spent with different opportunities, account owner's activities etc key details that enables you to improve your team's productivity.
Try the Tackle app. It's free, forever!
The Benefits of Integration – Why Salesforce Google Calendar Integration is Essential
Before we dive into the technical details, let's explore the compelling reasons why integrating Google Calendar with Salesforce is not just worthwhile but essential for optimizing your business operations.
Streamlined workflow 🔄
The integration of Google Calendar and Salesforce streamlines your workflow by bringing together two essential tools into a unified environment. Say goodbye to the hassle of constantly switching between platforms and applications.
Everything you need to manage your schedule, client interactions, and business appointments can be efficiently handled in one place. This means less time spent on administrative tasks and more focus on what truly matters—your clients and your business.
Enhanced productivity 🚀
Double data entries and scheduling conflicts can be a constant source of frustration and lost productivity. With Salesforce Google Calendar integration, these issues become a thing of the past.
You can bid farewell to the tedious task of manually copying events and appointments between systems. Any changes made in one platform will be automatically reflected in the other, ensuring that your schedule remains up-to-date, accurate, and efficient.
Comprehensive insights 📊
Integrating Google Calendar with Salesforce provides you with a holistic view of your clients, appointments, and interactions. This synergy allows you to gather comprehensive insights into your business operations.
You can easily access the history of client interactions, scheduled meetings, and important events within Salesforce. By having all this data at your fingertips, you can make more informed decisions, improve customer relationships, and drive your business forward.
Key Salesforce features
Using Salesforce, organizations have been able to build stronger relationships with their customers. Salesforce has a number of important features, including the following:
Salesforce enables firms to evaluate and improve campaign performance by tracking and analyzing leads. As a consequence, you'll be in a better position to make decisions about how and where to use your Marketing budget.
Salesforce's dashboards can be customized to show your company's most important metrics and forecasting capabilities. With the help of these analytics, you can make better business decisions.
Salesforce gives businesses a comprehensive view of their consumers. As a result, they have immediate access to information like as activity logs, conversations with customers, contacts, and internal account discussions.
After each sale, Salesforce provides customers with the ability to assess their products, rivals, and other relevant data. In comparison to other options, this is what makes it so popular.
Steps to set up Google Calendar Salesforce integration
In light of your knowledge of both systems, let's begin the process of configuring Google Calendar Salesforce integration. There are a variety of ways to integrate Google Calendar and Salesforce. Salesforce Einstein Activity Capture is one of the most widely used approaches. Now that you're familiar with the fundamentals of both systems, let's take a look at how to integrate Google Calendar with Salesforce. Setting up Google Calendar Salesforce Integration can be done in a number of ways. The Salesforce Einstein Activity Capture is one of the most used approaches.
Using Einstein Activity Capture, you can sync your Google Calendar with Salesforce in a jiffy! The activity metrics included in Einstein Activity Capture are also helpful for Salesforce users in their decision-making.
Now, let's roll up our sleeves and get into the nitty-gritty of setting up the Salesforce-Google Calendar integration.
Step 1: Log in to your Salesforce account and enable the Einstein activity capture
Begin by accessing your Salesforce account. You can do this by navigating to Salesforce and signing in with your credentials.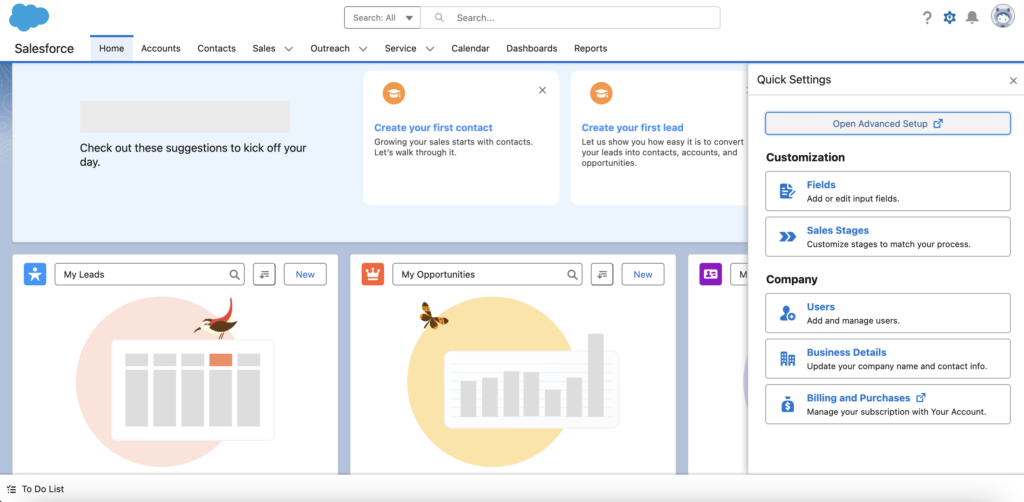 Once you've logged in, click on the gear icon in the upper-right corner of your Salesforce dashboard. This icon represents "Settings" and is your gateway to configuring the integration.
To enable Einstein Activity Capture, perform the steps outlined below:
In the Quick Find box, type Einstein Activity Capture, then select Settings as shown below.
Select Einstein Activity Capture from the Settings tab and turn it on as indicated in the screenshot below.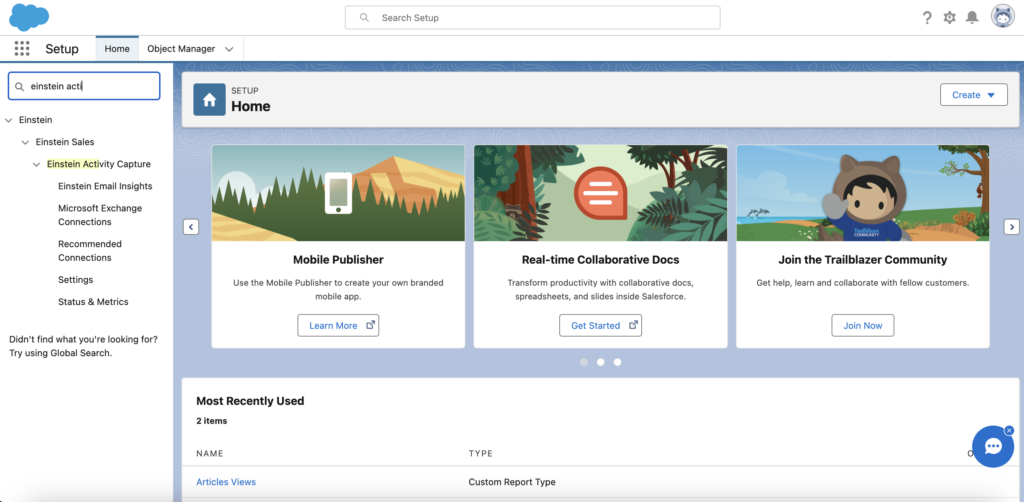 Step 2: Assign user permissions
Also, Einstein Activity Capture can now be activated by following the instructions outlined in the following sections: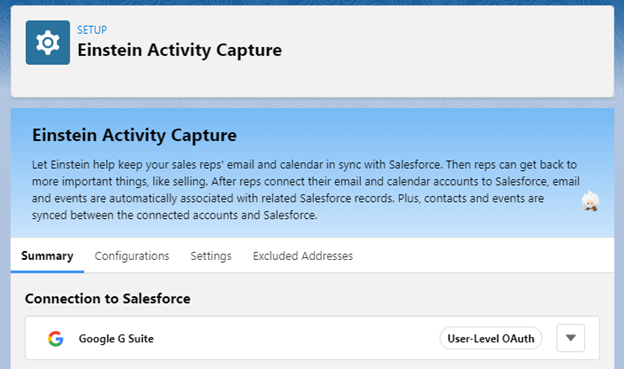 1. Permission sets can be found in the Quick Find box under Setup.
2. Permission set: Select the Standard Einstein Activity Capture checkbox as indicated below.

3. Click Manage Assignments to distribute the permissions to an unlimited number of recipients.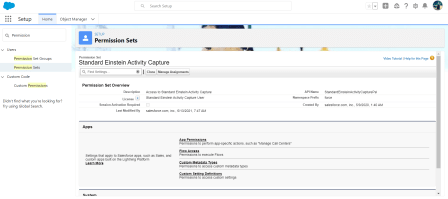 Step 3: Configure your Google account with Salesforce Einstein activity capture
In order to configure your Google calendar, you must first assign the user permission set.
1. From the top right corner, click the username, look for Einstein Activity Capture, then select Settings.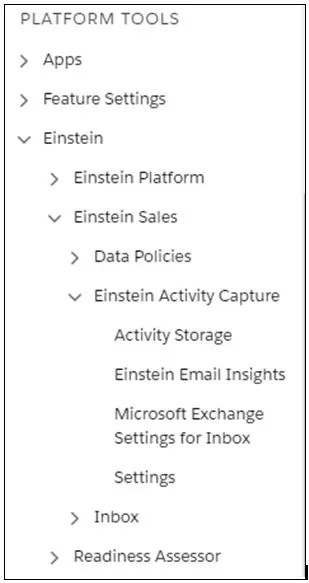 2. The Meet Inbox window will appear; click Next and follow the wizard's instructions.
3. Connect with your Google account by clicking the Connect My Google Account.
Your Google account will now appear in the Connected Account area of your Einstein Activity Capture settings menu after it has been added.
Additionally, Salesforce will automatically sync your Google Calendar activities. You've now completed the Google Calendar Salesforce Integration setup process. That is all there is to it.
Conclusion
Syncing data between Google Calendar and Salesforce was made simple with the help of this article. Also covered were Google Calendar and Salesforce, as well as an outline of their most important features. In addition, you gained a better understanding of the advantages of integrating your Google Calendar with Salesforce. In order to keep track of your upcoming events, you may now create your own Google Calendar Salesforce Integration.
FAQ
How to integrate google calendar with salesforce?
To integrate Google Calendar with Salesforce, you can start by enabling the Google Calendar API in the Google Cloud Console and setting up OAuth credentials.
In Salesforce, create a connected app, configure OAuth settings, and note the Consumer Key and Consumer Secret. Establish authentication and, if necessary, create a custom Salesforce object for calendar events. Develop middleware or use integration tools to facilitate communication between Google Calendar and Salesforce, utilizing the Google Calendar API and Salesforce REST API for event management. Test thoroughly, troubleshoot, and refine the integration as needed. Additionally, consider exploring third-party apps on the Salesforce AppExchange for simplified integration solutions tailored to your requirements.
What can reps do in Gmail Google Calendar and Salesforce?
Google Calendar Salesforce Integration brings several advantages:
Improved Team Coordination: Effortlessly organize various events, enhancing team coordination. Overlay Salesforce Sales and Marketing appointments for a clear overview.
Correlation with Salesforce Items: Utilize the Log Event feature to correlate Calendar Events with Salesforce items, ensuring seamless display alongside associated accounts.
Time Savings: Streamline workflows by eliminating dual data entry. Updates made in one system automatically reflect in the other, saving valuable time.
Efficient Planning: Empower Sales Representatives and Service Agents to plan actions effectively. Achieve excellent deliverability by adhering to schedules and deadlines.