Let's face it Calendars aren't the most attractive thing in the world. Calendars remind people of how crammed their schedules are, on a daily basis. There is nothing more depressing than a reminder of yet another task on our to-do list which we subconsciously forgot and desperately remind us to go on a vacation.
As a business, do you think that this is how your customers also look at their calendars? Have your customers ever made an appointment but been told to maintain a window of several hours open because you couldn't commit to a specific time? Or they wished you'd allow them to schedule their appointments more liberally? If that's the case, it's time to alter your point of view.
We've all experienced inefficiencies that waste time, but you don't have to let them continue if you want to increase your output.
The Appointment Economy — Customer Engagement — and Productivity ⚖
Due to the pandemic and rising internet usage, clients are increasingly demanding creative, personalized, and time-efficient services. You may quickly become a distinct advantage in the "appointment economy" by maximizing both your and your clients' time.
How the Pandemic has Changed the Way Business and Customers Engage 🧏‍♀️
The Covid-19 safety regulations and the fear of getting sick made customers' personal and professional lives digital-first, so they didn't use paper. It didn't matter what they were buying: groceries, a meal at a local restaurant, a new car, or even a house. People learned how to use digital applications and gadgets to browse and find products.
In order for virtual applications like remote learning, telemedicine, courtroom litigation, insurance claims processing, and more to be quickly adopted, people had to be concerned about their health and be able to get to each other.
Covid-19 quickly changed the way people thought and acted. With the rise of digital-first activities came a new type of customer, Generation-N. In the first 90 days of a pandemic, business associates chose new experiences and expectations that led to new routines and expectations.
Services for businesses and social contacts had to be integrated across all contact points, both physical and digital. They also had to be easy to use and frictionless, experiential, and personalized. As we saw, many clients became more impatient and wanted results on their own timetable.
Businesses had to speed up digital interaction and introduce new experiences at the same time. Most of these had to be done while we worked at home. Now, customers and clients say they want businesses to do even better at setting up appointments because they think we can because we are back at the office.
Why Digital infrastructure is important to facilitate seamless scheduling, on-site customization, and relevant follow-ups 💽
With 77% of US customers selecting in-person appointments over digital alternatives in June 2020, it's clear that people prefer face-to-face service even in this digital-first era. In a world where digital-first is the norm, what do analog appointments mean for digital transformation?
That includes everything from appointment scheduling to on-time engagement to follow-up after the service. One-third of customers between the ages of 18 and 44 will choose virtual appointments over face-to-face encounters in the future. It may be seen as a portent of the future of appointment regulation, even though it is now a minority.
When the younger generation takes over as the market's majority, the ability to save time and get outcomes faster may become even more critical.
Customers are looking for appointment-based transactions and services in the business sector.
Customers would feel more at ease if they could make an appointment to visit a business. But that's only the beginning of the story. What is your client's preference?
An appointment is preferred by 82 percent of your consumers and clients. Acting and choosing who to conduct business with are the only things that matter. The majority of respondents answered that if they had an appointment, they would be more likely to visit a business location.
Many of our clients and customers do this, which is nothing new in the computer business. Our consumers and clients prefer scheduling an appointment over a walk-in, though. As a result, maintaining a tight timetable necessitates an increase in planning and an increase in the level of focus on the workday by the team members themselves.
With more and more appointments being booked and kept, a surprising thing is happening—productivity is soaring to new levels.
How To Manage Today's Scaled Up Appointment Needs 👨‍💼📞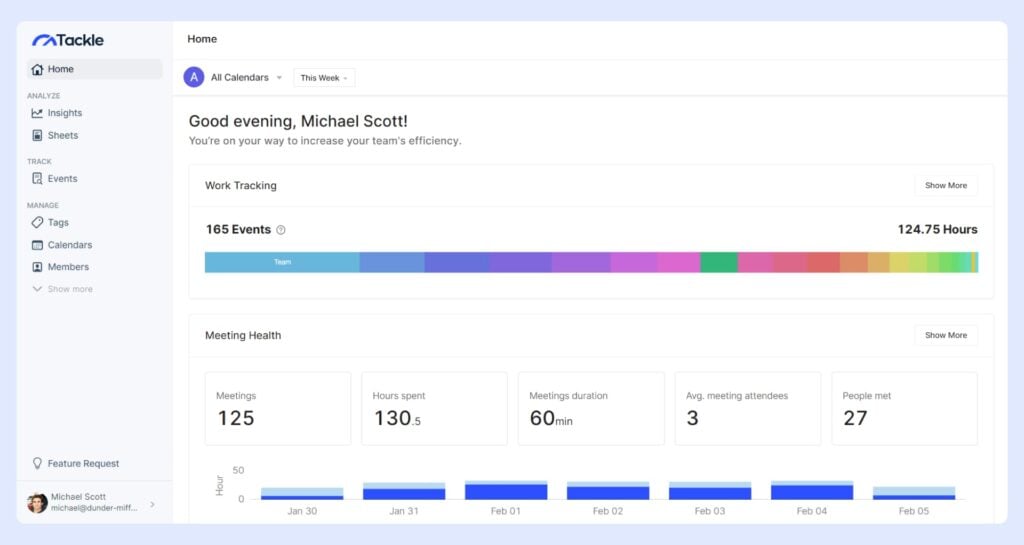 Going digital is the way to go.
To track activities and tasks on your Google Calendar, you need to integrate it with any time tracking apps or software through a browser extension. There are several apps that will help you integrate google calendar events for calendar time tracking and analysis. However, with more than 100,000+ users, we recommend Tackle the only integration you need to redefine your Customer Success and Sales process and help your team win loyal fans for life.
Tackle looks into your calendar and provides AI-generated analytics that helps you to measure your time spent on tasks in real-time and then analyze whether you've achieved them or not. Tagging data across your CRM and other software are tedious and yields zero return. Tackle helps you automate your tagging and tracking process so that your team can spend more time on more impactful things.
Get sales insights and spend time on what matters. Tackle helps you create reports to track performance over time, gather workload insights and understand customer engagement trends. You can develop data-informed strategies for hiring and scheduling. Help your team to be always on the top of your customer's minds.
What makes Tackle special is that it caters to all types of users' time management needs. You can sign for yourself as well as for your teams so that your organization can achieve true-time efficiency. Audit and adjust your schedules to make your team time efficient. It utilizes machine learning to explore and analyze your key performance indicators(KPIs) and priorities and assists you and your team in getting the most out of your workday and saving time.