Why Time Tracking? You have most likely heard this before – remember how you are spending your time! Wonder why?
Studies estimate that U.S. companies lose a total of $8.8 billion in revenue every day due to untracked time.
That's a lot of money.
So What is Time Tracking? The process of tracking and recording the time spent working by everyone in your company is known as time tracking. Time tracking is extremely important to everybody in a company, society, or generally. Whatever position you hold in your team, whether it's an executive, a manager, or a regular team member, knowing where your time goes is paramount.
Time tracking is vital to understanding how you spend your time, personally and in your job. It is key to productivity, insights, and a healthy workflow. When you know which tasks take the most of your time, you can begin to understand whether that time is well-spent or not. The most time-consuming tasks aren't necessarily the tasks that need the foremost effort to finish or bring the foremost value. Often, it's quite the contrary.
The 5 Benefits of Time-Tracking for Teams
1. Stay in the loop with what's happening with the team 🔃
Making time registration a staple in your routine, automatically make your business more transparent. It allows you to stay in the loop with the working process, offering insights into what tasks are being done and how long each task is taking. This also gives you an idea about what tasks are being put in the back-burner, and which ones need immediate attention. Regular time registration can eventually give employees the bigger picture for employees. They are ready to review their workloads and optimize productivity where needed, while also keeping tabs on what everyone else has been doing.

This can further help with building a more trustworthy and empowered relationship. Because there is built-in visibility into how tasks are progressing, they won't need to report back as frequently. Furthermore, if both managers and team members keep track of time, everyone follows the same set of rules. All of this contributes to the development of more trustworthy relationships.
2. Allocate resources where they are needed ✅
Time spent is a key measure of what resources are required. It shows which department has how many resources and which ones require more. These resources can either be human resources or material resources.
It also gives you insights into who brings the most value to the team. This is crucial information for the team and the organization as a whole. It could be that one person does most of the work, an indication of unequal work allocation. In that situation, maybe something must be changed so as to bring everybody to an equal level, e.g., redistribution or sharing of responsibility and workload.
3. Make your employees responsible for how they use their time ⏳
In an 8-hour workday, the average employee is productive for only 2 hours and 23 minutes. The need to register time makes employees more responsible as they know they have to report on how they spent their time. When everyone realizes that the clock is ticking they try to be as high yielding as possible. By looking at their week, employees will start to notice trends and patterns in their work hours and align their time with their KPIs. Time tracking is not about setting unreasonable targets; it is about learning from your own behaviors and making decisions based on data. This will help optimize your team's schedule.
What time tracking brings to the team is the ability to reflect and adapt as required. Ask yourself these questions:
Did the task work towards a broader goal? (e.g., the business mission)
Did the task take up an appropriate amount of time?
Could the time have been spent more effectively and beneficially?
Did the task fulfil a personal or career goal?
What benefits did the task bring?
When you start answering these questions you'll come across a lot of problems that are hampering your company's efficiency. You'll start to consider whether something could be changed for the better, making your workflow more efficient and effective. Could the work be re-organized in a better way? Does anything need an update? Did you experience that you needed to wait for somebody, or something, in order to proceed with your work? What annoyed you in the process? Change it. These are all important questions you should be asking both yourself and your team. Rank the tasks based on their importance and allocate your time accordingly.

4. Tracking how the budget gets burned 💸
Keeping track of how the budget is being spent can be a behemoth of a task. What is the best way to know how your budget is being spent? Time tracking. Time tracking allows you to identify the main sources of revenue loss, such as:
Workflows that are inefficient
Staffing shortages (your team is bigger than it needs to be)
Failure to measure the effectiveness of your marketing activities
Clients who are late with their payments
Fees from services you don't use or don't require
Rent, office supplies, and other administrative costs
Moreover, when employees report on where they're spending time and how you automatically have a report on how much of the budget has already been consumed and don't have to take any extra steps to figure it out. You just need to make sure that the rates and hourly costs are set appropriately.
5. Keep track of operational and billable hours 🧾
Time tracking is key to improving operational efficiency, as it goes into your billable utilization report and highlights the productivity level of your individual employees as well as the entire organization. This way, you'll track what proportion of the time is spent on client work and bill accordingly. Increasing billable hours, in turn, is a pathway to a business that is more profitable.

The Top 5 Time Tracking Software and Apps of 2021
Now that you know how time tracking helps you, let's look at how to get tracking your time. Picking out the perfect time tracking app or software depends on not only understanding the needs of you and your team but also in-depth knowledge of the different tools on the market from their features to their differences. We'll do the hard work for you by giving you what we think are the top 5 time-tracking software and apps, focusing on the features that help them stand out, so you can find the perfect time tracking tool for your team.
1. TimeTackle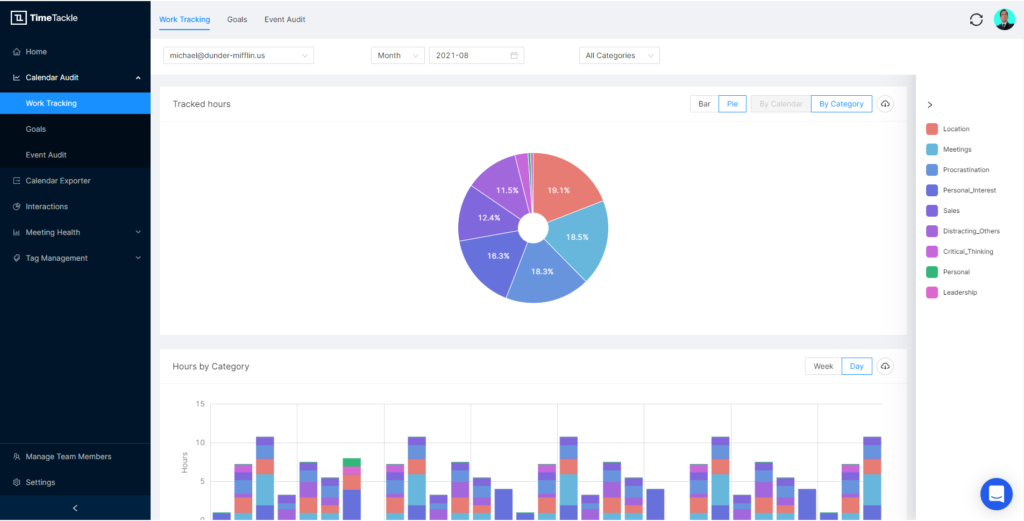 TimeTackle works by exporting data from your Google calendar and analyzing it. It has a Google Chrome extension that allows seamless integration with Google Calendar.
Your calendar data can be used to create custom reports using Google Sheets or Excel. This report automatically shows you how much time you have spent working on what so at the end of the month generating productivity, attendance, and billable hours becomes easy as pie.
Another special feature is the ability to categorize and tag events. You can categorize your calendar events to understand what project you or your team is working on, what appointments you are getting, or what meetings you are attending. You can get an analysis of these tags in the reports. Check out one of our blogs about how you can track and analyze your and your team members' calendars with TimeTackle.
2. Toggl Track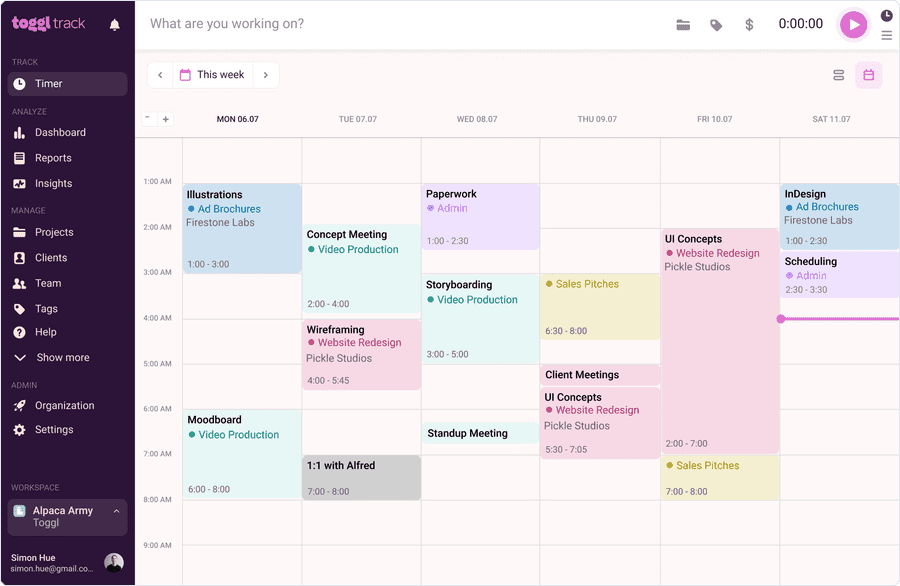 Toggl Track has to be one of the more well-known apps in the market. It has a low barrier to entry meaning it is rather easy to use. Its intuitive time tracking feature gets you and your team on board without a hitch. It is also free to use across all its apps and gives you access to all the core functionality you'd want in a time tracking app.
Lastly, it can generate insightful reports by collecting data from all projects and users and aggregating it into a single dashboard. When the project is completed, you can create an invoice for your client and send it without leaving the app. You could also share your project time report with the client in Excel, CSV, or PDF format so they know what they're paying for.
3. Hubstaff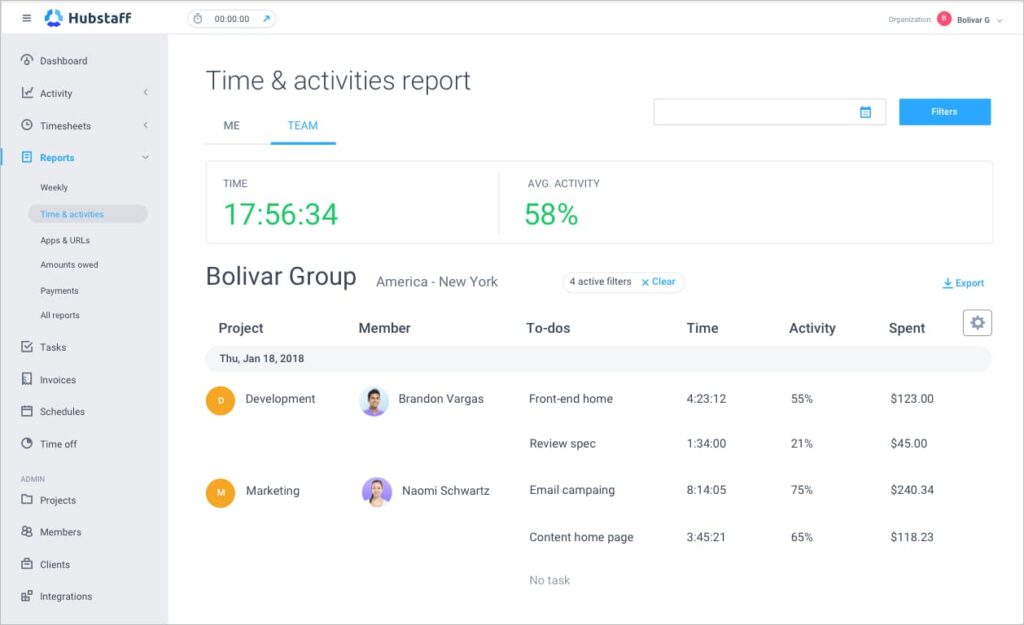 Hubstaff is perfect if you're looking to manage a team of employees or freelancers working remotely. It's fast, it's simple and most importantly, its main focus is on teams based remotely. With it, you can easily automate many time-consuming things.
Additionally, Hubstaff also lets you track time and your employees anywhere. It's a time tracking app for Windows, Mac, and Linux, as well as mobile devices, allowing you to keep track of your employees even when they're on the go or away from the office.
4. Clockify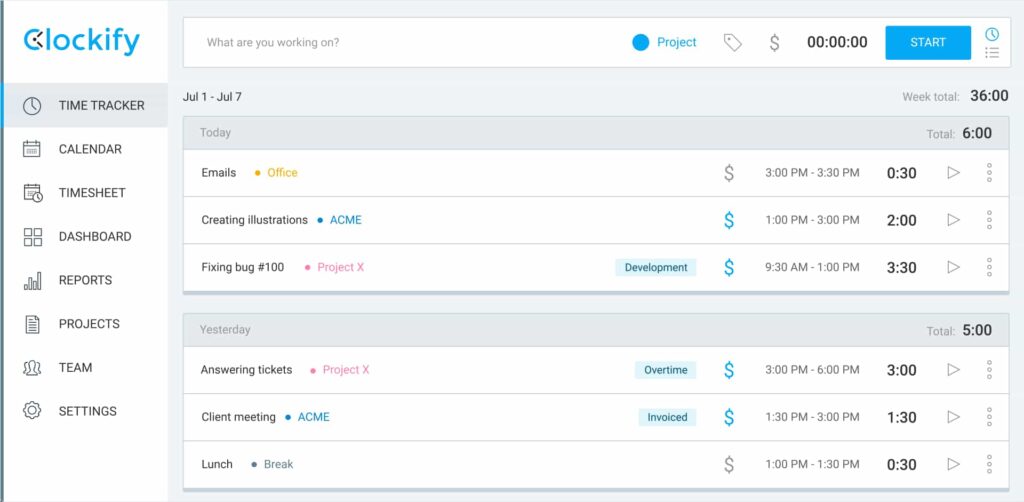 Clockify is by far the most popular free time tracker for teams. Some of its features that help with improving time tracking and productivity include the timer which you can start when working on something, an auto tracker that create time entries based on your computer's activity, the calendar to see how your day and week really looks like based on tracked data, and a dashboard to see which activities you've spent the most time on and trends across time.

Clockify also has many integrations and a simple, sleek, and intuitive interface regardless of which supported device or browser you choose to use.
5. DeskTime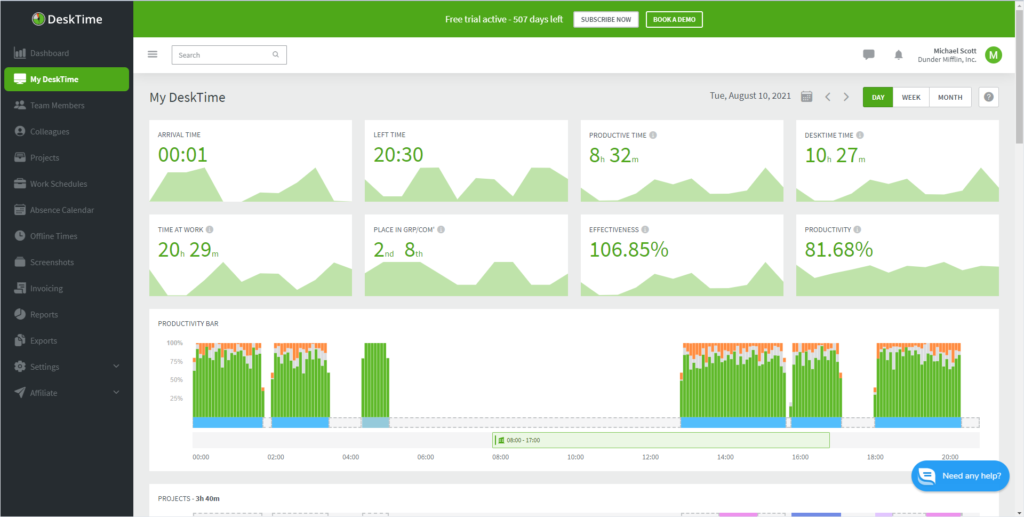 DeskTime is the perfect time tracker app for companies and teams. It is a straightforward time tracking app that combines three essential features: employee monitoring, project management, and productivity analysis. Furthermore, this employee productivity tracking software is intended to assist managers and their teams in identifying unproductive habits by categorizing web pages and applications as "Productive" or "Unproductive."

DeskTime not only keeps track of time, but also evaluates your daily productivity and efficiency depending on the URLs, programs, and apps you categorize. This means that the more time you spend on productive applications, the more productive you are on a daily basis.

Summary
Time tracking brings a number of benefits to an organization. Time tracking is at the root of time management and hence, crucial to boosting productivity. Organizations and firms need to have a good time tracking method in place while keeping in mind the special needs of the employees and the firm as a whole. Though time tracking can be something that is hard to maintain, if done right every organization is bound to see more efficiency in its work.