It's hard to imagine a world without timesheets; they're the foundation of how we monitor projects, analyze profitability, and get paid. Tracking working time plays a key part in a variety of business activities. It facilitates coordination, assists in monitoring production, and provides critical knowledge.
The obvious challenge with time tracking is finding the perfect tool suitable. To mention a few:
Pen, paper, and other low-tech solutions – the basics of the basics supported occasionally by a handheld timer when going full vintage. This solution is generally only applicable to highly motivated individuals and small orthodox teams.
Online spreadsheet – the logical choice, given that nearly all businesses use spreadsheets in their everyday operations.
Timesheet apps — The most effective and highly efficient method of them all. It is software dedicated to automatically tracking and reporting on employee time. The solution can be cloud-based or an offline application or maybe a combination of both.
To know more about time tracking and how it can help you check out our other blog: Time Tracking and Its Importance for Teams
Why You Should Use Spreadsheets To Track Time⌛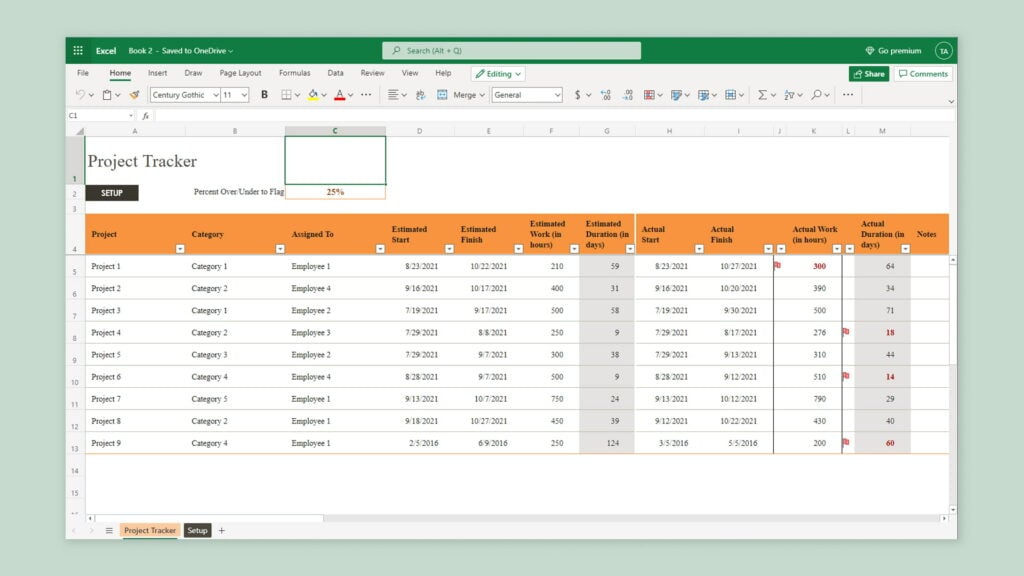 From a small to medium business perspective, maintaining a spreadsheet appears to be the most reasonable. A powerful spreadsheet can be used to manage an entire business, while smaller spreadsheets are used to control processes, count money, manage resources, or analyze and visualize data. This method does have some advantages, yet it comes with several flaws that cannot be overlooked.
The Good✅
1. Spreadsheet Timesheets are Commonly Used
Spreadsheets usually no longer require any further introductions today, as the majority of the employees are already familiar with the fundamentals of how to use a spreadsheet. If you and your team already use spreadsheets for your daily business activities, tracking time in them will be considerably easier. You will save time and effort by not having to adapt to a new time tracking system and then explain it to your employees.
2. Spreadsheet Timesheets are Versatile
Whether you use Microsoft Excel or Google Sheets, spreadsheets provide a variety of options that you can explore and incorporate into your time tracking methods easily. For instance, you have everything you need to build simple timesheet templates, and you can utilize the built-in formulas to construct more advanced timesheets with formulas that add up and change the data you enter automatically.
3. Track Staff Behaviour and Adapt Roles
It barely matters how long a business has been running; the fact that positions must evolve and change, and eventually become redundant is absolute. Flexibility is critical — businesses that are willing to adapt to changing conditions are more likely to prosper. With a little bit of creative thinking, timesheets can help you with this.
Spreadsheets help you discover which departments are requiring workers to work overtime more frequently, which may indicate that they may be understaffed and requires more resources. Alternatively, you can also identify which departments are perhaps overstaffed, with individuals frequently clocking out early, indicating that their time could be better used in other areas of the business
The Bad❌
1. Spreadsheet Timesheets Lack Typical Timesheet Options
Apart from the absence of real-time time monitoring, spreadsheets lack the standard features found in timesheet apps, such as:
Setting hourly rates
Organize work time according to tasks, tags, and billability status
Generating comprehensive timesheet reports
Given the versatility of spreadsheets, you may be able to replicate some of these features (for example, by manually adding columns for tasks, tags, or billability status), but this would need additional time and work.
2. Spreadsheet Timesheets are Very Time-Consuming
For managers, creating timesheet tables in a spreadsheet and afterward approving or rejecting completed employee timesheets requires a lot of time. It takes even longer to create spreadsheets if the manager decides to incorporate built-in formulas to calculate working time to make the process somewhat automatic.
For employees, it takes much too much time to add, calculate, and verify the time they enter on a daily, weekly, or monthly basis.
Due to the fact that spreadsheets do not provide automatic notifications when someone completes their timesheets, the bookkeeper needs to manually examine all timesheets to verify that everyone has updated their work hours. Additionally, the bookkeeper will be responsible for personally reminding everyone who has not yet entered their time as required. This can occur multiple times every pay period in some instances.
For the HR assistant, it takes more time to locate essential data, such as vacation, sick, or unpaid leave time.
Each additional element adds up and consumes more of your time – regardless of whether you're the management preparing timesheets, the employee entering time, the bookkeeper calculating payroll, or the human resources assistant calculating paid time off.
3. Spreadsheet Timesheets are Usually Error-prone for Everyone Involved
It will be easier for managers to make mistakes when building tables in spreadsheets or setting formulas to calculate automatic timesheets in spreadsheets. However, for instance, if you make an error in establishing the spreadsheet formulas, all subsequent data will be calculated incorrectly – and you may not even notice until it is too late.
Employees will find it easy to make an error while entering data or calculating labor hours (if the employees are in charge of calculating their own time). It's easier to record less time than you actually worked, which results in you billing your clients for less than you should. Additionally, it will be more difficult to process data accurately if there is more data to calculate. Additionally, if you enter the incorrect values into the incorrect columns, you will end up with a huge pile of extra work, even if the formulas are well-defined, to begin with.
Bookkeepers and human resource managers will almost certainly need to extract data entered by employees into separate spreadsheets and apps, increasing the chances of further mistakes and data loss.
Worse yet, anyone can erase a cell, a line within a cell, a formula, or an entire spreadsheet accidentally. Additionally, you'll require additional time to recover what you've erased – assuming you even notice you've deleted anything in the first place.
Why You Should Use Time Tracking App To Track Time⏱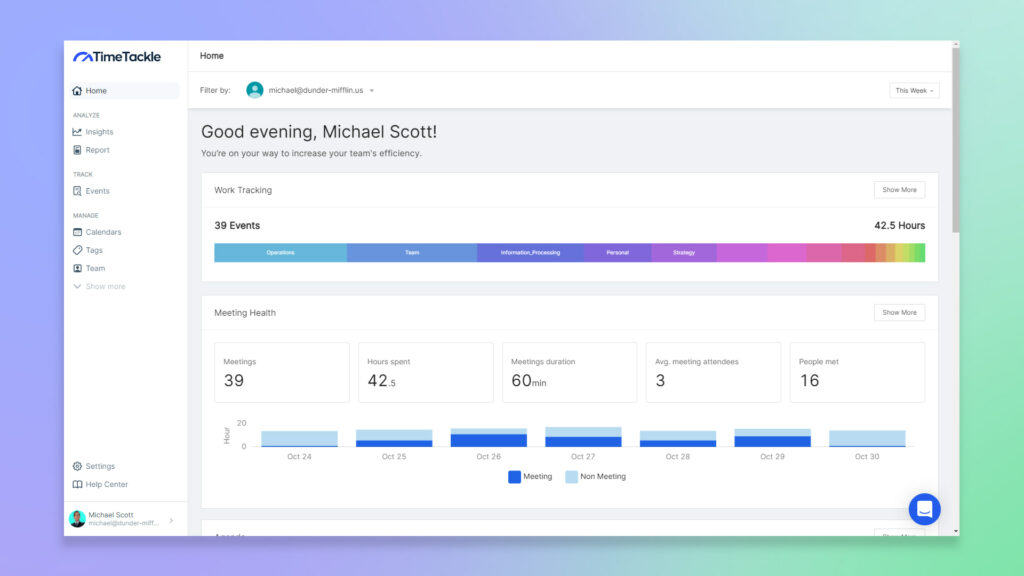 Automatic timesheet apps are great and they perform exactly as advertised. They keep track of everything you do each day and some even use artificial intelligence to create highly accurate automated timesheets for you. You no longer need to set timers, type notes, or manually enter the hours spent on each task—all of that data is automatically saved in the background to a secure, private timeline. Simply choose the date range for which a timesheet should be created and export it using a professionally prepared template.
The Good✅
1. Timesheet apps Help You Analyze Your Time
A timesheet app is not just a place where keep track of your work hours; it is a place where you can generate reports based on your monitored time, allowing you to assess your time usage and productivity levels.
A timesheet app can help you know the answers to questions such as:
How much time did you devote to that project?
Was the project profitable in terms of time spent?
Which tasks took the most time to finish?
How much time did you spend on secondary or unnecessary tasks rather than on your primary tasks?
A decent timesheet tool will assist you in comprehending all of this easily.
2. Timesheet apps Allow the Entire Team To Securely Store Their Timesheets In One Place
With spreadsheets, each employee submits their own completed timesheets, which are then stored in a single folder – but if you have 50 employees, that correlates to 50 unique sheets for each pay period. In contrast, timesheet apps enable employees to complete all of their timesheets in a single, easily accessible, and secure workspace. You can browse through weeks and weeks of past timesheets, beginning with the current week and ending with the week in which you created the account. Moreover, almost all timesheet apps allow you to see and add data across multiple devices.
What makes TimeTackle special is that it caters to all types of users' time management needs. Time Tackle provides enterprise-grade security, customizability and, flexibility to meet all your teams and enterprise needs. You can even add more than 10 calendars and control everything from one place. To find out more check out: Time Tackle Features
3. Timesheet apps Save You from Repetitive Processes
Employees must enter their names, job titles, managers, projects, and tasks for each new spreadsheet-based timesheet they complete.
However, employee accounts generated in timesheet apps save employees' names and enable workspace managers to:
Create groups for employees based on their job titles (e.g. developers, marketers, designers, etc.)
Appoint managers accountable for employee work hours
When employees track their time, they can choose their projects and tasks, and their timesheets are immediately associated with their names, groups based on job titles, and managers responsible for approving the timesheets. And all of this and many more with just a few clicks. Time Tracking has never been simpler.
4. Timesheet apps Cut the Costs of Your Business Overall
We've already established that time is money – and everyone can track time with a few simple clicks using an app. Additionally, you will save money not just by automating time input, but also by eliminating the need to hire additional people to create timesheets for all your projects and tasks, as all data will be safely saved in one location from the start.
Timesheet apps vs Spreadsheets: Which Time Tracking Solution to Choose? 🙋‍♀️
Now that we've covered the advantages and disadvantages of spreadsheets and timesheet apps in terms of applicability, options, speed, accuracy, and cost, let's look at when each timekeeping solution should be considered.
What is Spreadsheet Timesheets Best for?📄
Small Business
Businesses with less than 15-20 employees can use spreadsheets as a timekeeping system, as the administration and analysis requirements for such a small workforce are still achievable using spreadsheets.
Small Teams
If your team works on only one or two projects at a time, entering, precisely copying, and analyzing the data required for client invoicing will be easier.
Teams That Do Not Require Any Additional Features
If you only need to enter work hours on a regular basis and do not want features such as timesheet locking after a specified time period or real-time time tracking, spreadsheet timesheets are an appropriate solution.
What are Timesheets App Best For?📲
Any Size of Business
While entering time on spreadsheet-based timesheets may be feasible for smaller firms, timesheet apps are ideal for all types of enterprises, including small ones. If the number of employees, the number of projects accepted, or the number of elements to track increases, you'll be able to scale quickly.
Smaller or larger teams tasked with a variety of projects
Timesheet applications enable you to add as many staff as necessary and track time for as many projects as necessary
Teams Who Prefer to Track Work Time in Real-time
If you wish to:
Keep track of your time while you work more accurately.
Maintain a clear picture of the time you spend on client initiatives
Keep an eye on what your teammates are working on (i.e. what they are currently using the timer for)
Large Enterprises
Timesheet applications are appropriate for enterprise enterprises since they typically include enterprise features such as labor cost and profit, timesheet approval, and single sign-on for added data protection.
One such enterprise feature you can consider is the Custom Reports within Time Tackle. You can get fully custom and catered solutions for your large complex organizational needs. Know what your key projects and employees are, with a powerful dashboard designed just for you.
For more info check out: Time Tackle Custom Reports
Teams Interested in Tracking and Analyzing Their Productivity
Because timesheet apps' reporting tools enable you to record time for numerous projects, you may even establish projects for breaks, emails, meetings, procrastination time, or whatever else you like, in order to determine your true productivity at work.
Summary (Pointing Out the Pointless) 👇
Overall, spreadsheet timesheets fall short in terms of applicability, speed, accuracy, affordability, and the timesheet-related options they offer — which may not be a significant issue if you're a small team working on one or two projects and have more time to devote to timesheet management. However, as your business grows, the number and severity of the issues will increase as well — a greater number of projects and employees means a greater number of timesheets, and a greater number of timesheets always means a greater chance for errors, as well as more time and resources required to manage the timekeeping process.
On the other hand, timesheet apps appear as a superior, more suited option to spreadsheet-based timesheets — they are, for starters, a more efficient and cost-effective method of storing your work hours. They also include additional timesheet-related features on which you can rely, regardless of the size of your organization or the nature of your workflow.
They're also more exact and methodical, as all your data will be automatically calculated using tried-and-true formulae and then kept in a secure location.
In conclusion, while spreadsheets require more time, patience, and resources, you can't go wrong with a timesheet software.
So. If you're interested in learning more about how TimeTackle can help you, your team, and your enterprise get up to speed with time tracking, you can learn more about it here or talk to sales to arrange a test drive.